| | | |
| --- | --- | --- |
| | Home of K-fab | |
Round 5, Phoenix, AZ - Bank One Ballpark
Friday Night, February 5, 1999 in my Hotel room in Phoenix, AZ
I arrived back in Phoenix yesterday afternoon with two large boxes tucked under my arms. I actually checked a set of tires as luggage! I'm going to try a different set this weekend.
As soon as I left the airport, I proceeded up I-17 to the Deer Valley exit. My destination: ATV Racing.
When I get there, I'm tickled to death because Jay's got my car up on a stand and already has most of the lower carriage cut away and there are post-it note pads plastered over the car with various measurement information on them. He announces that it's been cleared and he's staying until we get the car finished. A lot of cutting, grinding and forming starts to take place. After store hours, Neil joins us for more bending (unbending), welding, pizza, buffalo wings and drinks. Later that night, we triumphantly declare that the car's ready to have everything bolted back on. A quick check of the time - it's 1:30! Time to call it a day and find a hotel. I've been up twenty hours.
This morning, I headed back to the shop planning on bolting the suspension to the front end, adjusting everything, loading up and heading on down to the Bank One Ballpark, hopefully making second practice. Let's just say it sounded like a good plan...Jay walked around to the back of the car and proceeded to announce that the rear end is WAYYYY out of line too! "Oh Great!"
A quick look over the rear of the car and we discover that both of the rear frame tubes are torn completely loose, the rear of the frame where the suspension mounts is also pushed over about an inch. It looks like more bending, welding and work! At 5:30, we've finished all the fabrication and repair work, but I still have to finish aligning everything! I go ahead and load up all my stuff and head on out to the ball park.
Once again, I can't thank Jay and Neil enough. They are upwards of six weeks behind in their shop work, but they have truly bent over backwards to help me out. I hope I haven't pushed them back too terribly much more.
I plan to get all my final stuff done tomorrow morning before practice. (Hopefully, it will take me up through the drivers meeting to finish and be race ready.) I'm trying a completely new setup, so I've got quite a bit to do. We'll see how it goes!
Sunday afternoon, February 7, 1999, sitting in the St. Louis Airport waiting on my plane to Cincinnati
Last night's racing went pretty well. The track was by far the worst design we've run on. The inner horseshoe had what was supposedly a series of doubles, but they were spaced in a manner that you basically bounced off the top of each one. If they had just spaced them apart a bit more, we would have been able to run them as a pair of double jumps. There was only one table top and the back outside sweeper had whoops all the way across them, instead of just on the inside line. There was no really fast line.
My only practice went quite well. The first couple laps were just "testing the waters" and then I began to get a bit more aggressive. The rear of the car was not quite right and I had problems with some of the jumps - it wanted to bounce up too much. With the new setup, I'm going to have to learn to drive the car a little different. I'm still suffering from a push, but not as bad as it's been. Maybe I'm actually beginning to get somewhere in the quest for handling.
The heat race was a lot of fun. I pulled the hole shot, but because the rear of the car was so hooked up, I wasn't able to make the first corner - blew that chance! I ended up taking fourth place, which was good enough for me to get on the front row of the main. In the main, I once again pulled the holeshot, but I was on the outside of the corner, so most of the drivers tucked inside me and I was back in mid pack. I passed a few, got passed by a few and battled for position with Mike Boyd. I could gain on him on the straights, but in the corners, he was just a bit quicker. I finally passed him and then he passed me back under a yellow flag situation. I hope they docked him a position! He and I latched bumpers once and managed to loose a couple spots also. I ended up taking tenth.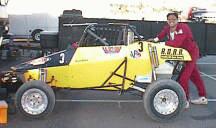 The car is quite a bit closer to working like it's supposed to, but it's going to take a bit more time and tuning to get it right. Neil, Jay and Donny all helped out on getting the chassis set up a bit closer and it looks like Neil and Donny have been bitten by the racing bug and are talking about pulling Neil's car out of mothballs and going to San Diego.
Paul Sutton and his Genesis Car
One complaint that I did have this weekend was that Bank One Ballpark's pit security and ushers were a bunch of Nazi's! In every venue that we've raced so far, no one has ever said a thing about the racers sitting in the general public stands. Not in Phoenix! I think that Neil hit it on the head when he said that the little name badge the ushers wear had some sort of "Super Hero" nuclear device hidden in it that swelled their egos. I was literally yelled at for carrying in a can of Pepsi! "You can't have that here! We don't sell Pepsi in cans here, you have to BUY it at a snack bar if you want a beverage here". This was the second round of scolding that we received from the same little man that had informed us a few minutes earlier that "You can't sit there! Those seats are for ticket buying patrons!" Gee, we're here at the END of the night's show...I think that the people would be here by now if they had bought tickets for these seats! Too bad they were so pent up about it. The facility is very nice, but the staff sucks.

Click here to go to San Diego and Round 6

Return Home
6/4/01