| | | |
| --- | --- | --- |
| | Home of K-fab | |
Round 6, San Diego, CA - QualComm Stadium
Friday, February 13, 1999, in my Hotel room in San Diego, CA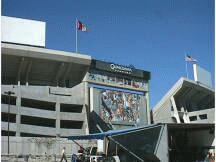 Today was WONDERFUL!!! After chasing my tail this year, trying to get the car to work - not push through the corners - I finally came upon a tire combination that works! BF Goodrich Comp T/A's in the back and ATV tires on the front. I am now able to toss the car sideways in the corners and slide the back end through them, rally style. After the first practice, I was so happy that it hurt! The car felt fast, handled great and I was able to go just about anywhere on the track that I wanted to. I did have one misfortune at the end of the second practice, though. I managed to break an axle, but I was able to get my hands on a new one (from the Wittmans) and was back in business in about an hour. I don't think that it would have been a complete race weekend (at least by this season's standards) if I didn't have at least one setback and not break/bend something.
Denise Wittman and her heavily modified Pilot
The track here is fast. Probably the fastest track we've been on this year. It has two table tops that require a lot of speed to clear and they throw you WAY up in the air, a nice rhythm section and it has a section of random bumps that resemble ant hills. Fortunately, I can just keep on the gas all the way through them. The back straight table top seems to have everyone from buggies and trucks to the lites scratching their heads. It has a unique ability to tilt the car to the right as you leave it. This brings you down on the right front wheel, which is not a lot of fun. This type of landing causes the car to whip itself back to it's normal horizontal position quite violently. The driver then gets slammed from one side to the other of the car when it hits back down. There's nothing like a good case of side to side whiplash to make you day. The first practice had it's share of victims. Todd Wittman managed to endo his car right in front of me and I saw at least three other cars pull off to the side too.
Saturday, February 14, Back at the hotel room
Tonight's races went FANTASTICALLY!!! There were two heat races and two rows of cars in each heat - eleven cars in heat one and ten cars in heat two. For the heat races, I have been assigned the pole in heat two (because of my number two plate). This was not a good spot to start this race. The lip on the table top was not straight, so when you left the jump, the car wanted to twist to the right, making you land on the front right wheel (like the back table top). With the second row of cars behind me, I had to get on the gas pretty hard, but not so much as to get out of shape right off the bat. I managed to end up about sixth or seventh by the time we got settled into racing (Side note: After seeing the beginning of my heat race on TNN Monster Jam, I discovered that I was pushed into the inside barrier and then bounced out into traffic I lost at least 3 positions because of that. It's amazing how quickly things happen when you're racing). I began to work my way through traffic, I think up to third or fourth and Stacy Fay worked her way up beside me. She and I traded places at least three times and on the second to last lap, I managed to get a bit too sideways through one of the turns and she drilled me in the left rear tire, breaking my axle in two places! I went ahead and limped through my last lap and a half and ended up taking fifth place. Not too terribly bad, considering I was running with only one wheel drive. As I pulled off the track, one of the corner workers walks up to me and hands me my axle. Thank goodness, the Wittman family had ANOTHER spare axle and I had the other spare part I needed to fix my car. About thirty minutes after the heat race, I was ready to go for the main - I'm getting good at replacing axles.
By virtue of my fifth place finish in the heat race, and being a heat that had a slower finishing time than heat one (where Todd Wittman and Joe Price battled for the lead in some great racing - Todd won) I ended up tenth in the line up for the main. This position would usually end up being right in the middle of row two. BUT, to make things interesting, Pace has started drawing numbers to see if we invert the first two rows. Luck was on my side and the inversion was drawn. This ended up putting me right in the middle of the FRONT ROW!

There we were, twenty one cars, three rows deep. The green flag dropped and to my amazement, I pull the holeshot - and a VERY good one! I lead the first half of the lap, waiting to see one of the Briggs come by me and sure enough, Beau Briggs passed me going over the back table top. I held my own through the race, getting passed by a few, but what really made it great was that even though Joe Price finally got inside me as I ran a bit wide through the back sweeper I was able to stick with him for the rest of the race! I've not been able to stay close to Joe this year, but tonight was a completely different story for me. My car was working better than it has all year, I really liked the track, the table tops had worn down a bit and I was finally clearing them too. I couldn't have asked for a better race! I managed to pull of a fifth place finish with Joe still in my sights, which I consider the best position I have had this year, considering the number of cars in the race and the caliber of competition out here on the West Coast. One thing that was pretty cool was that Stacy ended up taking second. She's one hell of a driver, and I was glad that I was able to race against her as well as I did during the heat race.

El Paso is a couple of weeks away. We FINALLY get a break. I'm really pumped up about the way the car is working and looking forward to El Paso now. I needed a night like this.

Check back in a couple weeks and I'll get started on Round 7.

Click here to go to El Paso and Round 7

Return Home
6/4/01