| | | |
| --- | --- | --- |
| | Home of K-fab | |
Welcome to Yellow Dog Racing.
Annoying the Internet for 17 years!
"Life is not a journey to the grave with the intention of arriving safely in a pretty and well preserved body, but rather to skid in broadside, thoroughly used up, totally worn out, and loudly proclaiming 'WOW-What a Ride!'" - Anonymous
Youth and Talent are No Match for Age and Treachery!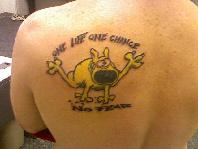 Why Yellow Dog?
Who knows.
It started when I painted a picture of a dog on a trailer (at left) and the name just grew from there. It sounded good, so, on it went.
There's something about that perpetual Grimmy Grin, while running Full Tilt Boogie, that I just relate to.
The majority of this site is dedicated to off road racing and playing.
You will find Stadium Race Cars, Desert Racing Cars, Motocross Stuff and who knows what else.
Have fun looking around by clicking on the links, pictures or the dates.

May 20, 2015 - So four years later, I'm back. Yellow Dog Racing is up and running again.
Lots of things have changed in my world over four years:
My daughters have graduated, the Briggs cars are gone, the Deztaz is for sale, I've moved out of Ohio and into Heaven (Phoenix area) after 15 years of waiting, have built a house and am enjoying life better than ever.
I picked up a couple of Polaris RZR XP900s a couple of years back and have had fun doing what I do to them - modifying, enjoying. I also have a new project that will be coming soon and I'll chronicle it here as it moves forth. You'll have to sit back and wait a tad more for this one, though - let's just say that a mini-trophy truck that's street legal will be fun.
So, on with the show!
My Places in Cyber Space:
The Mini-Raptor
Street legal, 3/4 scale Pre-Runner Trophy Truck (9/18/2015)
Supercharged Yamaha Nytro snowmobile power plant making about 220 hp
About 20 inches of travel on all four corners
Full tube chassis
Fully boxed suspension
hopefully around 1500 lbs., ready to go.
The Polaris XP900 RZR
Well, I've jumped on the SxS bandwagon and gone out and picked up a couple of XP 900s (5/20/2015)
The 10 Dez
SCORE Legal & Honda Powered.
More Suspension
More Power
More Better! - Videos Added
The First Shakedown Run - Good right up to... (10/15/07)
Finally! Testing and Tuning and a couple other things (3/03/08)
Let's see - only NINE MONTHS of neglect to my web site. Sorry... (12/06/08)
Major Changes. New Engine, New Class - New Car. (and lots of frustration!) (5/14/09)
Things are coming along - but the frustration level's been high too. (9/25/09)
Shocks and Airbox! (10/05/09)
It lives again and will soon stand on it's own. (10/24/09)
Oh so close! (11/1/09)
It runs - but it doesn't steer... (11/21/09)
Time to go RACING!!! (12/19/09)
Hey Stupid, how about taking time to TEST the car before anything else. (4/25/10)
Attention To Details - It's the little things that keep you busy. (5/23/10)
The New Stadium Lites
After Nine years of waiting and wanting I got my hands on not one, but THREE of the best Stadium Lites ever made!

Thanksgiving at Glamis! - (11/28/07)
Desert Videos. This thing is a blast! (11/30/07)
The Chronicles of Car #2 - (12/30/07)
How to mess with your buddy! (7/29/06)
It's Greg's Birthday: K-fab Style (1/11/07)
Technical Stuff
Information on how to set up stuff like - Jetting, Springs, Shocks, Tire Information (10/17/05)

How To Select A Properly Fitting Helmet (7/15/03)
The 24 Hours of Le Fud - May 2 - 4, 2003
In 2002 a group of ruffians decided to tackle a 24 hour endurance race in a Pilot. The race was a year away, but they laid plans, gathered together and assaulted the desert. This is the story of a merry crew, a desert race and 50 mph winds. (5/28/03)
Since many aspects of this site is oriented towards the building of off road cars,
I suggest you cruise over to Mini-Buggy.net.
It's full of people that build, design and love the small cars and has more info to be found than the average bear can shake a stick at.
Go check it out!
The Moskito
The trials of designing, developing, building and racing of a Stadium Lite.

The Gecko
Our First Desert Racer Project
The Story of Getting a Western Car to an Eastern City. (4/30/00)

Things That Break?
It seems I have an affinity for having the ground stop me in the most inappropriate ways (5/16/08)


2/26/2000

4/23/2006
Links (11/28/09)
Links to other Off Road Oriented Sites.
Bad Jokes
Taxi Driver (3/13/11)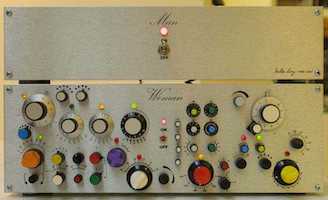 Engineers (10/25/03)
The Pecker Head (6/24/09)
It's all about Me!!!
Video Stuff (3/2/08)


All the videos in my web site on one easy to use, convenient location.
---
These pages are happiest when viewed with Firefox because I don't like Microsloth Exploder!!!
In fact, since Microsloth dropped XP, I became a MacBook User.
Make it Real
Site Developed December 1998
Last updated on September 18, 2015
---
Copyright © 2015 Yellowdogracing.com. All rights reserved. Yellowdogracing.com, the Yellow Dog logo and Moskito logo are trademarks and/or servicemarks of Yellowdogracing.com (yes, it's true, I have the trademarks to them, and what a pain in the butt to get!). Reproduction in whole or in part of any form or medium without express written permission from Yellowdogracing.com is prohibited.
Steal anything from this site and I'll be forced to hunt you down and kick you in the shins with my motocross boots.
Opinions expressed in these posts are those of the author (me) so they are the opinion of Yellowdogracing.com. - Hey, I can say what I want in my pages, right???
If provable untruths are expressed, please contact the system administrator and the offending post or posts will be examined and probably laughed at and/or made fun of in a public forum.
All other product names and logos are trademarks/servicemarks or registered trademarks/servicemarks of their respective owners.
Then again, I stole this disclaimer (a.k.a. "Legal Mumbo Jumbo") from someone and then modified it to meet my needs, so it may not count!
Oh, one last thing: Spelling errors don't count either! I fat finger LOTS of stuff. I try to avoid errors, but I am human. While I'm talking about spelling errors, how about "A LOT?" - not "alot", not "allot", but "A LOT"! Two words! Please get it right. For some reason that just bugs the crap out of me. (: