| | | |
| --- | --- | --- |
| | Home of K-fab | |
Welcome to Yellow Dog Racing.
Closing in on annoying the internet for a quarter century!
"Life is not a journey to the grave with the intention of arriving safely in a pretty and well preserved body, but rather to skid in broadside, thoroughly used up, totally worn out, and loudly proclaiming 'WOW-What a Ride!'" - Anonymous
Youth and Talent are No Match for Age and Treachery!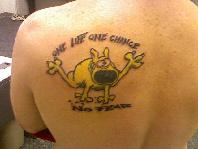 Why Yellow Dog?
Who knows.
It started when I painted a picture of a dog on a trailer (at left) and the name just grew from there. It sounded good, so, on it went.
There's something about that perpetual Grimmy Grin, while running Full Tilt Boogie, that I just relate to.
The majority of this site is dedicated to off road racing and playing.
You will find Stadium Race Cars, Desert Racing Cars, a ground up build of the Mini-Raptor, Motocross Stuff and who knows what else.
Have fun looking around by clicking on the links, pictures or the dates.

---
April 4, 2023 - Finally, more stuff added
Since Minibuggy.net is being taken over by a new owner, I've pulled Yellow Dog Racing off of the server and have moved it to a new one.
This has lit a long needed fire under my backside to go through and update YDR.
I'm going through all my old web stuff and updating as much as I can.
Videos are now embedded into each page instead of just being a downloadable file, as many links as I can fix and/or remove are being taken care of
In general, I'm just doing some long needed housekeeping. I'd not realized just how many pages of stuff I've never published. Some of it's finished, some just half way done, etc..
I'm still alive and making stuff - it's just not as off road oriented as it has been over the years.
---
My Places in Cyber Space:
Kaleidoscopes - Yes, of all the silly things to get intrigued with, I've decided to produce a few one off Kaleidoscopes.
They're made from "exotic" materials: Titanium, Carbon Fibre, Magnesium. Then throw in some Brass and Aluminum for good measure.


The Orbital (9/15/2022)

The TALON (10/9/2022)

Four More (1/23/23)
The Mini-Raptor
Street legal, 3/4 scale Pre-Runner Trophy Truck
Supercharged Yamaha Nytro snowmobile power plant making about 220 hp
About 20 inches of travel on all four corners
Full tube chassis
Fully boxed suspension
Around 2000 lbs., ready to go.


2016 build (4/23/23)
2017 build (4/27/23)
2018 build (4/28/23)
2019 build (4/28/23)
2020 build (4/29/23)
2021 build (5/1/23)
2022 build (5/1/23)
2023 build (5/1/23)

Mini-Raptor Videos
A collection of the videos I've made with the MR.
The 10 Dez
SCORE Legal & Honda Powered.
More Suspension
More Power
More Better! - Videos Added
The First Shakedown Run - Good right up to... (10/15/07)
Finally! Testing and Tuning and a couple other things (3/03/08)
Let's see - only NINE MONTHS of neglect to my web site. Sorry... (12/06/08)
New Engine, New Class - New Car. (and lots of frustration!) (5/14/09)
Things are coming along - but the frustration level's been high too. (9/25/09)
Shocks and Airbox! (10/05/09)
It lives again and will soon stand on it's own. (10/24/09)
Oh so close! (11/1/09)
It runs - but it doesn't steer... (11/21/09)
Time to go RACING!!! (12/19/09)
Hey Stupid, how about taking time to TEST the car before anything else. (4/25/10)
Attention To Details - It's the little things that keep you busy. (5/23/10)
The New Stadium Lites
After Nine years of waiting and wanting I got my hands on not one, but THREE of the best Stadium Lites ever made!

Thanksgiving at Glamis! - (11/28/07)
Desert Videos. This thing is a blast! (11/30/07)
The Chronicles of Car #2 - (12/30/07)
The Polaris RZRs
Well, I've jumped on the SxS bandwagon (5/20/2015)
The R&R Tour Bus - Polaris's XP4-1000 Four Seat RZR.
Part A - Our OG XP4. It's old, tired and fell over once upon a time. (6/10/23)
Part II - The Replacement (4/15/23)
Back from Powder Coating (5/27/23)
Wiring almost complete (6/5/23)
Cage back on - getting close to completion. (6/6/23)
All that's left is getting the turn signals wired in. (6/8/23)
Done. Time to get it dusty. (6/15/23)
Moab - Bucket List box checked. (10/25/23)
The DezTaz
The New Desert Racer (8/2/01)
My First Desert Race (9/3/01)
Point to Point Mexico Race (12/22/01)
WOOD! (3/21/02)
Rock to Rock Mexico Race (5/14/02)
2nd Place in Snowflake! (9/11/02)
Point to Point 2002 (12/13/02)
Snowflake 2003 - OUCH! (8/31/03)
Mexico Rock To Rock (5/5/2004) & Stone City Ranch in Kentucky (6/20/04)
Quieting The Deztaz (9/12/04)
Snowflake 2004 Second - Again. (9/16/04)
Mexico - FIRST & OVERALL in Sportsman!!! ( 1/12/05)
Mexico - We were FAST! (for 11 seconds) (5/05/05)
Snowflake 2005 - Drowned Rats & Second Place (9/16/05)
Mexico? - Didn't Happen; But Saturday Was Interesting. (12/16/05)
The Dez joins the Four Stroke Revolution (7/13/06)
Boy did I screw up! (6/5/06)
RX1 Powered Dez - Yee Haaa!!! - Videos (10/28/06)
Death of the Deztaz. A tired Chromoly frame gives up. (2/27/07)
The Moskito
The trials of designing, developing, building and racing of a Stadium Lite.
The Gecko
My First Desert Racer Project
The Story of Getting a Western Car to an Eastern City. (4/30/00)

The 24 Hours of Le Fud - May 2 - 4, 2003
In 2002 a group of ruffians decided to tackle a 24 hour endurance race in a Pilot. The race was a year away, but they laid plans, gathered together and assaulted the desert. This is the story of a merry crew, a desert race and 50 mph winds. (5/28/03)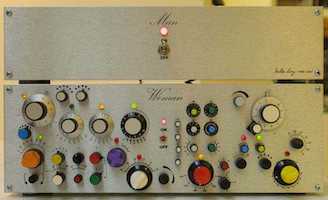 Technical Stuff
Information on how to set up stuff like Jetting, Springs, Shocks, Tire Information (10/17/05)

How To Select A Properly Fitting Helmet (7/15/03)
Since many aspects of this site is oriented towards the building of off road cars,
I suggest you cruise over to Mini-Buggy.net.
It's full of people that build, design and love the small cars and has more info to be found than the average bear can shake a stick at.
Go check it out!
K-fab 50s - Mini Motorcycles, HUGE Fun
Ever wonder what happens if you take a group of grown men (I use this wording very loosely) and stick them in a shop with a slick floor and 50 cc motorcycles? This kinda stuff, that's what! (2/10/03)
The K-fab 50s: A Disease of Epic Proportions? (1/16/04)
The K-fab 50s Outdoor Track (w/video clips) (8/17/04)
Real 50 Racing Chronicles of an Old Fart on a 50 - (11/5/05)
Motocross
I should have listened to my parents and quit this silly stuff years ago.
The problem is it's FUN!
Inverse Proportion - A little history of my riding and racing. (6/12/2023)
The Dunes 2008 - The Adventure's already begun! (3/12/08)
I got to meet Super Hunky! (11/16/2023)
How to mess with your buddy! (7/29/06)
It's Greg's Birthday: K-fab Style (1/11/07)
Things That Break?
It seems I have an affinity for having the ground stop me in the most inappropriate ways (6/4/2023)


2/26/2000

4/23/2006
African Safari
An epic trip taken a third of the way around the world. (10/09/23)

The Audi World
Audi Oriented stuff I've done.
Brake Job on a 2003 RS6 (4/4/23)
Engineers (10/25/03)
The GMT Mirrors of the Giant Magellan Telescope (5/5/23)
Grimmy (6/9/15)
Our Desert Dream The R&R Resort (5/19/15)
Gardening in the Desert (5/13/23)
Remodeling our Lance Toy Hauler (7/9/23)
Westward with my daughter (7/17/10)
Site Map - An alphabetical listing of all the stuff in this web site.
---
These pages are happiest when viewed with Brave or Safari or darned near anything other than Microsloth Stuff!!!
I don't like Microsloth.
Make it Real
Site Developed December 1998
Last updated on November 16, 2023
---
The disclaimer font size has been increased because I can't see no mo...

Copyright © 2023 Yellowdogracing.com. All rights reserved. Yellowdogracing.com, the Yellow Dog logo and Moskito logo are trademarks and/or servicemarks of Yellowdogracing.com (yes, it's true, I have the trademarks to them, and what a pain in the butt to get!). Reproduction in whole or in part of any form or medium without express written permission from Yellowdogracing.com is prohibited.
Steal anything from this site and I'll be forced to hunt you down and kick you in the shins with my motocross boots.
Opinions expressed in these posts are those of the author (me) so they are the opinion of Yellowdogracing.com. - Hey, I can say what I want in my pages, right???
If provable untruths are expressed, please contact the system administrator and the offending post or posts will be examined and probably laughed at and/or made fun of in a public forum.
All other product names and logos are trademarks/servicemarks or registered trademarks/service marks of their respective owners.
Then again, I stole this disclaimer (a.k.a. "Legal Mumbo Jumbo") from someone and then modified it to meet my needs, so it may not count!

Food for thought

Oh, one last thing: Spelling errors don't count.
I fat finger LOTS of stuff. I try to avoid errors but I am human.
While I'm talking about spelling errors, how about "A LOT?" - not "alot", not "allot", but "A LOT"
For some reason alot just bugs the crap out of me.

Sherbet - not sherbert. That's agreement with someone named Burt.
If you say sherbert, you probably go to the libary...