| | | |
| --- | --- | --- |
| | Home of K-fab | |
January 1, 1999 - Sitting at home in Milford, OH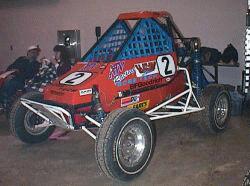 Here I sit one week from the time I leave for St. Louis and boy am I STOKED!! I can't wait to get the Pilot on the track and see what the modifications I've made over the summer are going to do for me. Last year I raced a 400cc engine for all but the last race. This year, I've got the 500cc top end in, new shocks, new tires and rims I the car's race ready. I would love to win St. Louis again. Time will tell.
My Pilot, ready for St. Louis Racing
Round 1, St. Louis, MO - Trans World Dome
Monday, January 11, 1999, Milford, OH
Once again, here I sit, but this time with sore bones and broken car. St. Louis was not nice to me. I hope it's not an omen of races to come and that all my bad luck is now behind me.
The car was working perfectly. Too bad the driver had brain fade!
Practice found that everything was great. The suspension and engine updates really paid off. Right from the start, it looked like Joe Price (last year's champion) and I were going to be in the hunt for the checkered flag. During Saturday morning's practice, Joe and I were able to stick together and had fun forcing each other to try different lines on the track. It didn't appear that either of us had any distinct advantage.
| | | |
| --- | --- | --- |
| | Joe Price and his car with the #1 plate | |
Saturday's heat races proved to be a different story. Joe was given pole position for Heat 1 and I was on pole for Heat 2. Joe easily won his heat. In my heat, I pulled a nice holeshot off the starting line and proceeded to stretch out my lead, but the very first jump, a thirty foot long (or so) table top, proved to be my downfall. I hit the jump with too much speed and also let off the gas too early. This caused the nose of my car to take a nice dive. Also, to make matters worse, I managed to over jump the table top and, with my nose down attitude, I played 'lawn dart' by landing on the nose of the car and then followed it with a very nice flip. I landed back on the wheels, realized that I was STILL ALIVE and hit the gas. I never even lost my first place position! Unfortunately, I broke a bolt that holds the rear hub in place, letting the suspension collapse and the tire then proceeded to attack the rear shock, bending a 5/8" hardened steel shaft. I was done racing for the night.
| | | |
| --- | --- | --- |
| | Shock Damage that ended my day - This shaft is supposed to be straight! | |








Radical Rich Pierce and his trademark wing
Jeff Meyer and Joe Price battled hard for first place in the main for the first half of the race. Nerves finally took their toll on Jeff and he eventually rolled himself out of a podium finish, ending up fourth. Joe Price took first, Charlie Ragusa was second and "Radical" Rich Pierce and his Flying Wing Pilot took third.
Starting Grid for the Main. 11 cars ready to go.
Click here to go to Houston and Round 2

Return Home
6/4/01