| | | |
| --- | --- | --- |
| | Home of K-fab | |
The Toy Hauler Overhaul
Arizona is incredible.
The amount and variety of scenery is just amazing.
It has 16 State Parks, 10 National Monuments, 9 National Forests, 7 National Wildlife Refuges, 4 National Parks, 4 National Recreation Trails, National Memorials, State Recreation Areas, State Historic Sites, a State Fish Hatchery, State Wildlife Areas, National Historic Sites, National Wildlife Areas, a National Recreation Area.
We needed to explore.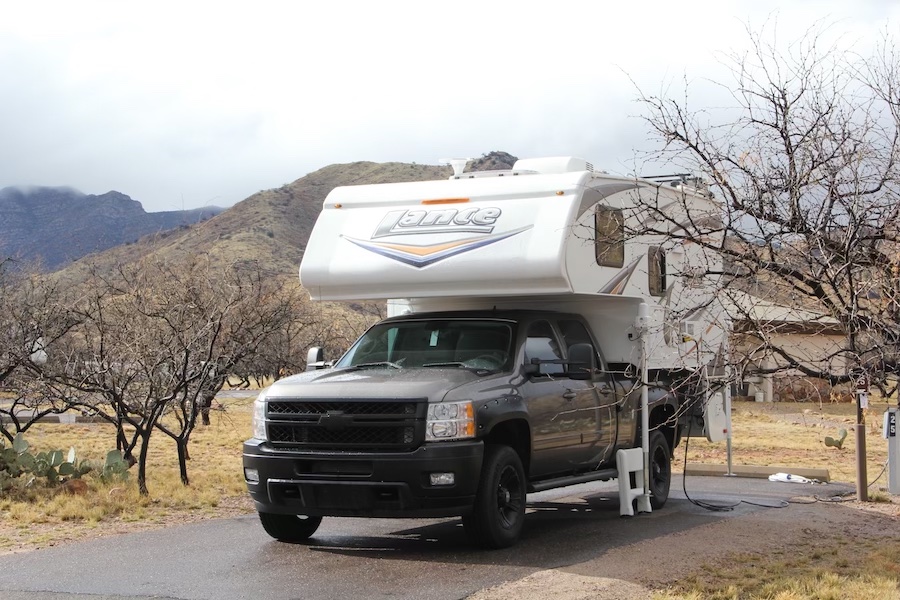 Not long after moving to Arizona, we picked up a Lance truck camper. Seemed like the perfect way to wander around - house on our back, RZR on a trailer behind and the world to see.
We've meandered all over the state checking out quite a few of the State and National Parks. Each place has its own unique scenery, vibe and things to see.
From up in the pine trees and mountains in Williams and the Flagstaff area down to Yuma and the sand dunes, the Grand Canyon to Parker the scenery and experiences are just amazing.
It wasn't long before we realized that, while convenient and comfy, the truck camper wasn't big enough. It gave us the perfect avenue into the world of camping and was a great first step but we wanted a tad more room and the ability to be a little more mobile after setting up where ever it was that we were staying. We had to unload the camper if we wanted to use the pickup for mobility and not to have to deal with a separate trailer for the RZR.
About three years into our traveling and exploring we decided it was time to upgrade. We needed a toy hauler.
This would allow us to bring the RZR with us, eliminate a trailer, have a "loose" vehicle for moving around as needed. We liked our Lance camper so let's see if they offer a toy hauler.
It turns out that Lance made a toy hauler. WOO HOO!!! The 2612 was PERFECT.
Right there in the description was "The 2612 boasts over 12' of unencumbered cargo space, enough to swallow a Polaris RZR XP 4 1000!".
We're sold.
It's a Lance and it fits a four seat RZR!!! (well... until you modify the RZR and put larger sneakers on it. With the 29" stock it fits perfectly. Put 31" sneakers on it and it takes a bit of work to get it in. Gotta back it in, let the air out of the rears and then use the tie downs to pull it in that extra two inches the flats give you.)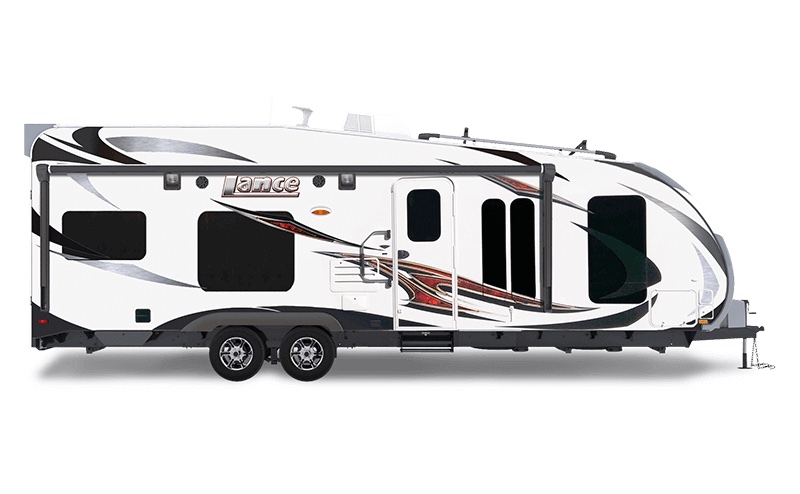 March of 2018 I got online and started searching for a 2612. I found two. One in Oregon and one in Texas. Interesting - we may be looking for a Unicorn.
I called Lance directly and talked to a salesman. It didn't take him long to let me know "If you can find one, GET IT." He informed me that at the time we were looking, Lance was in the process of moving its manufacturing facility and they weren't making any products at the moment.
The Oregon unit was an old advertisement and the dealer hadn't removed it from inventory.
The one in Texas was used but had darned near every option and was in "like new" condition. Looks like I'll be talking to the guy in Marble Falls, Texas.
Phone calls were made and a deal was struck. He was asking a very fair price and I did NOT want to drive across Texas (I-10 SUCKS) so I hit him up with the idea of "I'll give you asking price if you'll meet us half way, in El Paso." (the arm pit of Texas) He agreed and plans were made. It was about 7 hours of drive for each of us to get there.
We met in a small neighborhood just off of I-10, made the exchange and off we went.
I'm still not sure how he managed to pull the trailer from Marble Falls to El Paso without any tyrah (Appalachian for tire) issues. We got the trailer hooked up, drove out of the neighborhood and maybe five to seven miles on I-10 (still SUCKS) I hear "POP". Great... Tyrah down. Fortunately there was an exit to a weigh station just after the tyrah let go. Time to pull over and assess the situation.
I've been traveling with trailers for many, many years. I'm used to this sort of stuff. I'm usually well equipped and "race ready" when it comes to flats. I kinda pride myself on how quickly and efficiently I can change a tyrah - think of the father in 'A Christmas Story' kind of pride and readiness.
Nope, not this time. I've got the pickup truck's jack and tools and that's it. The jack doesn't fit under the axles, my tools are on the smaller side for lug nut removal, the sun is high and the heat is coming down from it. Pavement wasn't any fun to lay on whilst figuring out how to get things taken care of.
After about 30 minutes or so I had the tyrah changed (fortunately there's a spare that's holding air) and we headed back to Arizona with our new to us toy hauler.
Six years and thousands of miles of travel later the 2612 is starting to show some use. It's been across country twice, back to Texas a couple of times and pulled all over Arizona.
Our last trip, earlier this year, was the last trip for the toy hauler in present condition.
The vinyl on the furniture decided to shed the colored surface of it's material, Robyn wanted more counter top space, the entertainment center had the TV up too high, the interior was dark, the shades were ugly and bulky. Every time we stayed in an RV park we'd look at the other RVs and talk about what we'd like to have or things that we wished our 2612 had in it or was different.
We spent a lot of time looking at other stuff trying to decide if it was worth it to look into a new unit all together or if I should get a plain old box trailer and build our own toy hauler or should we just upgrade? After a lot of discussion and searching it was decided that it would be MUCH less expensive to do an interior overhaul so that's the direction we went.
We wanted to change the interior to a lighter scheme. It's a dungeon in stock form. Everything is black, trimmed in black, dim lighting,
As I sit here and write, the overhaul is about 75% done. I finished the entertainment center wiring yesterday, have a bit of TV wiring to attend to and then it's time to focus on finishing out the kitchen counter. After that's done I'll get the flooring down, the recovered couch installed and the new window shades in place.
Here's what I started with. (pic borrowed from Lance because I forgot to take one) It looks all bright and airy, sort of. The color scheme is too dark, though.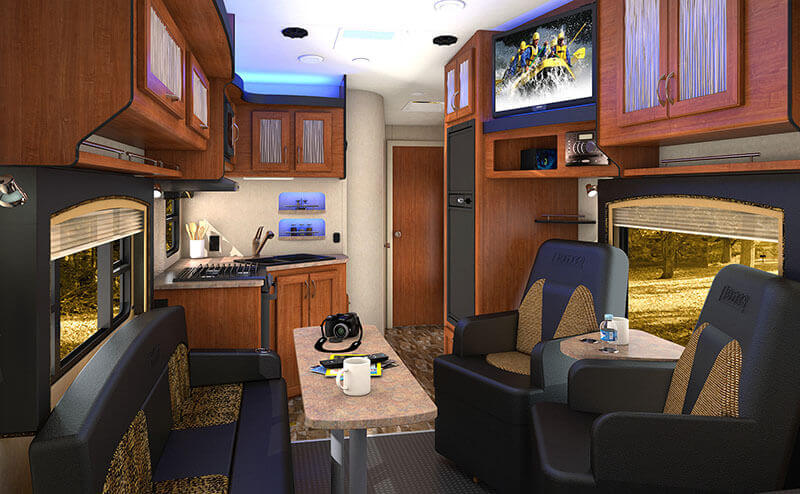 I started out by gutting the kitchen counter. Out with the oven, out with the old sink, test fit of the new sink (It's TIGHT) and see what I'm getting into.
Demo of the kitchen counter complete.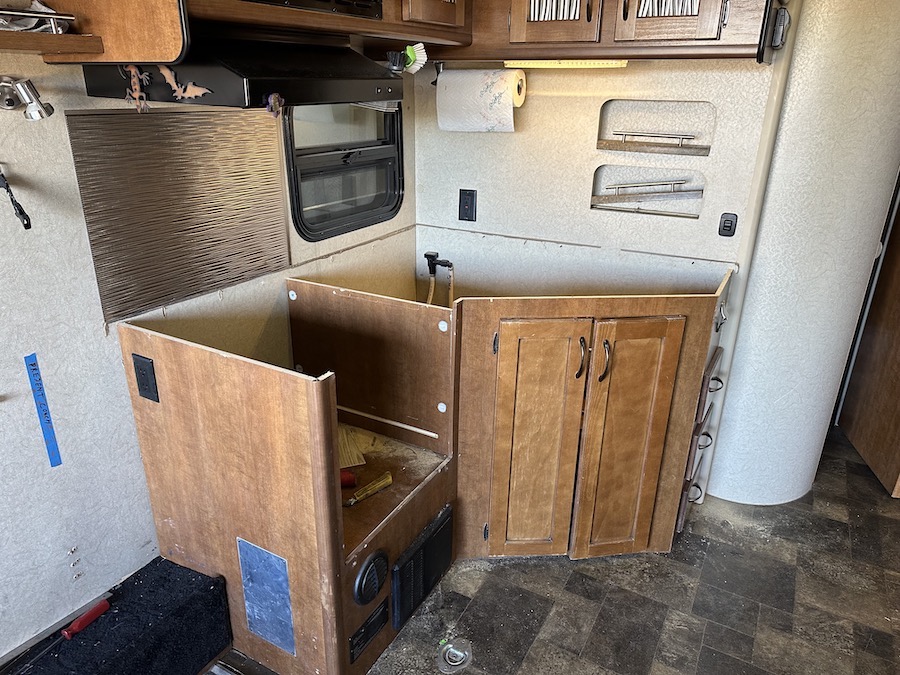 New MDF countertop cut and test fit. I added six inches of space on the end by the oven. This will give a bit of room to set things on when sitting on the couch.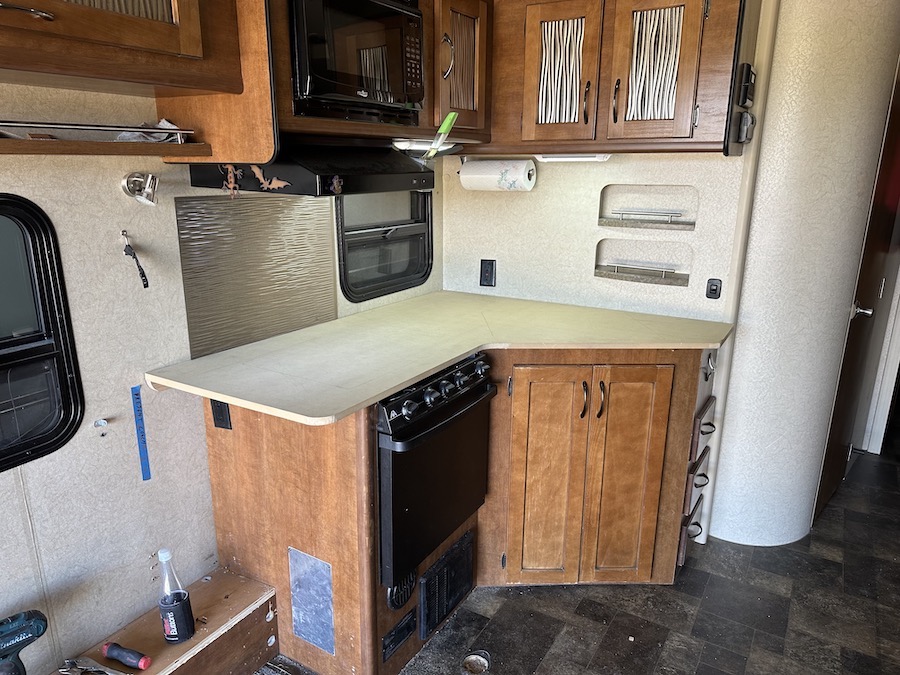 The kitchen area needed a little more lighting too so I got busy and added a couple of LED fixtures.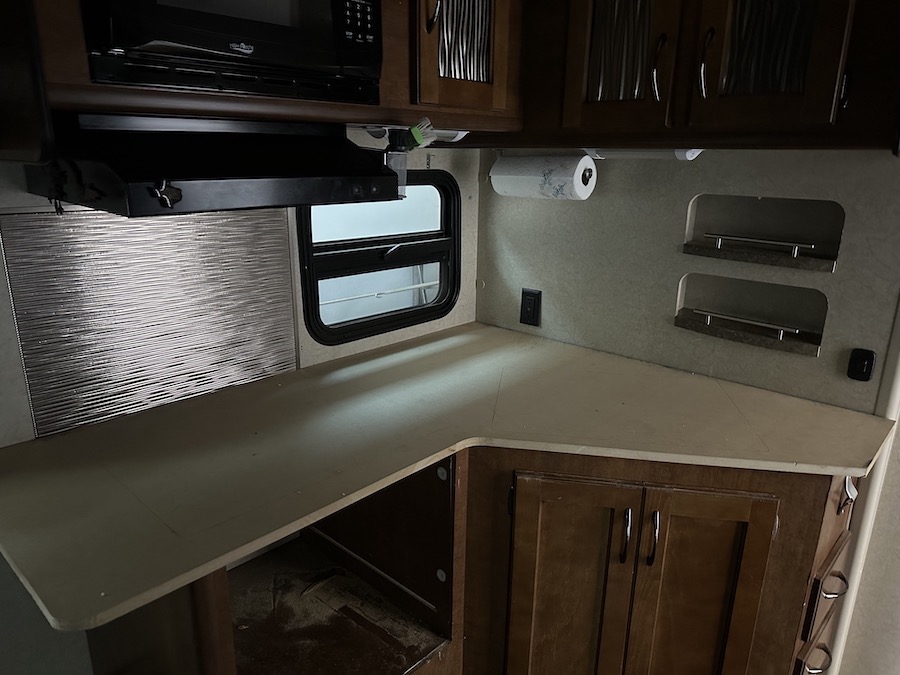 It brightened up the area nicely.
After initial fitment and some massaging, it was time to pour an acrylic top on the MDF. I started out by painting the MDF with a white base coat.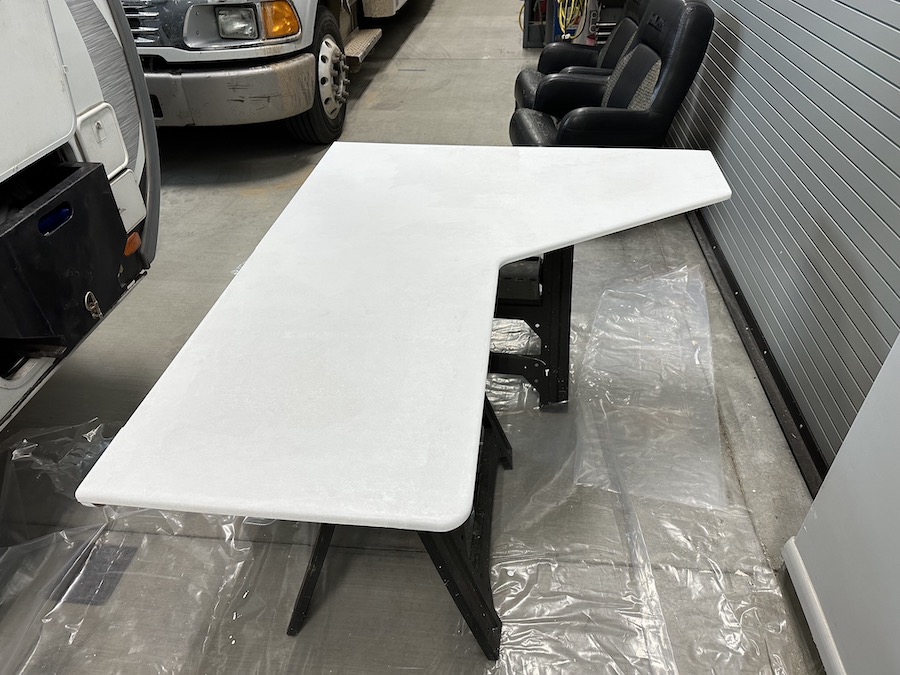 Mixed up some acrylic and poured away.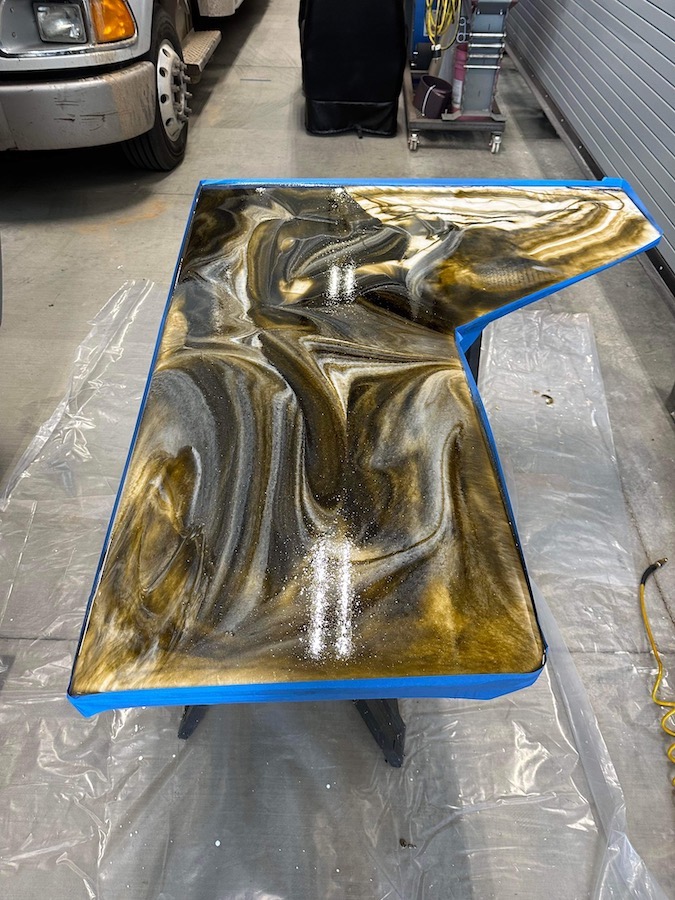 Not bad for my first attempt at pouring an acrylic counter top, eh?
I was a tad crushed when my wife came down to look at the finished pour and says "Nice but it's dark. I wanted it to look more like that section." (as she's pointing to the lighter area)
Damn. "Okay. I'll paint over and repour the top surface again." (grumble, grumble).
My buddy Jay had come over to do some work. He knew about the project and my first attempt at a counter pour. He looked at it and said "That looks good. What's it look like in place?"
Hmmm... I wonder. We put it in place and it looked REALLY good. Robyn's gotta see it installed.
She came down to take a look and much to my surprise gave it the okee-dokee. Whew! Dodged a big bullet there. I covered it in tape to keep it safe from me as I work in the camper. - you'll just have to wait for the "reveal" once it's in place permanently.
Another aspect that we wanted to address was the heat that the propane stovetop put into the camper when Robyn cooks (she's an amazing cook - I'm spoilt). After a bit of research we decided on an induction setup. We have an induction cooktop in our house and love it. Fast, efficient and minimal heat.
This is the test fit for the stovetop and also for the sink. Look carefully and you'll see that the sink is warped a tad and that the induction top sits a bit proud in the countertop.
With half a dozen attempts and over bends I finally got the sink flat. I also sunk the cooktop so that it's flush with the countertop.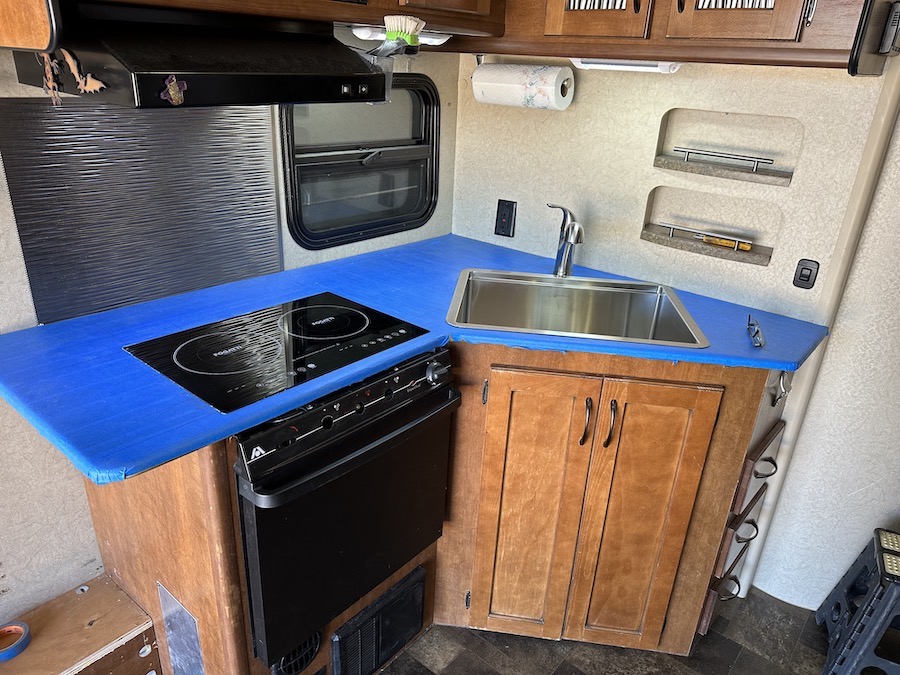 Darkness in the back.
Let there be light! An LED strip made a HUGE difference in the back half. The lower bunk (black of course) gets removed.
Let's remove the entertainment shelving.
The cabinet area removed, the outside speaker and light exposed and the rat's nest of wires now hanging.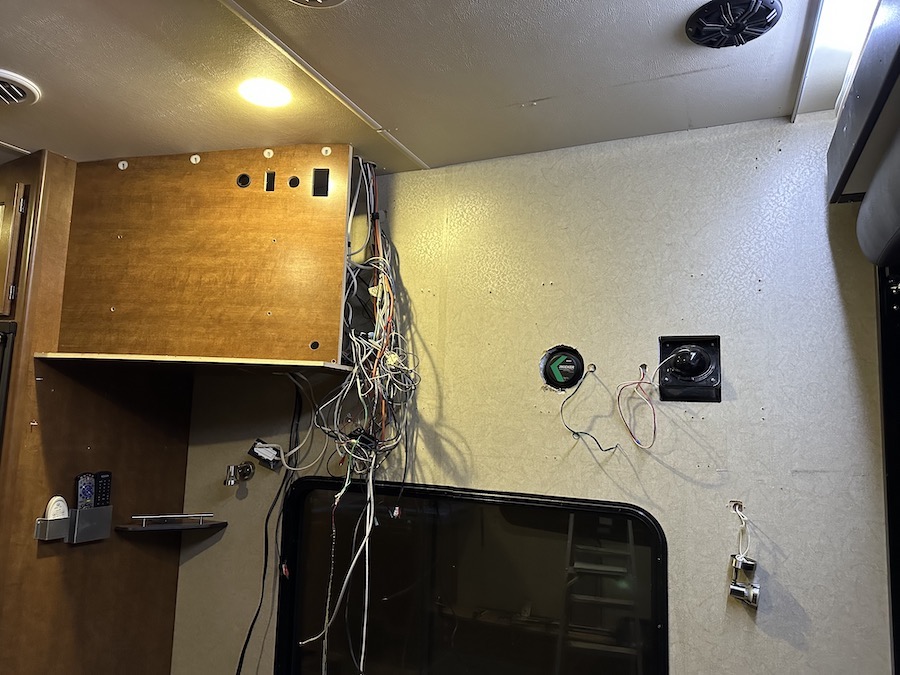 Since the TV was up too high and off to the side, I wanted to move it to a more comfortable location. Straight in front of the couch and down lower so we're not straining our necks. I was going to switch the location of the TV and the cabinet.
To get an idea of where things would fit, I took the shelf of the cabinet and placed it in the TV shelving. I now know where I'll have room to work.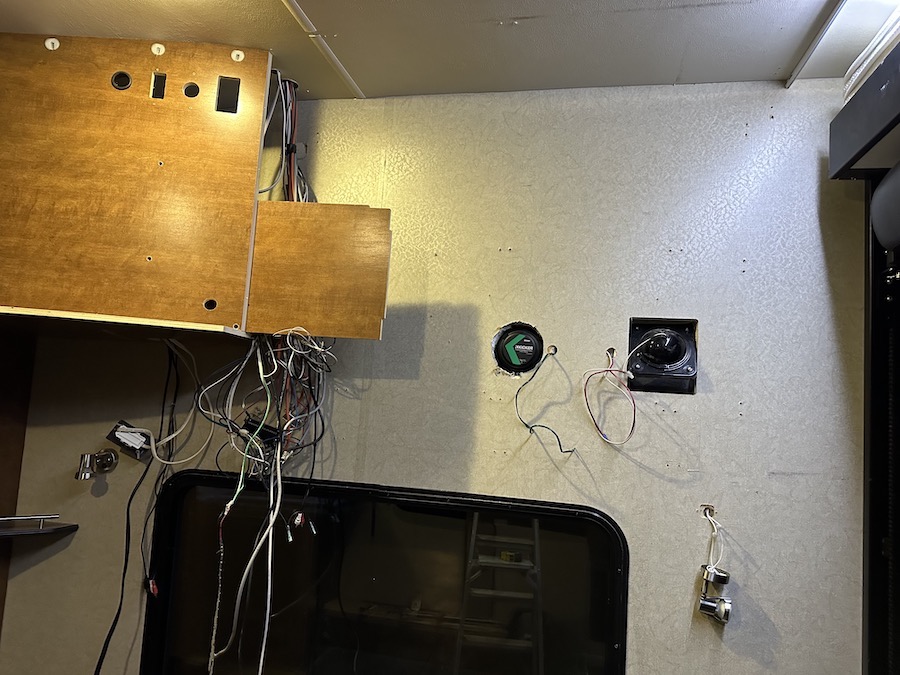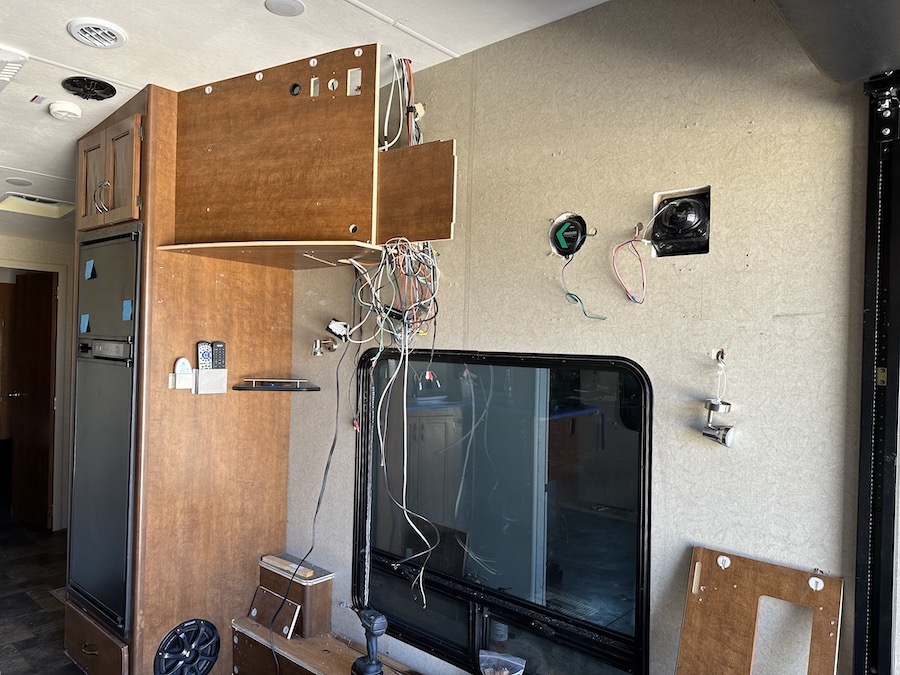 Once it was decided that the TV would fit where I wanted it to, everything was then pulled off the wall leaving nothing but a bunch of wires.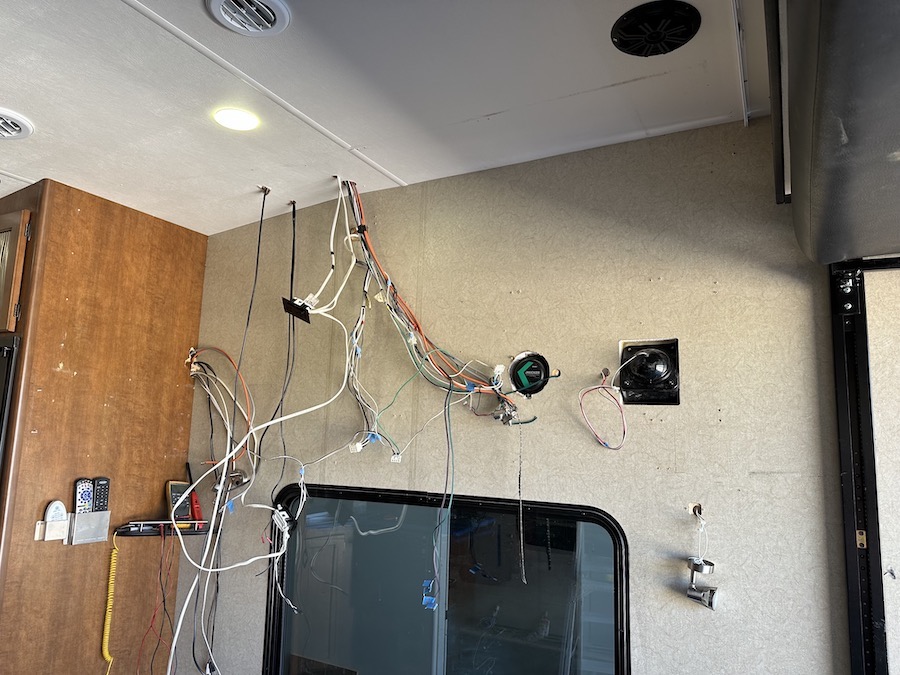 I reassembled the cabinet, cut the top of it to fit flush against the roof (thank goodness I found this before I got too deep into reinstallation).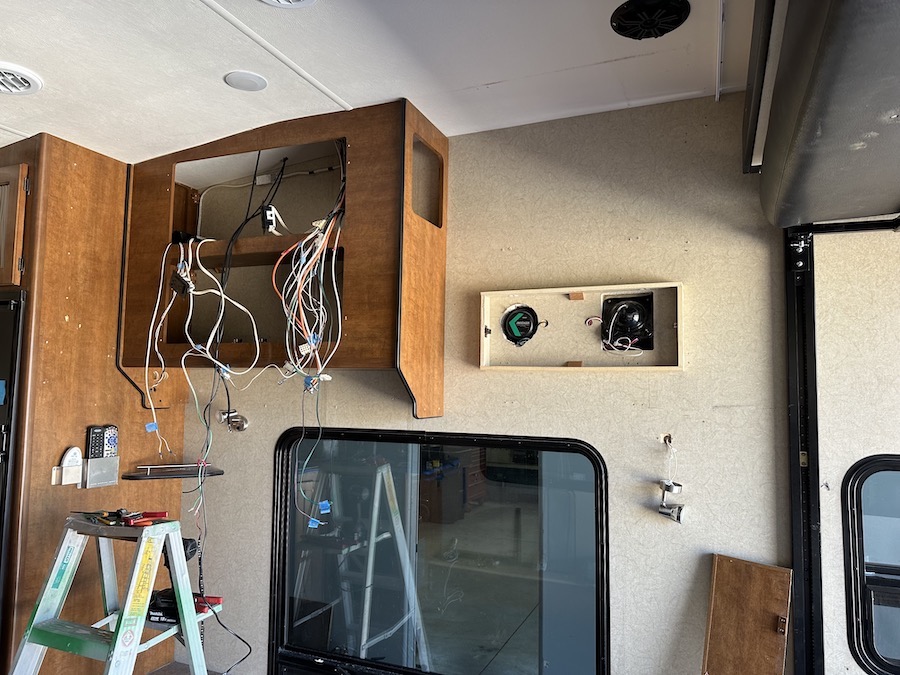 TV fits really well.
The entertainment shelf in place with a new control unit installed.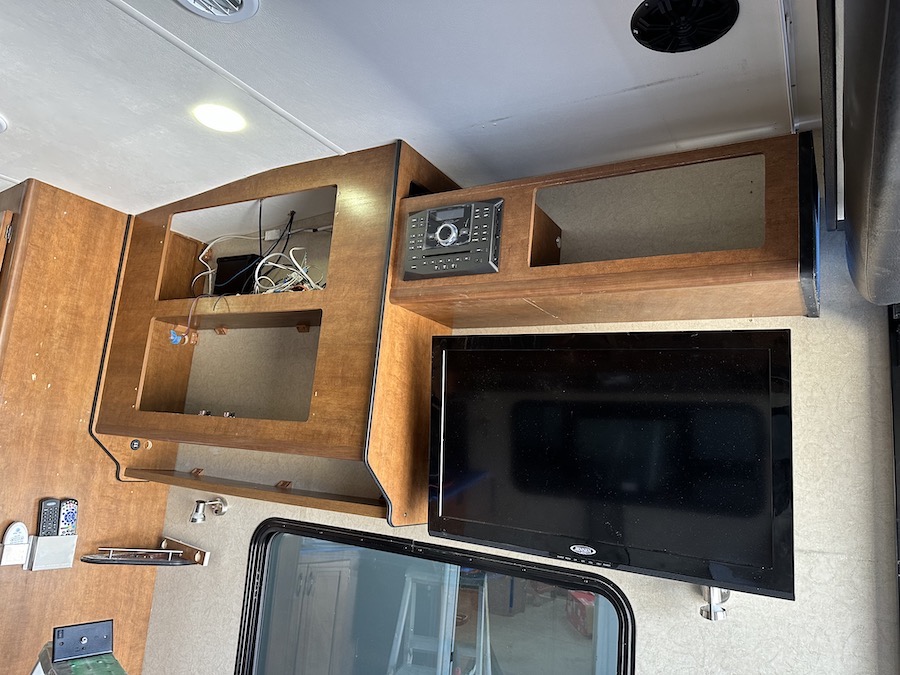 This is where I am as of today.

I still have to get a little bit of TV wiring done and then it's back to work on the kitchen counter. I'll be updating as I go along.

Happy Travels to all!

Return Home
5/22/23