| | | |
| --- | --- | --- |
| | Home of K-fab | |
2006 Tecate/Score Baja 1000
I get to navigate in a Trophy Truck!
(11/11/06) Here I sit on a plane, flying over the middle of the country on my way out to Phoenix.
What may be one of my most spectacular and memorable adventures of my life has begun.
Anyone that plays in the dirt has heard of the Baja 1000. If you haven't, crawl out from under your rock! It's one of the legendary races in motorsports and it's the pinnacle of Off Road Racing: The longest non-stop off road race in the world and the Dirt World's equivalent of the Indy 500. It's one of those dreams that a small time racer, like myself, pines for and hopes to one day run.
Approximately a week ago, that dream came true for me. I suddenly found myself getting ready to go run the 1000.
I follow a web site called Race-Dezert quite a bit. It deals with all sorts of off road racing: From the flying across the deserts out west and in Mexico to the short course races in the Mid-West and West Coast to Rally to Pike's Peak to Rock Crawling. You name it and it will have a section dedicated to that form of off roading. It's also a place where the big boys of racing communicate, share and banter about their passion.
While cruising through the Desert Race section a couple weeks ago, I came across a post by Pistol Pete Sohren titled 'Best Ride of Your Life'. Pete had put up a post offering an open seat in his Trophy Truck for the first, roughly third, of the 1000.
It's not uncommon to see posts like this one, offering a ride, asking for help with pits, the chance to work on a team, etc.. I watched the thread for about a week. A lot of interest, but no takers. There I sat on Friday night, reading the latest post in the thread and it struck me - why can't I do this??? Obviously, from the first time I saw the thread, I though "That would be awesome", but I never really considered it. I don't know what it was that clicked, but for some reason, as I sat there staring at the computer screen it hit me - why can't I do this? I made a phone call to my kids' mom to see if there would be any sort of scheduling problems on such short notice. She said it wouldn't be a problem and I had the green light to go. I COULD GO! I posted to Pete that I was interested.
I got a phone call on Saturday morning from Pete. "You're in if you want the seat."
I wanted a bit more info about the race and what was involved in taking the seat. Pete informed that I have to help the team's effort by covering the fuel charges for the race truck. It's not cheap, but it's not overly pricey either. For the experience, the chance at being in the 1000 - especially since it's a year that SCORE is running it Point to Point; starting in Ensenada and ending in La Paz and, of course, seat time in a Trophy Truck, I couldn't loose. It was worth it no matter which way you look at it.
It also helped that I happen to know Pete. I met him back when I was doing the Stadium Racing. Pete drove a truck in the series and he was always telling me that I needed to come race trucks with him and the other guys. "Get out of that toy thing you race, come race with the big guys. Oh, here, you need to buy my truck. I'll make you a deal on the whole thing." I heard this just about every weekend. "Come race with us, buy my truck, get outta that little thing." I hung around with him and his crew a bit during the races. It was a good time. I hadn't seen Pete since 1999 and the end of the series but this past December I managed to cross paths with him at an off road expo held in Phoenix. There stood Pete in front of a pair of Trophy Trucks. One built by Gieser - The best in the business: 760hp, capable of 135 mph across the desert, loads of travel and pretty much the top of the pecking order in off road race vehicles. Class 1 Cars come close, but I don't think you get any bigger or better than a TT. As I walked by Pete, I gave him a nod and asked if he remembered me. Before I could finish asking him he shot me a big smile and said "Hey! What the hell are you doing here? Aren't you from Ohio? He knew me right off the bat. Cool!
The phone call on Saturday morning was pretty quick and covered the basics "I need all your info - addy, phone number, DOB, emergency contacts - the standard stuff." He had to get paperwork for me into SCORE. I sent him an e-mail with all the info and he responded back that he'd get in touch with me on Monday. Monday came and I got another phone call. He had all he needed from me and everything was in line for me to come out and join his crew and do the race. I asked what the schedule for the week was going to be, where and when I should fly out. "Get out here on Saturday. We're heading down to Mexico on Sunday, pre-running on Monday and Tuesday and then doing the race." I was actually going to get to do this. I had no clue what I was supposed to do other than get in, sit down, strap in and hang on, but that didn't matter. I was gonna be in the 1000! I also got the Pistol Pete treatment that I'd been so used to from the Stadium races "What in the world are you going to race that weird car in Class 10 for - you need to buy a REAL 10 car - I know of one that you need. I'll help you get it if you want. Come on, come race with the big guys." Some things never change and I was happy about it.
I talked to Pete again on Wednesday - I needed to find out what sort of stuff to pack, what the game plan for the week was in a bit more detail. Just trying to get my ducks in a row, if you will. As we're talking about what's going on for the week, Pete suddenly says "Hey, you're gonna navigate for me if you want. You need the experience if you're going to come and race in SCORE next year anyhow."
"WHAT? - you want me to navigate?"
"Yeah. We'll be running a fairly smooth section of the course (we run the first 377 out of 1057 miles). There aren't any big washes or ditches to endo us at 100 mph. You just have to read the GPS and let me know what's coming up. So if we crash, it's your fault." There was a sinister laugh behind that last comment. Great - the pressure's on for a job I've never done!
Pete went on to tell me a bit more about the week's plans. We were going to spend Monday and Tuesday pre-running in a truck over the section of the race we were going to do. Pete said that we'd start out on Monday with me running navigator to see how I would do. He also said he'd help me as we went along. Too cool. I'd gone from just sitting there watching the desert of the Baja Peninsula rip by me at 100 mph to being a part of the race and doing something of some importance. I was both a bit tentative and stoked at the same time. I may as well give it a shot, right? After the two days of pre-running we'll spend Wednesday going through contingency, tech and being part of the huge gathering of all the racers, pit people and fans.
We leave the line on Thursday morning around 11:00, sixth starting position. We were going to be at the front of the pack of the fast guys. Trophy Trucks are first off the line, one every 30 seconds, I believe, Class 1 next then Class 10, to be followed by all the other classes.
There are close to 450 entries in the race this year - a new record for entries by a long way. I'm involved in what's shaping up to be the biggest Baja 1000 in it's 35ish years of existence. To top it all off, Pete informed me that, of the roughly 450 entries, there were approximately 30 vehicles capable of winning the over all race, along with their class. We were one of these 30! This is just more than I could have imagined.
The names, backgrounds and status levels of the racers attempting this year's 1000 is impressive. Besides the heavy hitters in the desert - people like the Herbst family and the McMillen's, Robby Gordon from NASCAR and all the top guys in SCORE & BITD, there are racers from WRC, motocross, FMX, CORR, guys like Jesse James of West Coast Choppers (I hope I get to see his wife Sandra Bullock!), Mike Metzger and Kenny Bartram of FMX fame, Travis Pastrana, the Wonder Kid (as in I wonder if he'll stay upright or I wonder if he'll hit the dirt), Rick Johnson from the hey days of Motocross and Supercross, Dakkar rally stars and lots of others. If they're big, they're here and I get to wander around these guys. Amazing. Just flat amazing.
I have my trusty old Sony digital 8 camera packed away and have full intentions of using it for video and pix. I'll try to get as much as I can as long as it doesn't interfere with what ever job it is that I'm assigned. I'll make sure I get it all up here on this page once I get back.
---
11/19/06 - Sunday afternoon, here I am sitting on the plane, headed back to Ohio. Bummer. I'm not only leaving one of the most amazing weeks of my life, I'm leaving the sun, mid 70's and I hear it might snow flurry about the time I get home.
I'm really not sure where to start in about this past week. It's almost been overwhelming with happenings, adventure and fun. I guess I'll start with getting into Phoenix last Saturday.
I got to Chad Bunch's house just before dark. The Trophy Truck (TT) and the pre-runner were both at Chad's place being prepped. The only person I knew of the crew was Pete, so I felt a bit out of place at first, but it didn't take long for me to start talking with everyone and for Pete to put me to work. Everyone was prepping the two vehicles and checking systems and getting everything race ready. The main focus for Pete, Eddie and myself was to get the pre-runner loaded. The three of us were heading on down to Ensenada on Sunday morning so we could start pre-running on Monday. I helped until about 8:00 or so and headed on back to the Phoenix home.
Sunday morning Pete and Eddie stopped by the house, pre-runner in tow, picked me up and off we went. Pete and Eddie started filling me in on the trip to Ensenada:
1) Stop in San Diego at a hotel that SCORE had set up for the teams get info on the race. BF Goodrich was also set up, loading six (I think) trucks with stuff.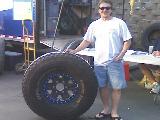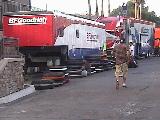 BFG takes teams' spare wheels, fuel and such down to designated pits along the course. They set up radio relays also and are a very integral part of the race. They are support for a lot of the teams and racers that don't own semi's, half a dozen chase trucks and the likes. I noticed that as we walked through the parking lot and the hotel lobby where the info was, Pete seems to know just about everyone (or, should I say everyone knows Pete? - as he says "It's better to be infamous than not known at all.") Eddie and I each took a wheel to a different truck and left them with BFG. The wheels are a mere 39" in diam.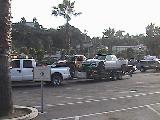 2) Fill the cooler. San Diego was interesting...
After we left the hotel we headed south, looking for a grocery store. We needed supplies; lunch meat, bread, chips, drinks, ice. We passed downtown and turned off the freeway. Neighborhoods everywhere - we were bound to find a store... One would think...
After about 10 minutes of driving around in an area that none of us were too terribly comfortable about, we saw a store. Well, uhm.. it was a store, but not the sort we were looking for. There was something about it that wasn't "safe". Nope, not gonna stop there. We drive a bit farther and I finally put my window down at a stop light and ask the woman in the car next to us "Hey, where's a grocery store?" - you can guess where she pointed. Back behind us at the place we'd passed. Strike one. We decided to head back towards the freeway and came across a place that actually had the word, in English, "Grocery" across the front. Eddie and I hopped out and Pete went off in search of diesel for the truck. Like Eddie said, we should have known right off the bat when we saw the grocery carts that things weren't going to be good. They were those 1/2 sized units and the advertisements in the front of them were in Spanish. Uh oh. Oh well, we're here. Let's see if we can get stuff. Nope, no deli. Nope, no pretzels. Nope, none of this, that or just about anything on our list. We left with a couple bags of lunch meat, a case of Pepsi, two cases of water, two loaves of bread and a bunch of ice.
Okay, now how do we get back on the freeway??? Once again, here we were lost in some neighborhood trying to find our way out. Getting in - no prob. Finding food - sketchy to say the least. Out? Help! A dozen or so turns later and we were finally back on the freeway heading south. Fortunately I recognized the area (I'd spent a couple days in San Diego a couple years back) and knew there was a REAL grocery store in the area. Pete remembered it too. I got my last Starbuck's fix (yes, I have a problem...), Eddie went in for supplies and Pete stayed with the truck and pre-runner. Ten minutes later we were heading into Mexico.
I was giving one thing to do by Pete on Saturday evening: See if my cell phone would work in Mexico. I called Verizon and asked if I could get international service. "Sure - no problem. Do this, do that, call this number and it will activate your international calling." I was told by the woman on the phone. All I had to do was dial a number, hit option two and my phone would be set. She told me to do it just before I crossed the boarder. (why then I don't know - in hind sight I should have done it the moment I hung up with her.) Guess what I forgot to do. Just as we crossed into Mexico, I remembered. I picked up my phone and it was already on roam. NOT GOOD! My phone could receive calls, but no dice on dialing out. Pete wasn't too terribly happy about this (I don't blame him either). One job and I drop the ball...
We head on into Mexico and the sun's on the way down. We go through a few toll booths, pay the toll, hand out stickers (we handed out stickers the entire week) and head on south. A couple hours later we arrived in Ensenada. Stop at the hotel, park the truck, put up banners to save room for the TT, check in, pass out more stickers and head out for some food. We also stopped in at on particularly large bar that's right at the entrance to the area where the whole Baja 1000 experience takes place. We had banners to hang. A ladder, a few strips of tape and some really helpful employees of the bar and we had it in place. Grab some food, take in a bit of the local night life, toss back a couple cold ones (not a dozen, right Eddie???) head back to the room and crash for the evening.
I got to eat REAL Mexican food for the first time in a very, very long time. For someone that grew up ten miles from Mexico, down in South Texas that now lives in Ohio where there is NO Mexican food, I was in hog heaven. Thin flour tortillas that are probably hand made, real refried beans, rice, carne asada - heaven!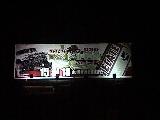 Evening 1 - We have a room with two beds for the first night, three rooms for the second and third nights. There are three of us the first night. I don't know what it is (maybe it's because I'm a guy?), but I'm happier in a bed by myself, not with another guy. (especially when the movie Broke Back Mountain keeps being referenced) No big deal for me, though. I'd already spied two couches out in the waiting area by the elevators on our floor. Four nice couch pillows later, a borrowed bed spread and a borrowed pillow and I had my bed setup in the corner of the room on the floor. I'd been warned that Eddie has a bit of a snoring issue (Eddie came prepped - nose strips, anti-snore spray - I understand they helped some?), so stick in the ear plugs, lay down and sleep away. I can sleep draped across a rock if it's semi-quiet. We were all up by 7:00 the next morning, ready to prep and go pre-run.
We unloaded the pre-runner off the truck, got it prepped and head out into Ensenada. Pete was driving, with Eddie in the middle seat and me in front of the GPS on the right side. - a quick side note: Both trucks are three seaters. The pre-runner drives from the left, like a normal truck, the navigator sits on the right, and the middle seat sits back behind the two outer seats. Middle guy watches the gauges. The TT is a bit different; Driver in the middle with the gauge watcher on the left and navigator on the right. The seats aren't staggered much either.
The plan was to go run the first part of the course - maybe a hundred miles or so. This would get me in tune with the truck, watching the GPS, mark more waypoints, try new tracks and see if this might be a scenario that would work for the race.
We headed down a couple streets and discovered that the first section of the course wasn't open yet. There stood Sal Fish (Mr. SCORE, if you will) at the end of the street telling us "We're still working on blading out the first area - head on down to the first highway crossing and start there." Once again, Pete, Eddie and I start making turns, heading through neighborhoods and such trying to find where we were supposed to be. It didn't take long to find the road out of Ensenada though. That's twice in 24 hours now...
We got to the first road crossing and dropped down into the course. I wasn't sure of what to expect. The pre-runner's a solid truck - good suspension, seems like it drives on the pavement well, pretty good hp (around 400 or so), doesn't seem to rock around too much in corners. I've also not ridden with Pete nor in anything like this, so things were completely new. One of my buddies told me, just before I left Phoenix "You're gonna be scared." - no, not once the entire week was I ever scared. But the first twenty minutes or so were what I'd call a bit sketchy for me. Everything new and different, I just had to get used to it. The only time I can recall being slightly uneasy was on a tight mountain trail that turned to the left about 180 degrees. I can barely see over the hood of the truck and all I can see out my window is a rocky valley. I usually have a steering wheel in my hand and not being able to steer sort of made me think "Hmm... this could be ugly if we don't make the corner." We made it fine and I was starting to get the feeling of what was going on. The pre-runner was surprisingly smooth and agile. This is pretty cool!
So here the three of us are running along the course. Some areas were open, some tight and twisty. We worked our way up and over a couple mountain ridges, down through some washes, along dirt roads, through a couple small villages (I guess that's what you'd call them), handing out stickers to the kids along the roads, with me trying to learn the GPS, pushing in new waypoints and Eddie taking notes with a tape recorder. Pete and Eddie had already run the course and there were quite a few waypoints in the GPS. We'd come up on a waypoint, I'd try to read the note on my clip board that went with the number into the intercom: "waypoint 003, 1 left over crest". Fortunately, I enjoyed watching the WRC rally racing on what used to be the Speed Channel (damn thing should be called the NASCAR Channel now and is worthless) and I was always into listening to the co-driver tell the driver what was up. Nicky Grist and Collin McCrae (sorry, I know that's spelled wrong) were the best. Collin driving like a mad man with Nicky calmly saying, in that great English accent, "3 left, tightens, rocks on right." I figured if it worked for them, I'd try to copy it and hope it worked for us.
I started getting into it. I was getting comfortable with Pete's driving, getting used to the truck and really enjoying being back out running through the desert. (if you've never been in a car racing across the dirt, sand and rocks, you just won't understand - there's nothing that compares and it's why we do it) I'm starting to tie in what I'm seeing on the GPS screen with what I'm seeing over the dash in front of me and Pete's been giving me hints on how to call things. Look at the screen and call "Right 2, maybe 3 - meaning it may be a bit tighter than it looks". Pete would come into the corner accordingly. We were starting to communicate pretty good. After we started getting that down, it was time to start getting more info to him - "Left 5 in 4, 3, 2, 1" and we'd be in the corner. This stuff was FUN. We made a couple pit stops, relaxed a bit and then Pete, Eddie and I would climb back in and run some more.
Even though we're out in the desert on dirt and sand trails, we made a couple road crossings. We'd come out of the desert and turn onto the main highway. The race actually uses the roads in some spots. I had to read the speed on the GPS to Pete as we drove along the asphalt. "60, 58, 60, 63" - the idea was to keep Pete between 58 and 62 mph. You're not allowed to speed on the roads during the race. Off the road and back into the desert. Hammer down. I'm also starting to get in tune with the navigation - "2 left into 4 right, opens up, here's the left now, into the right". The more info I can give him, the faster we can go. Pete's also starting to trust what I'm saying. During our run we ran across a couple of the more famous sections of the course. Ojos Negros' infamous jump, the Goat Trail (Eddie prefers to call it the Mule Trail). We turn on the highway at the end of the Goat Trail and run past Mike's Sky Ranch before dropping back into the dirt. I finally got an idea of what a TT is capable of in the whoops in this section. It's flat with long sweepers and Pete gets on the throttle. The pre-runner just floats over two and three foot deep whoops. It was quite impressive. Here we are running along anywhere from 50 to 65 though stuff that would eat a lot of other vehicles. Pete's telling me that we'll be able to run 20 mph faster through this area in the TT and that he's actually taking it pretty easy on the pre-runner. We run along this wash for a few miles and then stop around mile 135 or so for a quick break. A bit of snackage and some drinks would be good. This is where the pic on the right was taken. It's kind of ironic we stopped along this area - you'll understand a bit later in this long windy story...
Originally, after we got off the Goat Trail, Pete had planned on heading down to Trinidad for lunch and then back to the hotel in Ensenada. It was about 80 miles or so back and, since you can't run the course backwards (it's STUPID and DANGEROUS!), we were going to run on the highway. Pete decided that I was doing a good enough job and he was having so much fun that we kept going on down the course and have lunch in San Felipe at Rice and Beans. We went past mile 140 - this is where our first pit stop would be. There were a few stakes and some red ribbon up - "That's our pit" I was told. A bit farther down the course was the dry lake bed called El Diablo. We hit it out of the whoops and then Pete put the pedal down. I watched our speed climb up to just over 90 mph. Amazing - the truck just cruises across this vast, smooth dirt like it's on a Sunday cruise. I'm also informed that the TT will run closer to 135 in this section. We see what's left of an old car on the left hand side of the trail that runs across the lake bed. There are stickers all over it. Out of the lake bed and into more whoops. As we're blasting through them around 65, we come up on a 14 car. We pass the guy like he's standing still. We're in San Felipe after what seemed like just a few minutes.
One of the really wild things about Mexico is that if it drives under it's own power, you can drive it on the road. Even though the pre-runner has an AZ license plate, it's not "that" street legal - I don't think it would fly in Ohio... In Mexico - no problem! So what do you do when you end up in San Felipe in a pre-runner? Drive down the street and park in front Rice & Beans! We weren't the only ones with this idea either. The Monster pre-runner and chase team was there and the 14 car that we flew by in the whoops pulled up not long after we got our food ordered.
It's a cool little place that overlooks the bay. Open windows, bar and patio. All sorts of racing stuff on the walls and hanging from the ceiling. There were off road videos playing on the two tv sets.
We had a great lunch, chatted w/the 14 Car guys, heckled the Monster guys and then decided to head on back to Ensenada.
I switched seat positions with Eddie to see what the view from the center of the truck was like on the ride home. Didn't take long to discover that the breeze was a lot stronger in the middle. Being back an extra two feet in the cab let the air come down over my legs and wearing shorts made it a bit on the chilly side heading home. We had to pull through a military check point just north of San Felipe. Lots of big smiles from the guys with guns - we handed out stickers to them too. The drive back was just about three hours and we got lucky that the sun didn't go down until we were real close to Ensenada. We pulled into the Horsepower Ranch (it's a few miles out of town), had a cold beverage, hooked up the lights and then headed back into Ensenada.
I was beat. I knew we had three rooms now, so I grabbed one of the keys and by 9:00, I was down for the count. My first day in Baja was a complete and total blast. Already, the price of admission was more than worth it.
Tuesday morning Eddie, Pete and I got moving fairly early. The G&R team had arrived and was setting up. They had five chase trucks, two pre-runners and a pair of trophy trucks. They were having issues with the fuel injection on the silver one. Pete talked to Smitty (one of the G&R guys) a bit while Eddie and I got ready, did some more prep stuff and loaded up again.
Around 9:00 or so it was time to go pre-run again. We needed to run the first part of the course and get it saved in the GPS. This time we drove right down to the starting wash and took off. It didn't take long to discover that the first twelve miles of the course were the worst. It was very tight and technical, had a bunch of silt beds, tight turns and went though the back yard of some small neighborhood. Within a mile or so of where we come out of the wash and get into more of a trail, the course came to a large construction plant of some sort. There was a bulldozer pushing in a new trail. We had to go around it. The hill was steep and silty. The pre-runner just ran right up and over the hill top and we headed on out. Eddie and I started tracking the course, with Pete telling us when to put in waypoints to mark things we needed to be aware of. We came up on a few bikes and a quad. They seem oblivious to us and when they do finally realize what's behind them they dart out of the way pretty quickly - well there was one idiot that just stopped on the right side and waved us around - like we had room?? When we got to the highway crossing, where we turned in yesterday, we headed on across and ran the course again, still adding waypoints to the stuff we'd done the day before. I was getting dialed in on calling the navigation and Pete was getting used to me too. We were moving pretty good. One thing that I noticed today was that there were more people on the course. We saw, of all things, an Isuzu Trooper with OHIO plates on one of the silt hills, a couple class one pre-runners and a couple other vehicles. People were coming in for the week.
Right around the 35 mile mark, we made a sweeping left hander that put us into a wash. We ran the same line we were in yesterday and about a mile into it, we decided to take a break. Pete pulled up on a high spot and we saw another TT pre-runner moving along on the outside of the fence. It was Troy Herbst of Terrible Herbst. He was looking for a faster line. We also saw a bike in the same area. We watched Troy go back and forth a couple times and then we headed on out. At the end of the wash, just before the trail starts up into the mountains again, there's a deep silt section. Yesterday Pete went through it fairly easy and didn't stir the stuff up much. Today, he nailed a big pocket and suddenly I can't see my hands in front of me. Nice... It's like having someone throw a shovel full of brown flour in your face. We bounced forward a few feet, the dust started to disappear and settle and we were off again.
The trail up the mountain's tight, twisty and fairly rocky. Yesterday, this is the trail that I was a bit sketchy feeling on. Today, not a problem. I just kept reading the course to Pete and he kept driving. We ended up catching a smaller beam buggy and followed it for a while. We got to a turn and a group of guys signaled to the buggy that we were behind. They let us by and off we went at speed again. At the top of the mountain trail the course went back to sand and switchbacks. There were rocks that we had to be wary of and we found a couple small "corner straighteners". It was a fun section - fairly fast, some whoops, a cool rhythm. It finally came to the road again and we hopped up on the highway for a bit. We got to the turn off, made a sharp left and headed back into the dirt. A few miles down the trail there was a fork in the road. The better of the two arms went off to the right, but it was marked with Wrong Way signs. We stopped and took a break. The first guy by was in a buggy. Pete knew him. He stopped and everyone discussed the direction to go. Two bikes and then Troy Herbst pulled up - Pete asked Troy if he was looking for more land to buy up (in reference to Troy looking for a better line before the silt bed). It was decided that we would go to the right and Troy would take the left. We got strapped back in and took off. At the end of a three to four mile run, we came to the meeting points. Troy had about a fifty foot advantage. It obviously didn't matter which one you took. We went back to the Y and ran the left side with the buggy guys behind us. Other than a couple very large rocks, it was pretty easy. We headed on down the trail and finally ended up at the end of the Goat Trail on the highway again. We headed down into Trinidad and had some lunch. After food and a bit of relaxing, we hopped on the road and headed back to Ensenada. It wasn't nearly as chilly this time, as the sun was still pretty high in the sky.
When we got back to the hotel, Pete met up with one of the sponsors; Chris from American Racing and the ATX Series line of wheels. Pete had planned on giving Chris a ride, so we got him strapped into the middle seat and took off to the beginning of the course. This time we got into the wash right at the start area. SCORE had the big jump installed so we hit it. I've discovered a new amazing ride. A trophy truck launching off a six foot high jump is AWESOME!!! The truck just soaked up the landing like it was nothing. I was expecting, at least, a bit of a jolt, but it just landed softly and soaked it up. We ran the wash, out into the streets and then back down the course again. I knew the trail a bit better this time and the area that was being worked on earlier was now a runnable trail. The three of us ran back to the first highway crossing, turned onto the highway and then headed back to the hotel. Another killer day of pre-running was done. It was time to relax and let loose a bit. Let's just say I managed to "be on stage" for a few minutes before the night was through.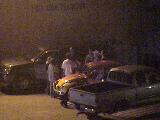 People from a bunch of teams had started to show up and everyone was wandering around talking to everyone else. I happened to see the Class 11 car of the Fire Guys' Racing Team. Class 11 racers are the toughest of the SCORE racers. These guys bounce and beat themselves along the course in what's basically a stock suspension old style Volkswagen Bug. I walked over and met the guys working on the Bug. Gary and crew are some of the nicest people you'll ever meet and they have my complete respect for attempting the 1000 in a Class 11 car. - by the way, thanks for lending us the tools, Gary.
I just came across this on Race Dezert - a great way to explain Class 11 compared to Trophy Trucks:
"Racing off-road, and the Baja 1000 more then any other race, is like hunting a deadly animal.
On one end is the Trophy Truck/Class 1 type hunter. It's armed with mines, trip wires, night vision goggles, and my personal favorite, the AK-47 with full auto, laser sight, and scope. Sure the beast can beat you, but your chances of survival with all those tools is something everybody would want.
Class 11 - you have no food, no shelter, a spoon you sharpend on a rock to make a pointed end and a large stick you figure you can bonk the beast with. You're also wearing only a speedo..."
Before we called it a night, we went over the plan for Wednesday. The rest of the crew and the TT were going to be in tonight and then Pete was going to get up early - by 6:00 - and take the truck on over to contingency. He wanted to get it up near the front of the line so we could get through tech. I was beat, so off to my room I went.
Sometime around 2:00 in the morning, the crew showed up. I'm suddenly woken up by a bunch of guys coming into my room. Okay, no big deal, I knew they were coming. I rolled over and tried to go back to sleep. Just about the time I fade off, I'm suddenly aware of someone getting in the bed. I was tired, and pretty much just moved over to my side of the bed (all the way to the edge). I wasn't going back into sleep very well - more like that twilight sleep. Suddenly the person on the other side of the bed starts snoring. Great. I can't deal with snoring. I found my ear plugs, stuck them in and tried to go to sleep. No dice. I wasn't going to be a pain or ask the guy to move out, so I gathered up the bedspread, my pillow and headed downstairs and out into the parking lot. I found one of the sleeping bags in the back of Pete's truck, tossed the bedspread on the trailer, crawled into the sleeping back and went to sleep. Fortunately for me, I can sleep on a rock if it's quiet.
I was out when the first truck fired up. Let me tell you - three Trophy Trucks firing up a total of about 2,300 hp will bring anyone out of the deepest sleep. The two G&R trucks on one side of the trailer and ours on the other. They revved up the engines, got them warmed up and took off. It was still dark (or I had my head deep enough in the sleeping back it seemed dark?) so once they left I went back to sleep. The next thing I hear is a voice "What the Hell??? Look at that - someone's sleeping on the damn trailer!" This time I poked my head out - I didn't want to get tossed off because they didn't know who I was. It ended up being Kevin, Mike and Bob (Snoring Bob...) I explained what drove me to the trailer for the night and we all had a good laugh about it. Hey, this whole trip's an adventure, right?
I wandered on down to Contingency row with my suit and helmet for tech later in the morning. Amazing. I'm standing at the front of a line that's growing around the block. The best off road vehicles in the world were spread from one end of the street to the other. All on display. I ran back to the hotel and grabbed my camera.
Ensenada is in full swing. There are people everywhere. It's like a county fair. Vendors selling food (great hand made tortillas filled with beans and rice and shrimp), videos, t-shirts and anything off road related. We hand out stickers by the dozens to people. They walk up, ask for a sticker and if you hand one out, be prepared. It's a mob scene. Around 9:00 or so, the Contingency row starts to move. The long line of trucks and buggies starts to snake though the sponsor rows and the pictures and request for stickers and autographs is insane. We snake back and forth three times and then head into the tech area.
Once in tech (I'm still not sure how I managed to walk in with the truck - the tech guys weren't allowing people other than the driver from what I could tell) they went over the vehicles, checked fire suits and helmets. The tech guy picked up my helmet and looked inside. "This one's past date. It won't pass."
"WHAT???"
"Yeah, it's Snell 95, it's supposed to be Snell 2000".
My helmet's no good!!! Fortunately PCI Race Radio has a trailer just around the corner so I run over and buy a new helmet. From there I run back to tech and pull the helmet out of the box in front of the guy - "Here, this better pass." He checks the date, puts a sticker on the side of it and says "It's good."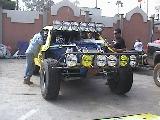 New helmet wasn't wired for ear buds, so after it passed tech, I took it back to PCI and had them set it up for ear buds. I asked when it would be done and they said to come back in about 5 hours. That would be around 4:00. I went back to the hotel and helped get the TT ready for the race. We were working on downloading the GPS maps we'd made in the pre-runner into the TT's GPS system. I also helped Chad Bunch (second leg driver) pull the intercom out of the pre-runner and get it ready to install in the TT. The intercom in the TT had some issues and we couldn't afford any problems.
When 4:00 rolled around I went back to the PCI trailer to pick up my helmet. Of course, they can't find it!
"When did you get it?"
"This morning - bought it, ran it to tech with it, brought it back for wiring about 5 minutes later."
"What kind of helmet?"
"Shoei."
"Who sold it to you?
"The guy wearing the orange shirt."
"He's gone right now - come back in a little while and we'll get this figured out."
DOH!!!
I came back about 45 minutes later and we found the helmet. It was wired and ready. I went back and helped Chad finish installing the intercom and then wandered around the hotel parking lot talking to people some more. I went over and bothered the Fire Guys some too.
Wednesday night started getting late and it was time to go get horizontal.
Night 1: Sleep on couch pillows. Not bad at all.
Night 2: Sleep in my own bed. Nice.
Night 3: Sleep in my own bed, wake up with snoring Bob, sleep on a trailer. Could have been better.
I'm a quick study. People in room, beds taken (well at least half taken) - sounds like couch pillows are the hot ticket and okay by me. I slept well and didn't have someone snoring in my ear.
The Baja 1000 started at 6:30 a.m. sharp. Bikes and quads were leaving the line every thirty seconds. I listened to them rip down the street, throttle off a bit, make a corner, get into the wash and then tear off into the distance. About 8:30 I decided to go watch. I got there just in time to see some kid on a YZ80 come flying though the right hander off the street and into the wash. He looked like a little Ricky Carmichel: Foot out, crouched over, on the gas and the handle bar just inches off the dirt. Picture perfect. He went racing down the wash to the large jump and threw a perfectly flat whip over the top of it. Two more 80's and a new CRF150 followed (no where near as fast) and disappeared over the jump. I'd missed all but the last four. We now had three hours before launch time.
About 10:30 it was time for Pete, Kyle, our gauge reader, and myself to head down to the staging area. It was insane. The street was lined with race cars and there were people EVERYWHERE. We worked through the crowd up to the number six slot in line. We were leaving the line at 11:43. Once we got the truck parked we were mobbed by people. It happened to anyone that came into staging. Signatures were given out, Pete did a bunch of interviews.
One of the SCORE official walked up and said "Fifteen minutes to start". Something about having the guy in the red shirt walk up and say this suddenly made what was going on really sink in - this is THE big time. I'm getting ready to go participate in the biggest off road race there is - I'm actually getting ready for the Baja 1000. I held my hands out in front of me to see if they were steady - yeah, pretty good. I took a couple deep breaths. It was time to climb into the truck and get strapped down and ready. I pulled the protective cover off my brand new helmet's shield so it would be crystal clear for my navigation work and we started to climb in.
"5 minutes, fire it up." - Pete started the truck and we rolled up into our position. We were getting ready to leave the line in just a few minutes. I got the window net up, turned on the GPS, strapped myself into the 5-point harness, put my helmet on, plugged in the intercom and heard Pete ask Kyle if he could hear him. He could. Pete then asked me "Do you copy?"
"Yes." I answered.
"Do you copy?"
"Yes."
"DO YOU COPY!?!"
OH MY GOD - MY MICROPHONE DOES NOT WORK!!!
Since I was navigating, it was imperative that Pete could hear me. I think we all had the same idea at the same time; Kyle and I had to switch helmets. Pete said it first. So, Kyle and I switched brain buckets.
As we're rolling up to the mound of dirt just before the start line, I got Kyle's helmet strapped on, plugged in and put the shield down. Oh no. The shield was completely screwed up. I couldn't see a thing. It was kind of like trying to look thru wax paper with white dots everywhere from all the rocks that had bounced off it over the past few years. I rubbed on it a bunch trying to wipe anything off that I could, but it wasn't working. Here I had a job to do and I can't see the screen well enough to make out anything other than the line on the screen.
I was extremely pissed about the situation. How are you supposed to navigate when you can't see??? I could see the screen and the navigation line (sort of), but not a chance at reading the waypoint numbers for my notes. Oh well, like Pete said, "DEAL WITH IT!"
I watched the truck two spots ahead of us take off and noted the time. They were leaving every 30 seconds. The truck in front of us rolled off and I looked at the seconds on the clock. It was time to launch. I counted down the last five seconds and the green flag dropped. Pete stepped on the go pedal and unleashed 760 hp. I've never been in something like this before - I LIKE IT!!! This 5,000+ pound truck just leaps forward. We leave the line, make a left and accelerate down the road we'd all been parked on the day before. Get to the end of the road, make a sweeping, squealing left hand turn and then head down into the wash and make a right. There's a jump a few hundred yards down from the corner. We hit it WFO - the TT soaked it up even better than the pre-runner and with the extra 300+ HP, the TT kept the nose high. We hit the next jump and launched even better. There's no real way to describe the feeling of starting the Baja 1000 - adrenaline rush, thrill, excitement and more. The only thing that I can think of that comes close is when I gave pit signals at the base of the Tri-Oval at Daytona International Speedway years ago when I was involved with a Superbike team. 80 Superbikes flying past you at 180 mph so close you can almost reach out and touch them. It's close, but the TT's better.
We got through the town and headed out into the course. The dust really hung in the air in the ditch areas. We hit one cloud of dust and had to come to a complete stop. You couldn't see the front of the truck. Pete asked which way - I said "Straight - the GPS says straight."
"Are you sure?"
"I think so." We pulled forward about three or four feet and the dust was gone. Off we went. I blew one corner - it was a double left - lower and upper. They were too close together to tell on the GPS which one was the right one. I told Pete to take the first one. I was wrong. Damn. We had to turn around and make the correct one. We didn't appear to loose any time, though. The bonus was that the correct turn went up a silty hill - Pete romped on the gas and stirred up as much dust as he could to help slow down anyone behind us.
Pete had to listen to me bitch about not being able to see (sorry guys). I started getting used to it and making the best of it - I got used to looking through the spots and I'd open my shield every now and then to verify the waypoint numbers on the screen - once I'd get the number figured out, I'd find it in my notes and then mark it off my notes. I was able to keep track fairly well that way. I was dealing with the situation the best I could - I really wanted to be part of a winning team.
Fortunately I have a pretty good tracking memory. I'm able to remember and recall lots of sections of a course that I've only seen a couple times. I recognized a lot of the first section and when we made the road crossing I was really comfortable with what we were doing. I kept my eyes on the CRT, occasionally looking up to verify what I'd read off the screen. I constantly kept telling Pete what was going on in front of us. It seemed to work well. Everyone was doing good.
We came to a longer straight section - time to open up the truck and get some speed going. We hit about 65 and there was a vibration. Pete said something about a wheel or the drive shaft maybe being out a bit. By the time we hit 75, the truck was vibrating badly. We had left the line with a bent drive shaft. Great. I'm pre-occupied with the shield, Pete's now thinking about the drive shaft and Kyle's not able to communicate other than with hand signals. Deal with it. Deal with it.
Pete figured out a plan pretty quickly. Our first pit was at mile marker 140. There were very few areas where we'd get a chance at much of a speed run. Most of it was pretty technical and fairly tight - average of maybe 45? We'd stop at 140, change the drive shaft and be off. If all went right, we'd loose five to ten minutes and be on our way. The Diablo dry lake bed was just down from the pit and we were planning on blazing across it at 135. Pete got in touch with Weatherman (he's main communications) and got him to relay to the pit that we needed a drive shaft change.
Pete's plan worked really well. We were running well in the tight stuff, we'd come up on the Mexican TT team off the side of the trail and we couldn't see any dust behind us. Kyle on the other hand is now starting to feel a bit of motion sickness. I could hear Pete ask "Kyle, are the gauges good?" Thumbs up from Kyle. Then I heard "Kyle, are YOU okay?" Kyle held up his hand flat and waved it back and forth. Uh-oh. Kyle's not tip top. The tight course along with the truck chassis rocking back and forth and leaning left and right was getting to him.
A few miles into the race we come into a small town called Ojos Negros (Black Eyes). It has one of the most famous jumps in off road along one of it's roads. The people line it on both sides and they stand in the middle, dodging flying vehicles. It's insane. Pete had already informed me that we weren't going to banzai off this one, as the last thing he wanted to do was hit someone. We came over the jump and there were people all over the place. The truck coming over the jump and then accelerating as it hit the dirt gave the illusion of an invisible wedge spreading the people in front of off to the sides of the road. We got to the end of that section, made a tight left and headed away from the crowd. It was a major relief.
There were a couple things that amazed me. As I said above, I kept my head down and focused on the GPS screen most of the time. But I did catch a few things. The first one was one of the chase helicopters flying over us when we were on the mountain trail. It was black or dark blue and flew right over the top of us - about 100 feet off the deck. The other thing that was wild was all the people. From crowding around every corner in the first section, close to town to out in the middle of absolutely no where. We'd come out of a corner and there's be a dozen of them with some sort of shade and usually a couple or more coolers, waving away as we'd go by. They also liked to build "booby traps". We'd come across these dirt mounds that were anywhere from a foot to eighteen inches high that went from one side of the trail to the other. The first on that Pete hit made me nervous. Anything else I've been in would have been unsettled and nosed in badly. Not the TT. It just blazed over them and a few of the larger ones had enough of a shape to get us fully airborne, but the truck would just soak it up and power on.
We got into the area where the wash went into the silt bed. As we drop into the wash, the line on the GPS goes off to the left and then completely off the screen. We're going more or less straight. "Pete, you're on your own. We didn't get the right trail in the GPS." I helped him as much as I could and I watched the purple line come back on the screen start closing back in on us. Cool - we were going to get back on track and I'd be able to navigate the section again. Nope, there it goes - we just crossed right over it. Oh well. It came back to us just as we got to the silt. I believe we had two trucks in front of us down now - seems like I remember Pete saying something about one beside the Mexican TT. There was no silt in the air when we got into it and Pete kept the TT up on the ridges. Not once did any silt come over the hood. We got out of the silt bed and started back up the mountain again in a very tight left hand 180 degree turn.
"Kyle, gauges?"
Thumbs up.
"How about you?"
Thumb down. Not good.
"Bad?" Two thumbs down. Not good at all. Kyle was hurting badly and starting to get sick.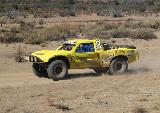 We came to one of the shorter road sections and turned onto it. We hoped it would give Kyle some relief. It didn't and it wasn't long enough. Still, we were in a less twisty section, so we hoped it might help Kyle feel better. It didn't. We kept going, me trying to see the screen (I had to block any sun shine on the screen or my face shield or the glare was so bad I couldn't see anything.) We got to the Y that we pondered earlier and I started saying "Right at Y" - Pete said no - we were going to take the other leg. We didn't have this section in the GPS either. Damn. Luckily it's short and Pete drives it very well. We don't loose any time.
The Goat Trail is just down the line from here. Kyle's already spilled his guts a few times and he's informed us that he's getting out at the first pit. He was toast. Just as we get to the top of the Goat Trail we get bumped from behind. One of the Baldwin trucks is letting us know he's behind us. He's made up time on the high speed sections where we're limited to 70 by vibration. We pull off the Goat Trail onto the highway and I start reading off the speed. Gotta keep it right around 60. After about a mile, Pete pulls over into the left lane to let the Baldwin truck know he wants it to pass. They come by us, we all wave at each other and Pete pulls in behind it. It let me get off the GPS and relax a bit. We did this leap frogging with the Baldwins a couple more times and then came to where we were to drop back into the desert. It's around mile 125 or so, as I recall. Since the Baldwin truck had come up on us, Pete let them go on ahead. We were going to pit in just a few miles anyhow, so trying to stay ahead of them was not worth the effort and it was good sportsmanship on Pete's part.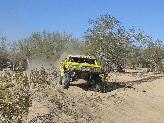 This section of the track is faster and extremely whooped out. The TT just floats over the stuff. It's amazing. Bunch (second shift driver) had told me that the thing that gets to him in the whoops is the truck hitting him in the back with each contact of the whoop top. Man, he was right. You don't feel up and down motion like you think you would. It feels like someone's sitting behind you kicking your chair forward instead. I had been on the radio trying to make contact with the pit crew while we were still on the road. I got some contact, but it was still a bit garbled. Once we got back on the dirt, the signal was better - but trying to reach a transmit button on a dash board that's just at the end of my arm's reach was comical. It took quite a few attempts to get it done. "Chase 2, this is Race 2 - we need to change the drive shaft. You need a 10mm wrench on a ratchet, a 9/16 combo and a screw driver, copy?"
They responded. I repeated the orders again and told them where the new driveshaft was (it's on the back bulkhead of the truck) and that they had to do some other things with the change over. We needed to keep the bent one as a spare, just in case. They repeated it back and said they were ready. This all went down in the same area the picture of Pete and I with the pre-runner earlier in this long tale. About a mile or two before we got into the pit, Pete said that something felt "growlie".
Waiting for us were Russel, Chris, Cowboy Bob (Pete's Dad), Ashley and two other people that I didn't get names. We pulled into our pit and the crew went right to work on the shaft. Kyle was working on climbing out of the truck. As Kyle gets out the window, one of the crew came up and said that there was oil running out of the left rear wheel. Something was wrong. Pete shut the truck down and we climbed out.
We'd blown the rear hub's inner bearing and it had taken out the seal. It hadn't happened very long ago either, as there was no damage to anything other than the seal and bearing. Pete had the hub apart in about 5 minutes and the mad dash to locate a new bearing was on.
All the TT teams were in the area so we got on the radio and started searching out the big teams. Two of us were on the radios trying to find anyone with a Christman rear end and parts. About 10 minutes later, Cameron Steele comes up with fluid leaking out of the bottom of his truck. He needed a bit of help. While the crew worked on the front of Cameron's truck, I climbed in it and looked through his supplies. He thought that he might have a bearing with him. No dice. Some Barr's Stop Leak and a bunch of pepper were poured into cooling system and the fluid stayed in. Good for Cameron, bad for us - he had the same rear end we did and we were ready to steal his parts.
The radio search continued and two of our guys hopped in a chase truck and headed out to where we were told might be a pit with bearings. About ten minutes later Pete took off in the great bearing quest. Poor Kyle spent the down time praying to the sand gods, we watched a bunch of the cars behind us come by and proceeded to get more and more depressed about the situation. It SUCKS watching the TTs and Class 1 cars come flying by. - mind you, it's cool to see these beasts go past our pit, though a fairly whooped out section, but it was a bummer at the same time. You could tell the racers versus the guys that were just "in it" too. The variance of throttle use out in front of us was quite an eye opener. Baja Challenge class was frustrating to watch. Come on, if you're gonna buy a ride, step on that skinny pedal and run the thing. There were two of them that went by that I think I could have caught on foot. (I considered it... - gimme that thing, I'll show you how to drive..)
Even though we were stuck track side doing the waiting game, it was still pretty exciting. We heard of a wreck in the Diablo lake bed - Class 1 car (#105) managed to hit the old pile of rust at full tilt. The driver was hurt, the co-dog left the car and, unfortunately, the locals scavenged parts like vultures. We heard about a quad or bike getting tagged, heard about another accident, with multiple injuries an a possible fatality. It sent chills down my back when that call came over the box. Turns out it was a couple of local cars and not any of the racers. Sad, regardless. The first crew to leave in the bearing search came back empty handed and not long after that, Pete came back with the same. We had to throw in the towel. The sun was starting to set, lights started coming on and it was decided to put the wheel back on the TT, pull the pre-runner off the trailer and put the TT on. Everyone got packed up and ready to head back to Ensenada. Pete and I got in the pre-runner and started our 100 mile trek back.
The ride home sucked. It was COLD, our race was done, we didn't have an intercom and the traffic on the road was pretty thick. We got back into Ensenada right at 8:30. Pete pulled into a nice place to eat and we finished off the day with a damn good meal of garlic shrimp and a couple cold adult beverages.
The first pit chase crew decided that they were heading on back to Phoenix. I understand that they got home around 4:00 a.m. - long day. Eddie and crew, based down at Coco's, had been informed that we were done around 5:30 through the BFG relay. They showed up at the hotel around 2:00. The guys from the planned first change point - Bay of LA - made it in about 7:00 a.m. on Friday morning. Both chase crews had horror stories of fog, wrecks on the road and horrible driving conditions. I feel bad for these guys - all set up, pumped up and ready to race and we have to have a damn bearing shut down the whole deal. Fortunately, they all know that desert racing's a crap shoot - sometimes you make it, sometimes you don't. It's still a heart breaker when it goes down the crapper.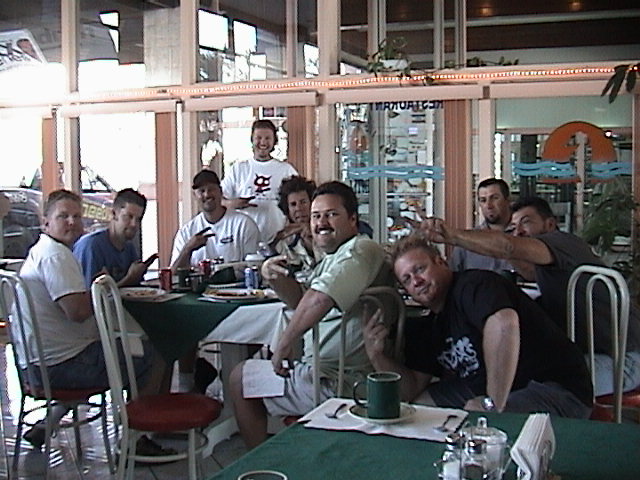 Here's the crew that made it back to the hotel on Friday morning. From left to right:
Eric, Chad Bunch, Mike, Me, Pete (Love the hair), Kevin, Eddie, Donovan and Snoring Bob.
I want to say thanks to everyone that was involved and for letting me be part of this. If I missed anyone, I'm really sorry. I met so many people that it was hard to keep track of names and faces. Thank goodness there wasn't a test at the end of the day.
If I've left anything out or gotten things out of order, someone let me know. There was a lot of stuff going on and trying to remember it all and get it down in the order it happened has proven to be a real brain drainer.
I'll see you guys at the Terrible's 400 in a couple weeks!
Return Home
11/21/06