| | | |
| --- | --- | --- |
| | Home of K-fab | |
No Fear?
Well, maybe just a little bit. Actually, quite a bit. But, after all, I'm not 16 and thinking I'm invincible any more. Crashing now hurts, especially a couple days after the crash. Something you hear after a crash from the 30+ class in motocross racing is "Yea, I'm OK, but I'm going to lie here a while...maybe through the night." It's not like when we were under 20 anymore, where you stood up and shook off a good crash.
---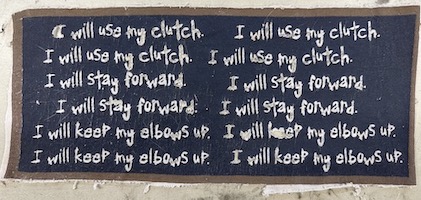 Things that go along with my riding:
Inverse Proportion - A little history of my riding and racing.
Broken Stuff - and I'm not talking bike parts!
The Yamaha YZF 426 and General stuff that's happened on it.
An idiot on a CR500, a Double Jump, a Broken Wrist. (3/8/00)
Johnny Tried To Kill Me; aka "Let's go for a ride!" (2/18/01)
Three Days at The Imperial Sand Dunes: Bikes, A Quad, Tazcars>, Golf Carts and One Really Descent Crash (3/31/01)
Coal Creek/Windrock ATV Area; Some of the Best Eastern Riding I've done! (6/11/01)

---
Dirt Boy Lives!
Off to the races! I race motocross in AMA District 11 here in South Western Ohio. There are about a dozen tracks within 200 miles or so of my house, but my buddies and I mainly run at the tracks that are less than a hundred miles from home: Dirt Country (my collar bone and rib killer), Dayton Motorcycle Club, Treaty City (more like Mud city if it's rained within a week), Frankfort (a European style track) and Kenworthy's (just plain killer) which happens to be one of the stops on the National Pro Circuit! I also like to go down to Florida and play in the Ocala National Forest with our buddy Steve.
Another couple of places I got to ride this year (2000) are the Imperial Sand Dunes in SoCal and out in the Arizona Desert. Talk about fun! The dunes are like nothing I've ever seen. Absolutely HUGE! I was used to riding a bike on the beach when I lived on South Padre Island. But there's nothing about the beach to compare with the dunes out west.
Riding in the desert was pretty wild too. I rode open terrain desert, tight 'cow trails' - which are enduro trails that follow along the base of a mountain, desert trails - more open and a lot faster than the cow trails and a couple motocross tracks along the way. Getting to experience all the different terrains and locations I've ridden in the past few years has been a blast.
Motocross Racing
Here I am racing at Frankfort, OH on my '96 RM250. This is a fairly large European style motocross track. It's built into the side of a hill and snakes up, over and down the different faces of the hill. Notice Pissboy on the Honda behind me? He caught me by the end of the race and then passed me on the last lap. Ironically, he's got a picture on his refrigerator that's the same, but our places are switched! I've got to work on my endurance!
This place gets rough as the day goes on, but it's a blast to race on!
Back to Dayton!
This is a small double jump just after the check point (finish line) at Dayton. There's the Pissboy Honda behind me again! Seems like that bike's always chasing me! When he does finally get by me it makes me mad enough that I'll follow him on over a jump that I've been afraid of and pass him back.
Mr. Smooth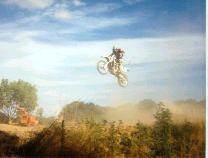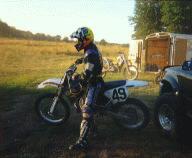 Here's Brian (on the left) getting ready to head out and attack the practice track (same track I use for Moskito development). The picture to the right shows him clearing the 50 foot table top. We refer to Brian as "Fast Boy" or "Mr. Smooth". Brian is the fastest of our group - and he never seems to give it 100%, until the starting gate drops. Then, he just walks away from us. Maybe someday we'll catch him!









Last but not least...
This is our buddy Steve (picture taken at the Stair Steps in the Daniel Boone National Forest). He has a phobia about motocross tracks, as it seems that every time he tries to go out and rides one, they like to bite him and take him out. Steve's preference is racing Hare Scrambles. These are a track that's laid out over a seven to ten mile loop, incorporating everything from parts of a motocross track to forest riding to open areas. You never know what obstacle you'll encounter during a Hare Scramble loop.

Steve's down in Florida so it gives us a great excuse to take the bikes down and play in the sand! We usually end up hitting a place north of Tampa on I-75 called Croom and getting in some riding in the Ocala National Forest is also a must.

Return Home
3/5/05