| | | |
| --- | --- | --- |
| | Home of K-fab | |
The Northrop P-61 Black Widow
From the time I was a little kid, I've been fascinated by World War II aircraft. One of my childhood friends and I used to build Revell and Monogram models all the time and between the two of us I think we probably had just about every 1/32nd, 1/48th and 1/72nd scale model aircraft made at one time or another.
One of my favorite was the P-61 Black Widow (of which I had the Revell model). It was unlike pretty much any other plane out there. Twin boom, single fuselage (okay, so the layout was similar to the P-38 Lightning) and designed specifically as a night fighter.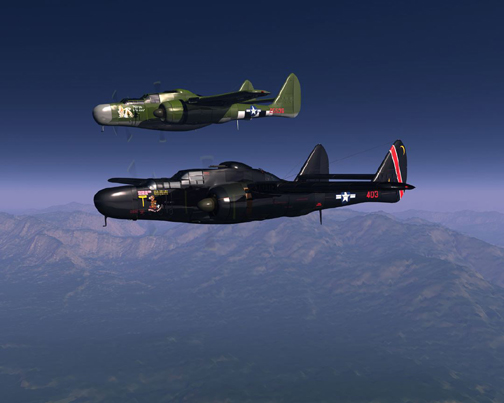 Picture borrowed from/property of the Mid-Atlantic Air Museum
Named after the venomous American spider, the Black Widow, the Northrop P-61 was the first operational US warplane specifically designed as a night fighter and the first to integrate radar.
The all metal, twin engined, twin boom designed aircraft rolled off the production line in late October 1943 and although never produced in the same numbers as its contemporaries, the Black Widow proved to be an effective and deadly night fighter and served across the European Theatre, China and Burma and the Mediterranean theatres of war.
PRIMARY FUNCTION: Night Fighter
CONTRACTOR: Northrop Aircraft Inc. of Hawthorne, California
UNIT COST: $170,000
CREW: Pilot, Radar Operator, and Gunner
FIRST FLIGHT: May 21, 1942 (XP-61)
SERVICE DELIVERY: May 1944 (P-61A)
FIRST OP MISSION: July 3, 1944 (Europe)
FIRST KILL: July 6, 1944 (Pacific)
vTOTAL PRODUCED: 706 (all variants)
ENGINES: Two Pratt & Whitney R-2800-65 Double Wasp 18-Cylinder engines rated at 2,250 hp
WING SPAN: 66 Feet
LENGTH: 49 Feet, 7 Inches
HEIGHT: 14 Feet, 8 Inches
MAX. SPEED: 369 MPH
HEIGHT: 14 Feet, 8 Inches
EMPTY WEIGHT: 20,965 lb
MAX. T.O. WEIGHT: 34,200 lb
SERVICE CEILING: 33,100 Feet
MAX. RANGE:1,350 Miles, (1,900 miles ferry)
RATE OF CLIMB: 2,090 Feet Per Minute
ARMAMENT: Four 20 mm Hispano M2 cannons, four Browning M2 .50 caliber heavy machine guns, 6,400 lb of bombs or rockets
Picture borrowed from/property of the Recovery Curious
I've been lucky enough to see the P-61 on display at the National Museum of the United States Air Force at Wright Patterson Air Force in Dayton, Ohio.


Picture borrowed from/property of the National Museum of the United States Air Force
---
I'd been flying a foam R/C Black Widow for about a year or so. It has a wingspan of 60" and is a very easy platform to fly. It's fairly aerobatic, has a large speed range and in general a lot of fun to put up in the sky.
I'd been wanting to get into a large scale R/C plane and the P-61 seemed like the perfect choice. One of my favorite planes, fun and easy to fly, why not?
My wife ended up being diagnosed with cancer back in the middle of 2016. Her focus was to hold the couch down and heal up (full recovery and seven years later still has a clean bill of health). She didn't want company but needed me to be within arm's reach. Sounded like a perfect time for me to get some shop time in. As she was beginning to go through treatment I'd sit in the waiting room and peruse the internet looking for P-61 models.
As luck would have it, VQ Warbirds had produced an 81" wingspan P-61. They didn't make it anymore but I managed to find one after a few hours of searching from NEM Hobby in of all places, Greece.
Lots of internet searching was done, parts were sourced and I was off on a pretty fun build adventure.
I ordered the R/C kit and a Revell model for reference (it's very detailed) and a very large box arrived on my door step.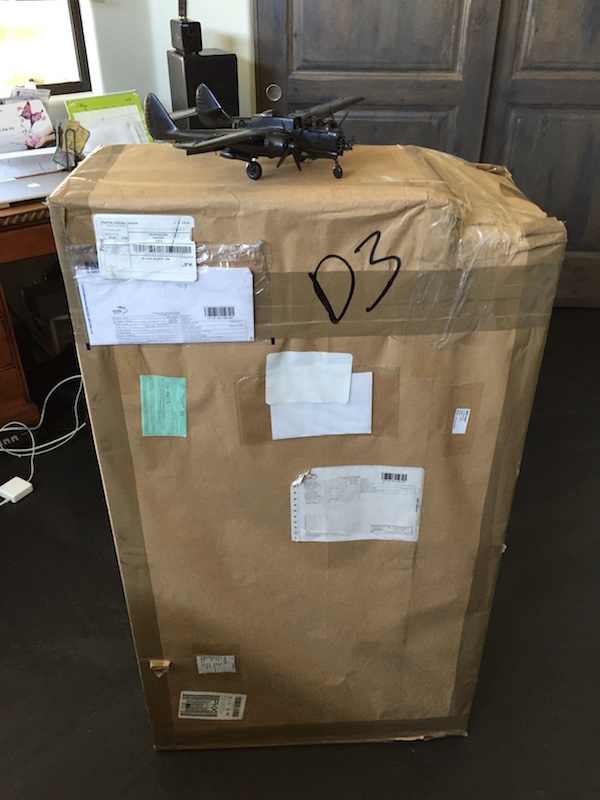 Of course I had to unpack it and lay the kit out on the floor to see what I'd gotten. Man this thing is BIG!
My first step was to make control pieces. The kit came with plastic bell cranks. That didn't work for me. I wanted to make this machine as precise and detailed as possible. So I started out making bearing supported bell cranks.
Flap Testing

Aileron Servo Testing

My next aspect was to figure out the landing gear. The model came with very basic fixed wire gear (although it came with hinged gear doors). I started out by making the wheels, as they would dictate the dimensions of the actual landing gear assemblies.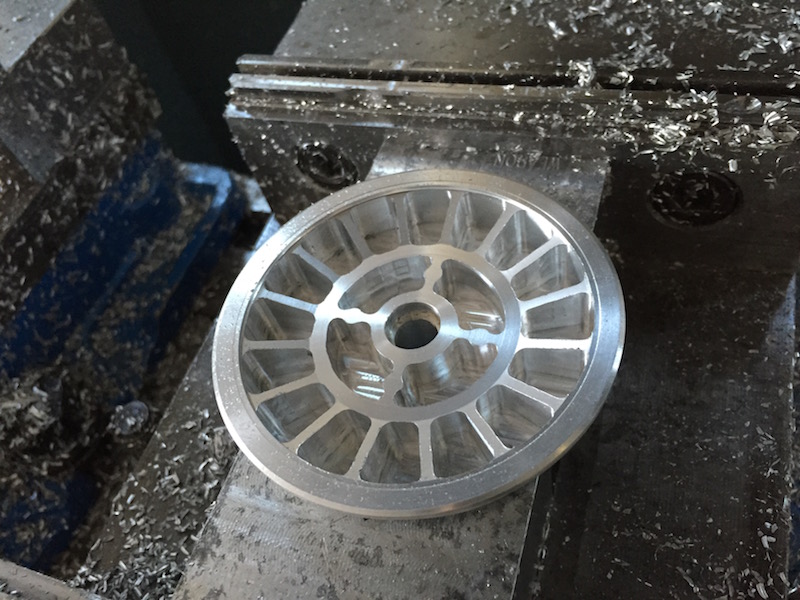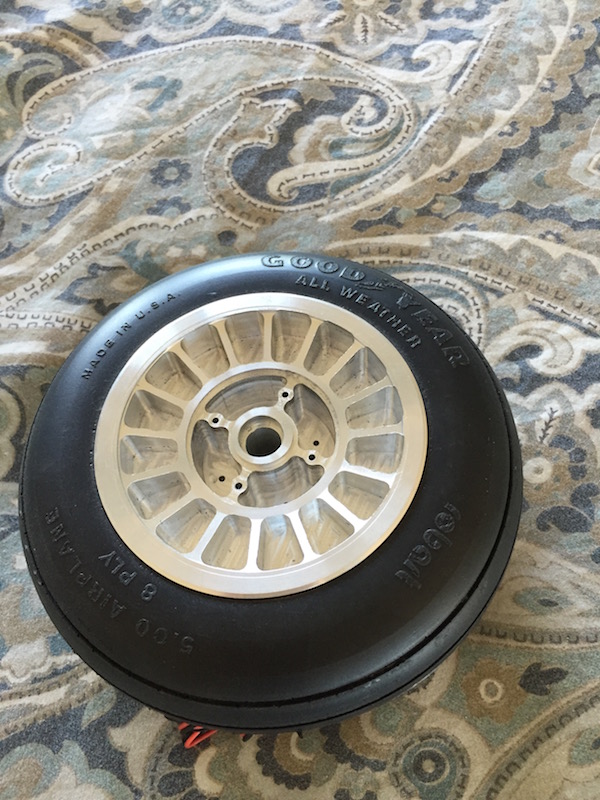 Electric brakes! The stuff that's made for R/C models is pretty incredible.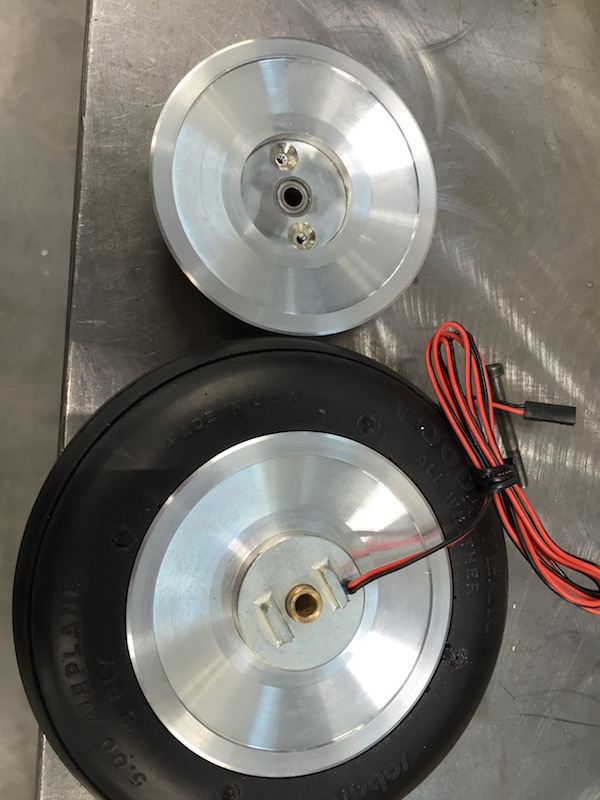 The next part was going to be the challenging stuff to make. I wanted landing gear that was as scale as I could produce, needed to retract, front needed to be steerable and they needed suspension to absorb taxiing, take off and landings.
Fortunately I had a couple spare landing gear assemblies from a crashed P-51B model (R/C Airplanes all have an "end date" and I discovered it's one afternoon when a tree got in the way of a low pass over our flying field.
Actuators and a control module were secured (the web site isn't working) and I went about copying the P-51's retract system.
All the parts for a main retract. There's a lot of stuff in one of these.
All pivots were bearing supported and moving parts were brass for minimal wear and maximum durability.
Brass inserts for the pivot of the actuation pieces.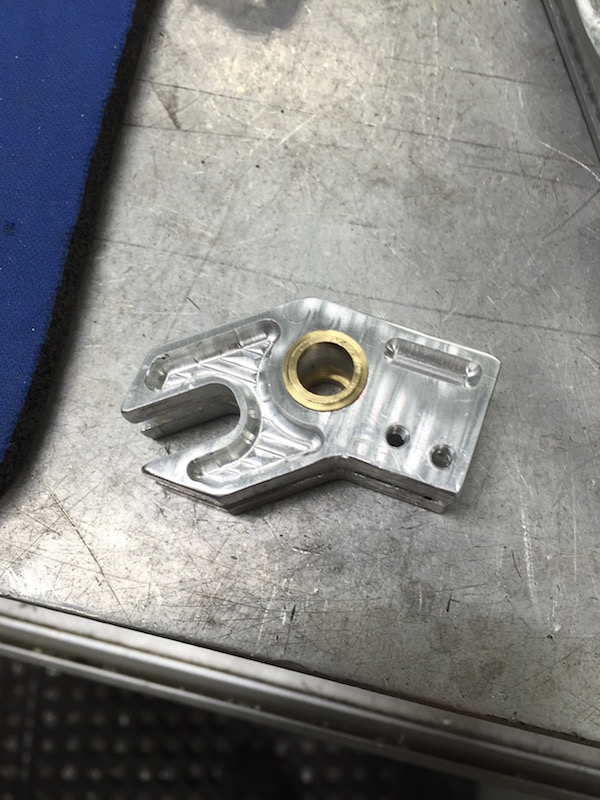 Main gear retract system
First test of the actuation mechanism.
All three retract frames.
Next came the oleo strut design, development and machining. To make sure that it operated as smoothly as possible I used Delrin for sliding bushings. Minimal friction, durable, tough stuff.
Main bodies are 6061T6 aluminum and the sliding shafts are steel.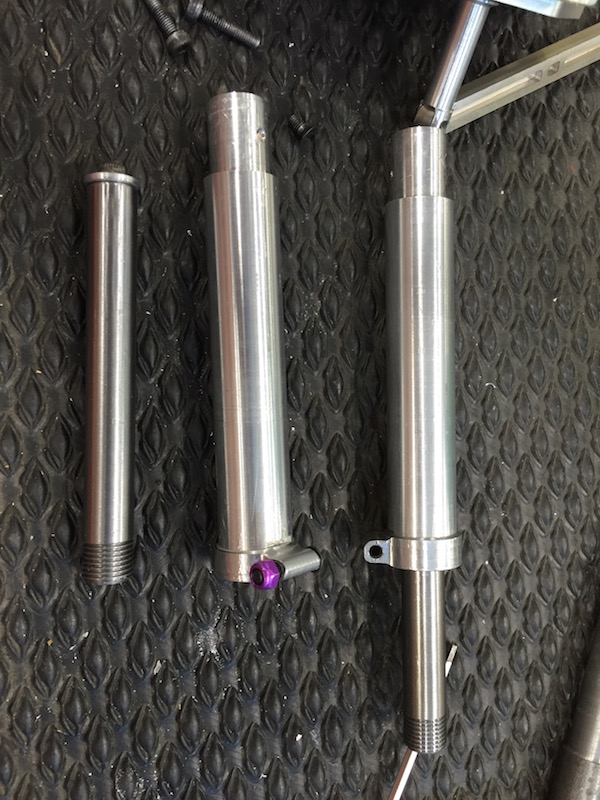 Delrin slider ring in the main body.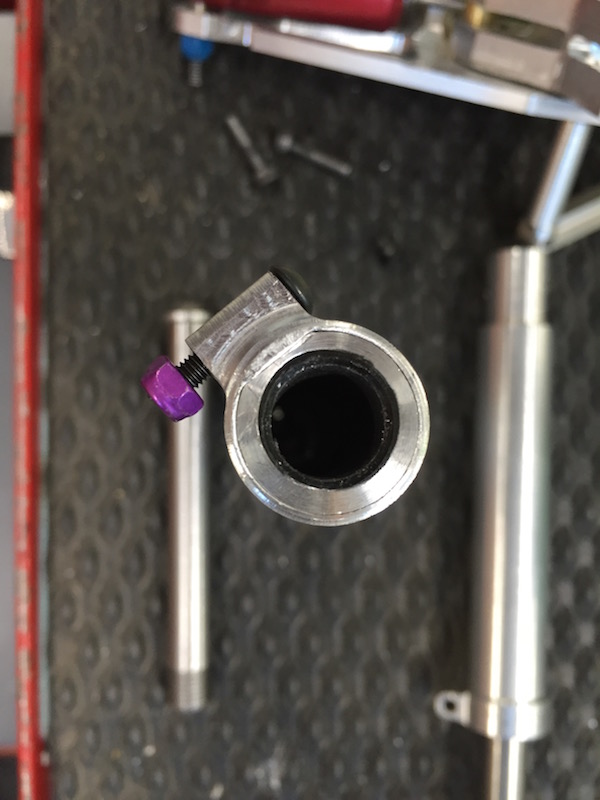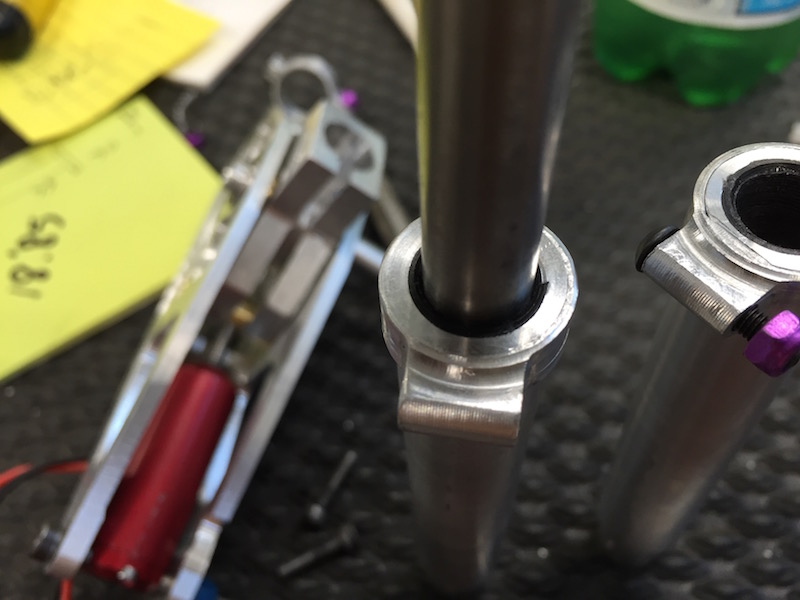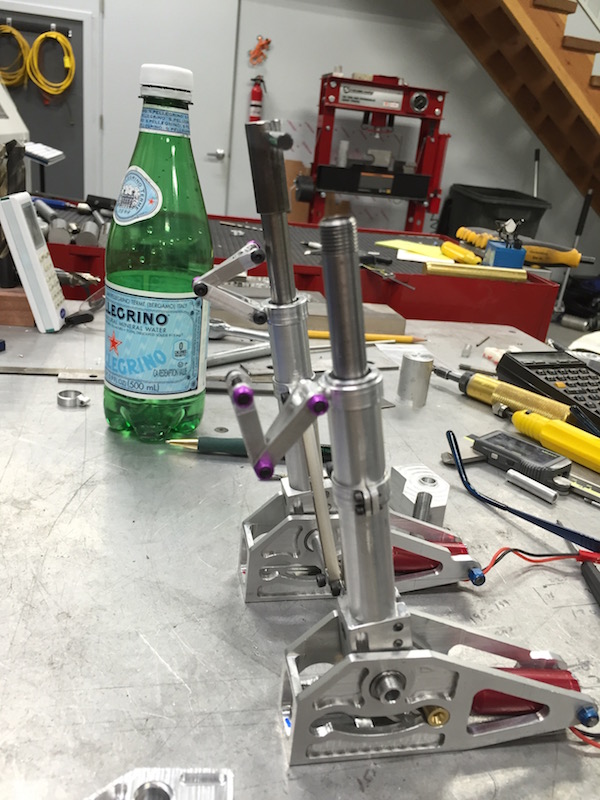 Anti-rotation linkage. These keep the wheels straight in the gear bodies and still allow for suspension movement.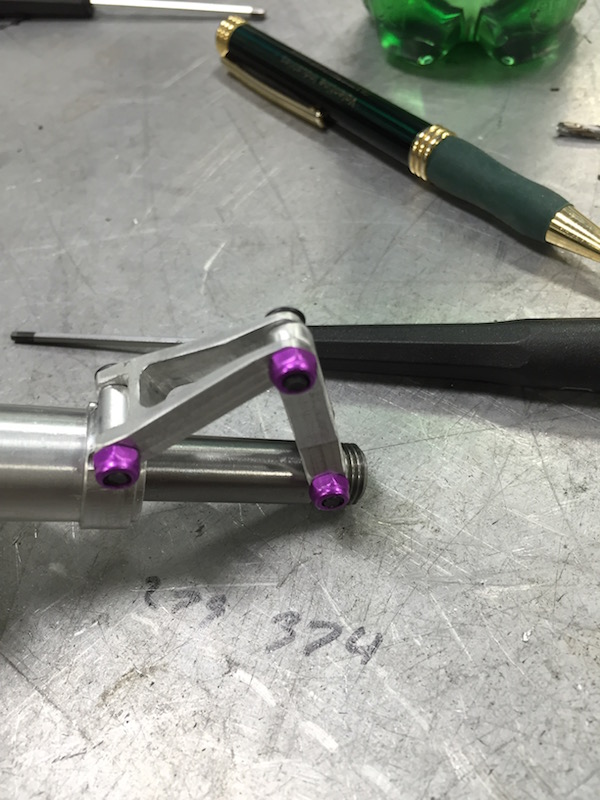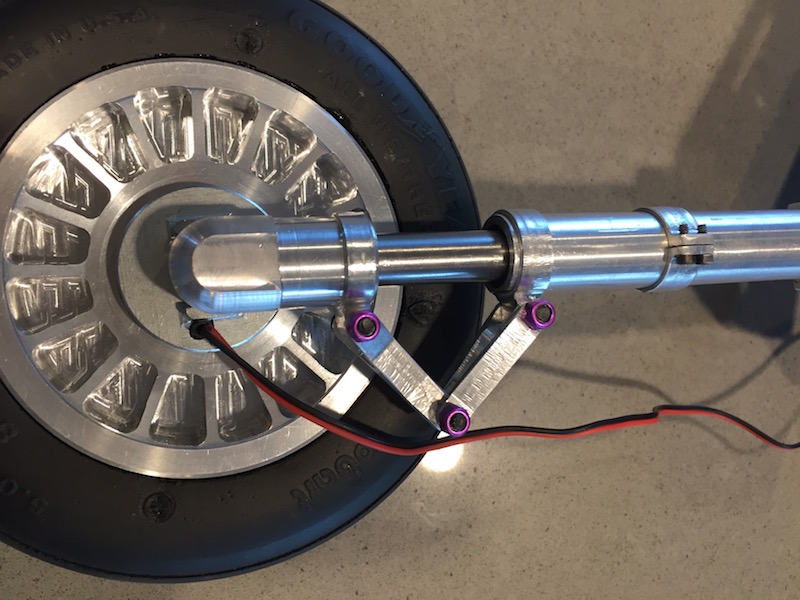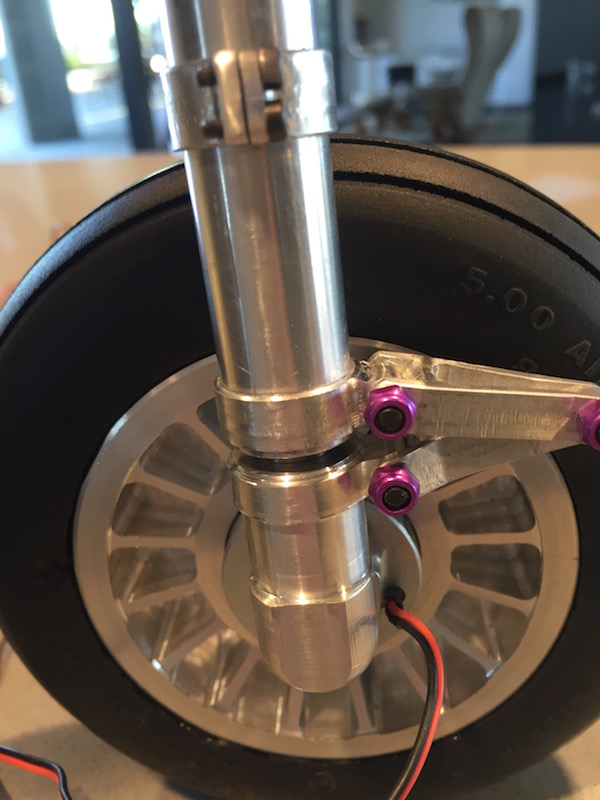 Fully assembled main retract.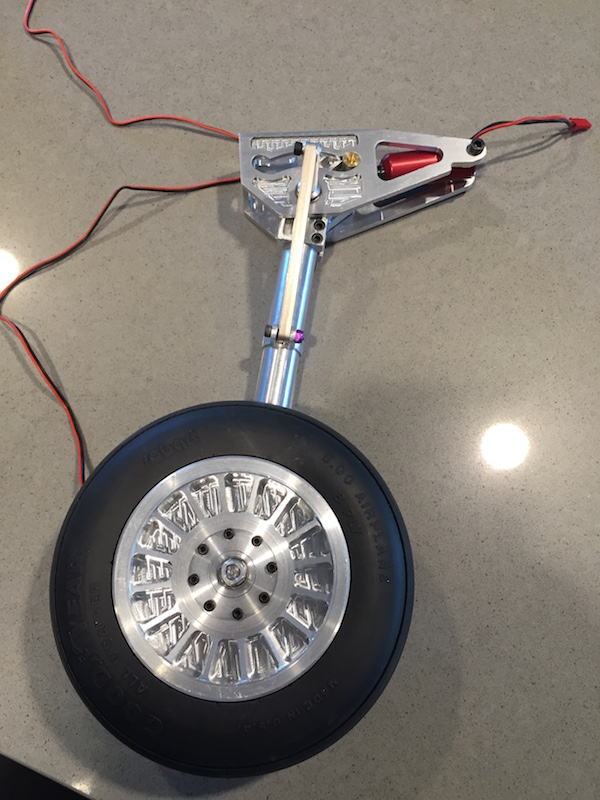 Main Gear installed and testing.
Front gear mechanism. This one required some different design work. It had to mount in a different fashion than the two main gear did and it had to have the ability to rotate for steering.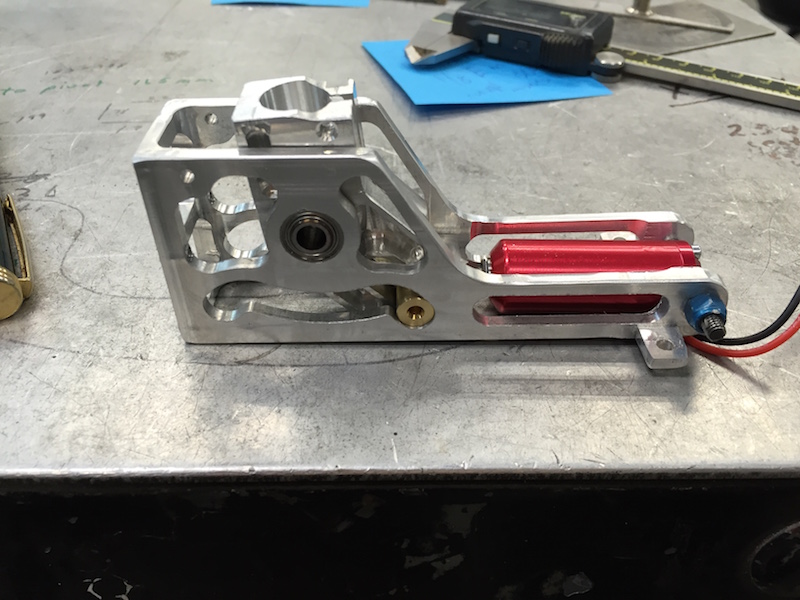 A comparison of the retract frameworks.
Believe it or not, this was one of the most complicated pieces I've ever made on my Proto-Trak milling machine.
The Proto-Trak isn't a full 3D capable CNC mill but with a little coding trickery I was able to make it do 3D paths.
Test fit of the front retract mechanism into the fuselage.
Proper build footwear and the steering mechanism.
Wheel in place.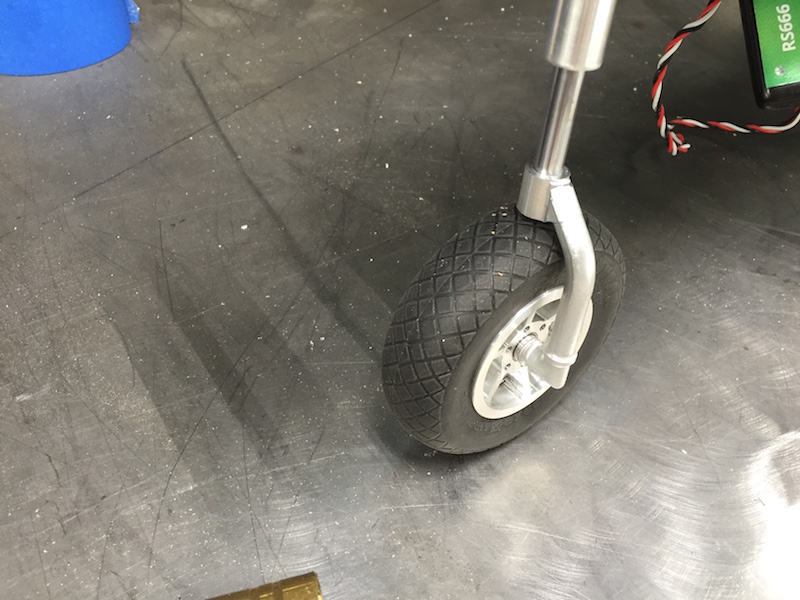 Anti-rotation mechanism installed.
Front wheel steering mechanism in gear extended position.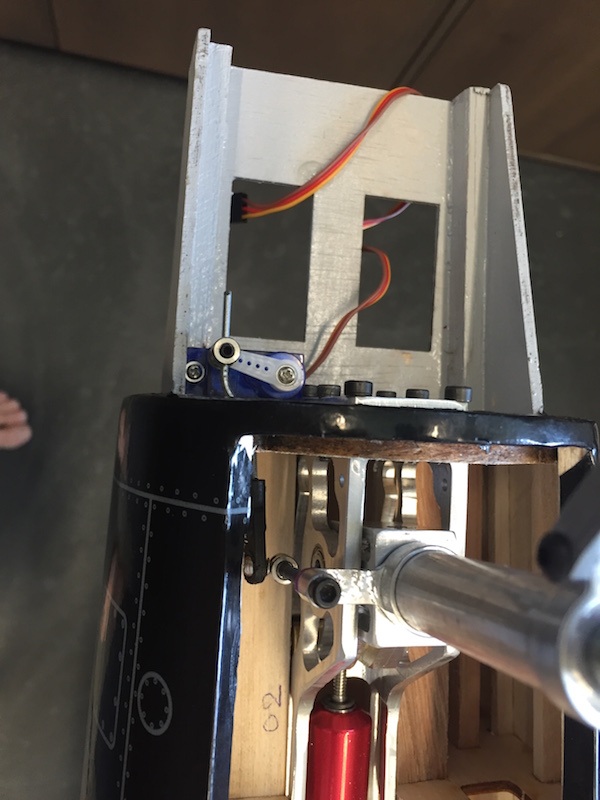 Nancel pix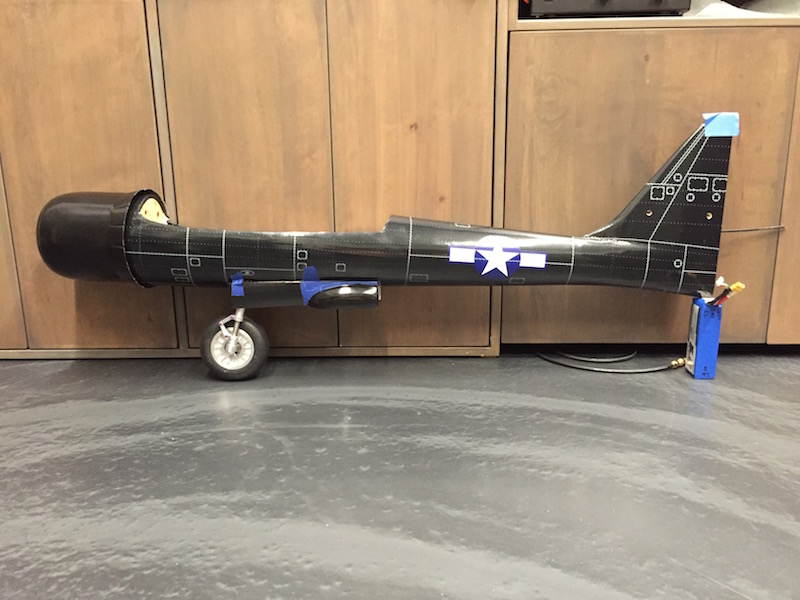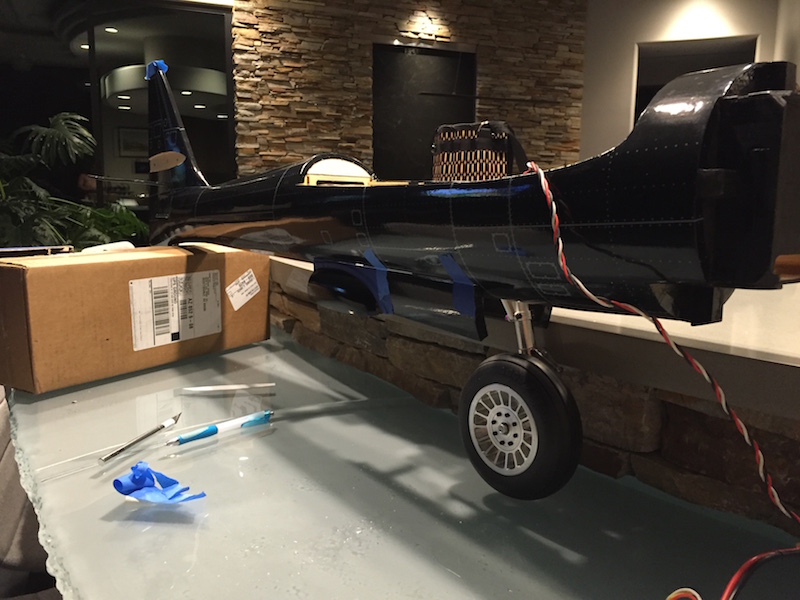 Fuselage and nancels assembled with gear in place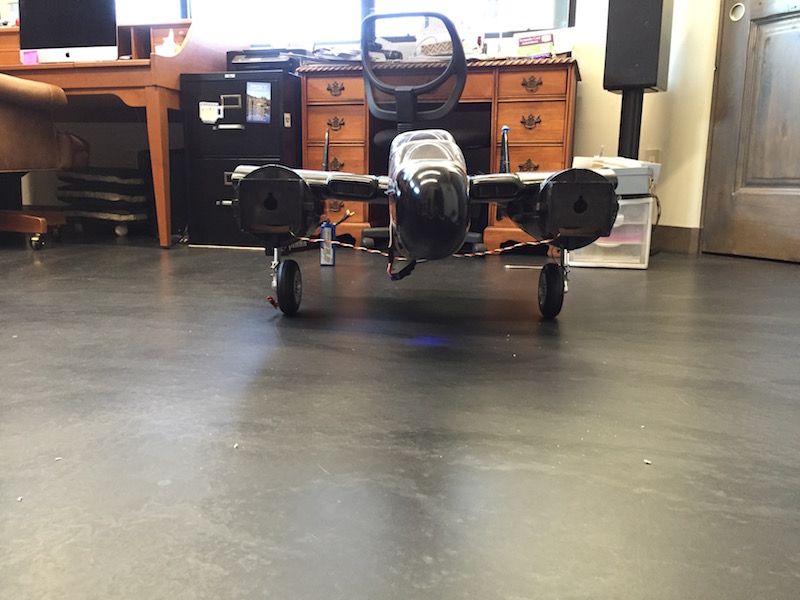 Motor mount - made a pair of these.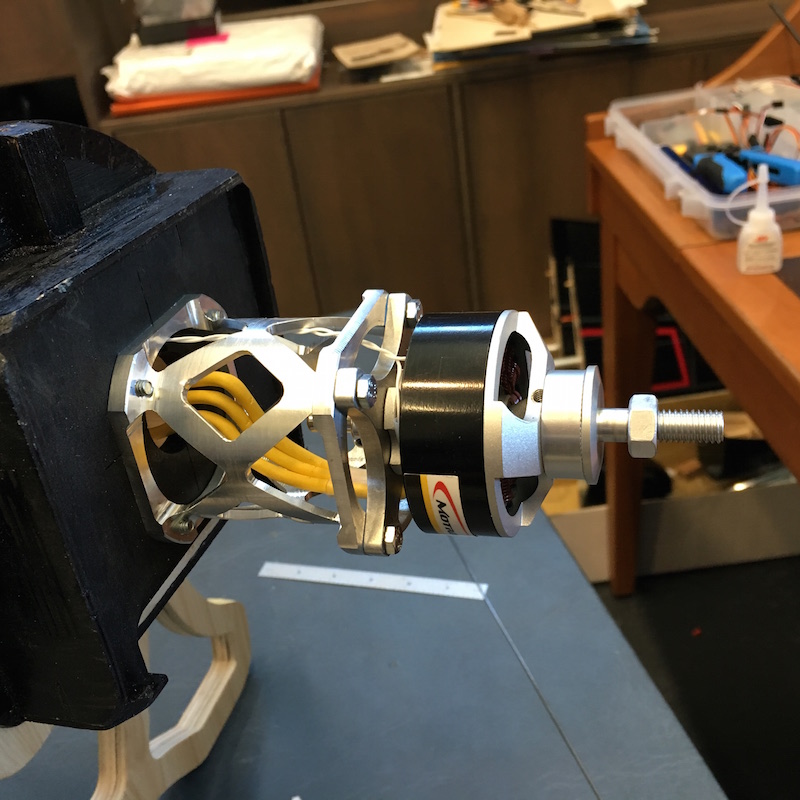 Another assembly view.
Sitting pretty on it's own.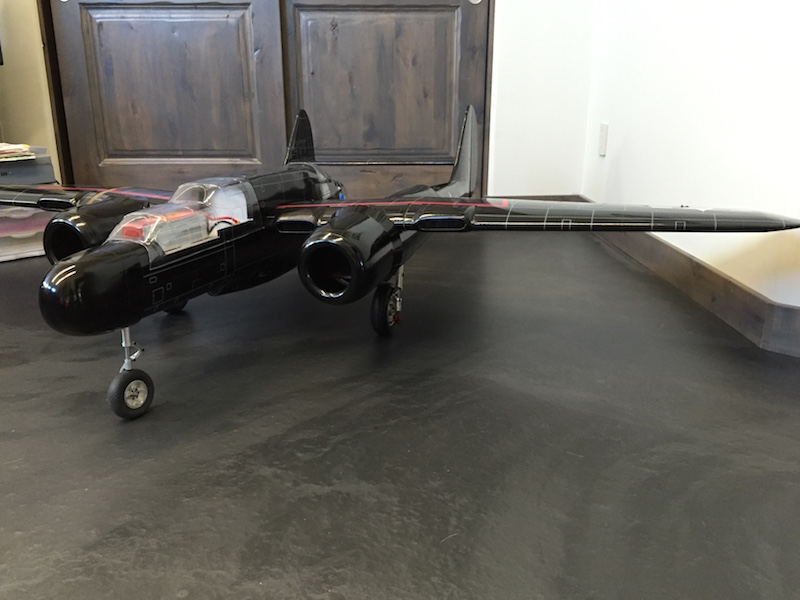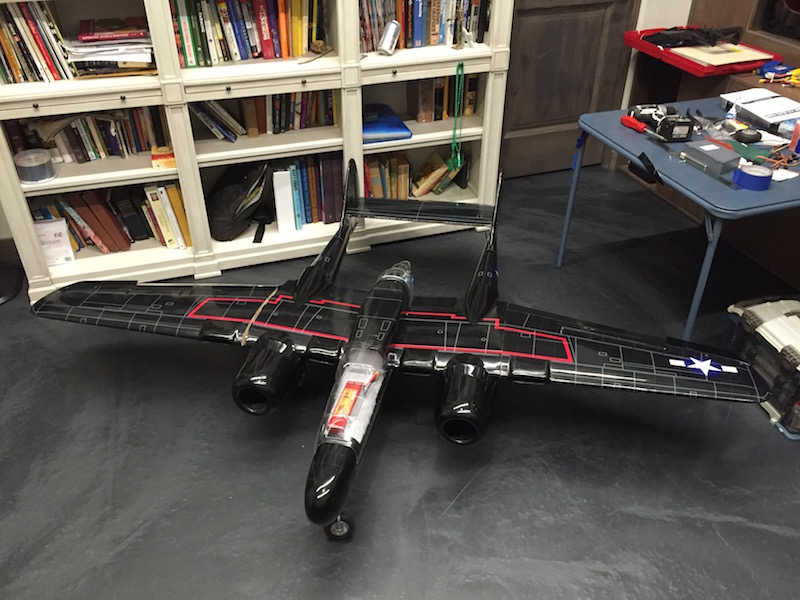 Cycling the landing gear.
I finished the build in February of 2017.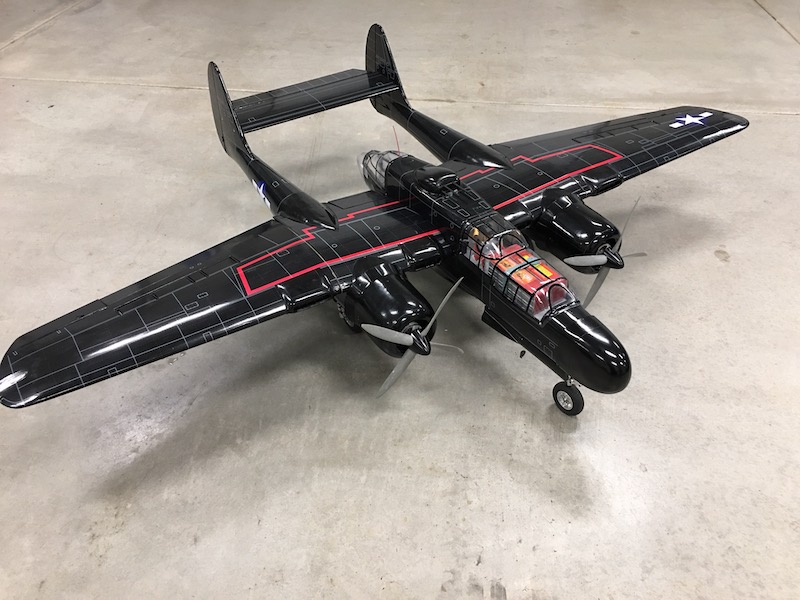 May 18, 2018 the P-61 took it's maiden flight. The plane had been sitting on display in my garage, being admired often and accompanied with me being afraid of taking it up in the air for the first time.
I've a friend who is an incredible R/C pilot. His skills are probably some of the best of anyone I know. He'd been watching me build the P-61, had made suggestions (which I followed) of things to do and I wanted him to do the maiden flight. If anyone had the skills to deal with a new plane, Mike was the guy.
Unfortunately the video cuts off before "the event". I got busy trying to deal with the issue at hand.
Mike made one large 'lap' around the field. All was good. I asked him how it handled and he said it needed minimal flight trimming and that it "flew like a big puppy dog" (this was a good thing). As he started making a second lap, the radio suddenly starts babbling "Telemetry Lost".
OH SHIT.
Mike suddenly says "I don't have it!" He's calm but there was definitely a seriousness to his voice.
Three of us stood there and watched the P-61 continue in it's left hand turn, begin to nose down, loose attitude and then disappear behind a small rocky hill to the east of the flying field. My Black Widow was no more.
As we walked towards the spot that the airplane went down, I made the comment "Gee, all that was missing was a fire." About that time the LiPo batteries, which had been damaged in the crash, decided to light up. Great - made the whole scene even more realistic.
We got to the crash site and started stamping out the fire and the grasses that had gone up in flames. Not a good scene!
A year's worth of work lasted about a minute and then it was gone.
It's a common saying among R/C pilots that "All models have an expiration date" as most usually do end up finding the ground in a non-survivable fashion. I just didn't think it would be on it's maiden day.
Other than one main gear and a motor, it was a complete loss. This is what came home that day.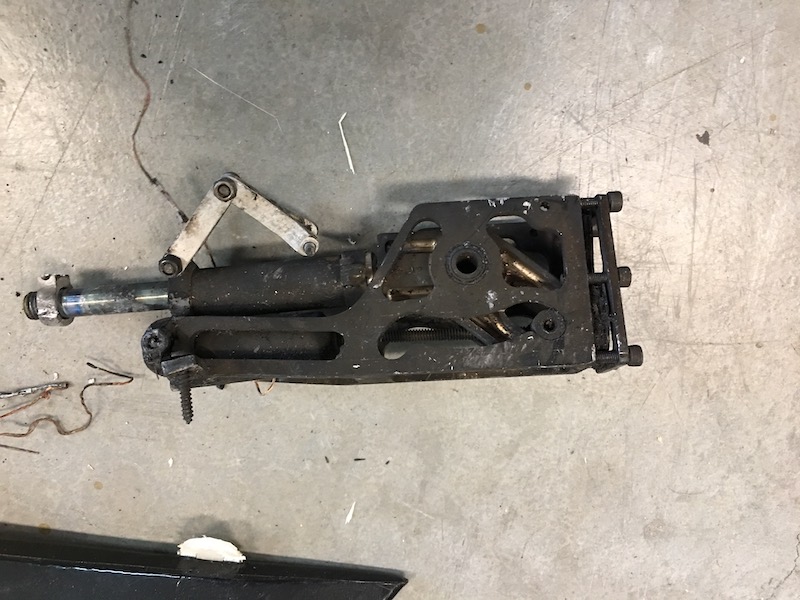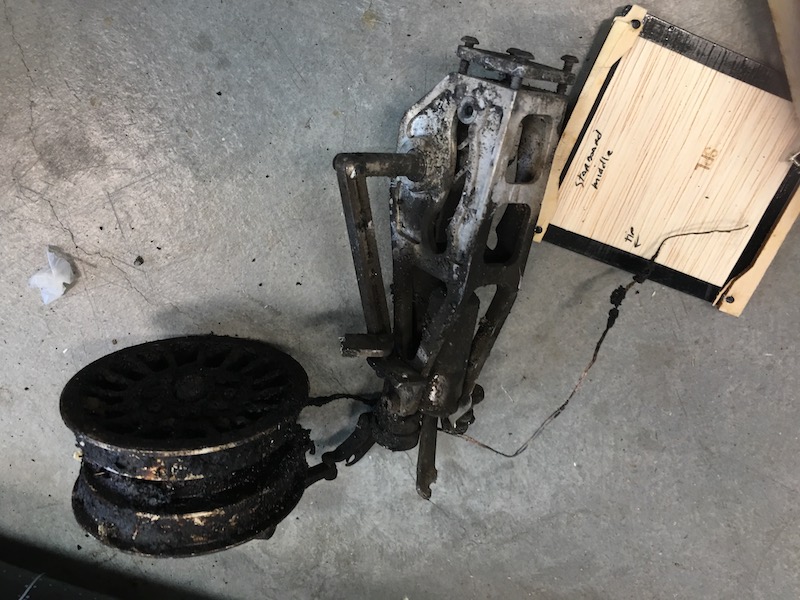 As sad of an event it was watching all that work, time and effort go plummeting into the ground, I have no regrets on attempting this project. It tested and developed my machining skills, gave me hours of pleasure and saw my wife through her cancer.
I kind of take the look of it started with her being diagnosed and it ended with her being cured and healthy. If that's what helped her get through it, then so be it.

Return Home
4/7/2023