| | | |
| --- | --- | --- |
| | Home of K-fab | |
K-fab50s - A Disease That Needs No Cure!
I've been playing with the Honda Z-50 for years now. I've had one since 1985 and it became a fire breathing monster back in 1986/87. Back in the day, the little Z would run 60 mph on flat ground! (very scary for such a short wheel base!) I spent countless hours on the thing and was so familiar with it that I could actually two wheel drift it through corners. It also bit me on occasion and, over the years, has removed more skin off my body than any other vehicle I've ever been involved with. Yes, the Killer Z was a nasty little booger.
Today, the old Z probably has somewhere between 20 and 25 THOUSAND miles on it. It's been through three clutches, two crank shafts, four top ends, countless pistons, valves, tires, and such. I ran it into the ground on more than one occasion. It's been in moth balls for the past two years, and with the new 50 cc revolution going on, I knew that I had a pretty nasty little ride if I wanted it. Then came along the XR-50. Hmm.... new technology, new suspension, new bike. I found one on e-bay and have had a blast with it. Still, the old Killer Z sat in the corner collecting dust.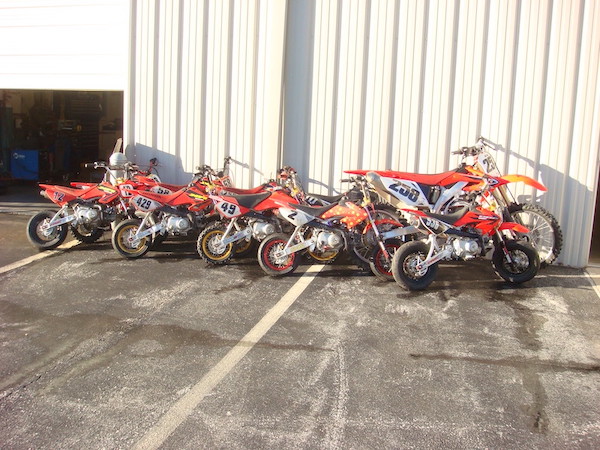 The Machines

1985 Z-50 a.k.a. Ol' Blue
Bone Stock Suspension
XR-50 Head
Powroll 75 cc High Compression Piston
Powroll Bumpy Cam
1985 XR-75 Carb
K-fab 50's Upper Triple Clamp
K-fab 50's Custom Intake Manifold
K-fab 50's Modified Clutch
XR-50 CDI Ignition
Some sort of old Mini Bars

2000 XR-50
Fast 50's Shock Spring
Fast 50's Fork Springs
Fast 50's Foot Pegs
Fast 50's Folding Shift Lever
Fast 50's Skid Plate
K-fab 50's Upper Triple Clamp
K-fab 50's Swing arm
TAG Metals Fat Bars - Mini Bend
BBR Rims & Heavy Duty Spokes
BBR Chain Guide
YZF 426 Clutch used for Rear Braking
Powroll SuperPro Kit
XR-50 - Top Dog right now. Great power, very good handling, ergos that work. I can spin the rear tire all the way down the back straight if I want to. Just roll on the throttle and let 'er rip. Hard to keep it under you, though.
Ol'Blue - Best motor, but needs suspension redo. Too short, too tight, hard to handle. Motor comes alive on top major league. It's the exact same top end as on the XR, but has a bigger carb (hence the loss of torque but gain in top end) and still has stock Z-50 pipe - limiting maybe? Have a Big Gunn pipe for it that we'll try, but it's too noisy for the shop.
Have you ever wondered what happens when you put three of these machines in an area that's about 18' wide and 30' long?
Have a look!
Boy how things have changed in a year! K-Fab50's pretty much gone insane with 50's and the K-fab facility.
Two additional bikes, a larger, safer track, mandatory use of helmets, street tires, muriatic acid concrete baths, flow thru shop ventilation - yea, it's a disease!
Let's start out with the bikes as they are now.

2001 XR-50 - "New Blue"
Fast 50's Shock Spring
Fast 50's Fork Springs
Fast 50's Billet Foot Pegs
Fast 50's Folding Shift Lever
Blue Plastic
TAG Metals Fat Bars - Mini Bend
TAG Metals Bar Clamps
FMF 909 grips
Motion Pro 1/4 turn throttle
Powder coated Rims
Moose On The Fly Clutch levers
Kitaco 75cc Cylinder
Kitaco High Compression Piston
Kitaco Bumpy Cam
Keihin Carb
Kitaco Intake
Uni Filter
Kitaco Ignition Box
Chen Shing Street tires
This bike was built from parts purchased off of E-bay.

1985 Z-50 "Old Blue"
Sik-50's Fork Springs
Sik-50's Shock Spring
K-Fab 50's Swing arm
K-Fab 50's Upper Triple Clamp
Werkz (K-Fab) intake manifold
2002 XR-50 engine
Takagawa 75cc cylinder
Takagawa High Compression Piston
XR-50 Carb
Kitaco Ignition Box
Some sort of old Mini Bars
Chen Shing Tires

2000 XR-50 "New Red"
Fast 50's Shock Spring
Fast 50's Fork Springs
Fast 50's Foot Pegs
Fast 50's Folding Shift Lever
Fast 50's Skid Plate
K-Fab 50's Upper Triple Clamp
K-Fab 50's Swing arm
TAG Metals Fat Bars - Mini Bend
BBR Rims & Heavy Duty Spokes
BBR Chain Guide
YZF 426 Clutch used for Rear Braking
Powroll SuperPro 75cc Kit
Kitaco Ignition Box
Chen Shing Street tires

2002 XR-50 "The Bargo Bike"
Sik-50's Fork Springs
Sik-50's Shock Spring
Powroll Bumpy Cam
Gobargo Racing Rear Brake Adapter
YZ450 Clutch lever and cable for rear brake
Kitaco Ignition Box
The 50 craze has bit down with full force on the majority of Team Spode.
Living in the Mid-West (Ohio), winter time usually takes a serious bite out of our riding time. Not this year! It may not be in the dirt, we may not be flying over double jumps and through whoops, but we still get our bar to bar, elbow to elbow, balls to the wall racing in. We just do it indoors!
K-Fab 50's holds race night every Wednesday. Doors open at noon, track prep usually gets done before practice, which starts about 4:00 and racing begins at 6:00. We run until 9:00 - so far no complaints from the neighbors. Whew. Helmets are now mandatory gear (should have been originally - we got lucky and nobody got hurt before we implemented the helmet rule). Knee pads and gloves are recommended. We usually have five riders and sometimes even more. So far we all agree that we can run up to seven bikes on the track with no problems.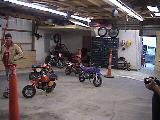 In the past three months tghe K-fab facility's gone through some major changes. The shop has been stretched out an extra twenty feet. All the K-fab machines have been moved into the new addition. A wall was removed from the side of a storage room and put where the lathe used to be. This maximization of floor space has made the track drastically larger and better. We went from running on a D shaped oval that was about 18' x 27' to a egg shaped oval that's 35' long, 26' wide in turn 1/2 and 18' in turn 3/4. On the old "short" track, lap times were in the 4.7 to 4.8 second range - good laps dropped down into the 4.6 second time. I haven't done times on the new larger track, but I think the times are going to be quite similar - we're moving faster now!
There have been issues that have reared ugly heads, but we've been able to work around most of them so far.
A) Slick concrete with years of grease and dirt. Nothing that a muriatic acid bath can't fix! We strip the floor clean with the acid about once a month, or when ever the surface starts getting slick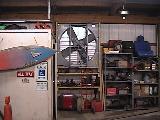 B) Exhaust Fumes. Talk about the kiss of death. We did have a setup where we partially opened the garage door, stuck a large fan under it and then sealed off the opening with sheet metal. What a pain - and the fan blew into the prevailing breeze on the property. Nothing a 48" wall unit can't fix! Nice windy world now. It pulls all the exhaust fumes right on out.
C) Space. The little track is GONE - and the new one is killer. Benches, machines and no barriers. Larry managed to break his left big toe when he ran down the side of the work bench. We now have hockey style boards around any area that the bike could get under and we have 2x4 rails that are a blast to bounce off of or use as a berm.
K-Fab 50's Lingo
There are rules that we follow - believe it or not...
Respect The Cones! Our corner marking cones are about 4' high and usually self righting if you bump one with your knee, head or hand.
Cone Violation! (said with a Cajun Accent for some strange reason) Disrespect a cone, (knock it over) and the direction of the laps is reversed.
Gilespie! This is a call meaning "I'm dizzy!" resulting in a change of lap direction
Track Violation! A racer has crashed, run into a wall, had some sort of accident. Once again, resulting in reversing of lap direction.
NASCAR! A call meaning set the lap direction to left hand turn - counter clockwise
Starting to see a pattern?
At first, running in a clockwise direction (right hand turn) was very cumbersome and lap times were almost twice what the NASCAR direction was. Now they are almost the same. It's amazing how much riding these silly little bikes has helped when it comes to riding the full sized MX bikes. Slides into corners, power slides out of corners, front end drift, all of it tuned and dialed on a 50 directly transfers to the full sized bikes and all of our lap times on the MX track have dropped. Pretty cool, eh???
What's next in store for K-Fab50's?
Now that K-fab has a dedicated room for machining and such, 50 parts will start to emerge. Keep an eye out for things like triple clamps, bar kits, billet hubs, disc brake conversions and possibly frames and swing arms. With the K-Fab Test crew working hard, I see lots of good stuff on the horizon.
---
(8/17/04) The Outdoor World of K-fab 50's
Spring time in Ohio means outdoor time for motocross racers and Team K-Fab. The K-fab 50's facility has moved ahead and joined the ranks of full sized mx bikes with a dedicated track, designed just for the 50 sized bike. The land behind the K-fab shop was cleared of years of over growth, downed trees and developed, yielding enough room for a track that's right at .33 miles long. The track contains up hills, down hills, off cambers, railing berms, two creek crossings, a supercross sized jump, some smaller jumps and has a HUGE grin factor. Lap times are generally in the 1 minute, 10 second range and speeds of 30+ mph are hit in a couple sections.
Here's video of a lap around the K-fab Track
Once again the bikes have gone through a drastic amount of change to adapt to the new terrain. Now that we're running outdoors, the speeds are up, the indoor suspensions were pushed past their limits and upgrades were needed.
| | | | | |
| --- | --- | --- | --- | --- |
| Bargo on the Bridge | Frodo! | Greg in Action | Thumbs Up! | Freight Train Time |
| Full Throttle! | Frodo on the Down hill | Greg Over the Bridge | There Goes Larry! | Running The Bridge |
| Breather time. | Frodo Getting Ready | Downhill Greg | On the brakes | Gary aka "Fresh Meat" |
K-fab 50's Videos:
Disclaimer - these are all uploaded from an ancient Sony camera. The video quality sucks.
---
October 12, 2005. Another Summer Gone & the 50 Disease Remains Strong.

Over the past eight months, the 50 disease has done nothing but get worse.
Outside, the track has had a complete overhaul:
Two new bridges to replace the dangerous, rickety old POS crossings we had were built
The table top has been extended from fifteen to twenty feet from launch to landing
A fourteen foot double jump has been installed
The Bargo Rhythm Section was installed
Many of the corners have been reworked and most of them have at least two, if not three lines, so it keeps the bar banging close and fun.

The bikes have all gone through a lot of changes too. This time last year we were all still running stock front ends with heavy duty springs. All of the bikes except Gary's with the Zokes) now sport BBR SP5 front forks and 14" K-fab< front wheels. Bang for the buck, the SP5 forks are absolutely killer and are quite tuneable with oil weight and amount changes. We're running Works, Elka and Fox shocks with great success too.
The engines have been completely gone through too. Everyone's running 88cc top ends. Most of the bikes are BBR's high compression 88cc setup, but two of us are running Takagawa 88cc top ends. They are very similar in power output. Clutches and oil pumps have all been upgraded too. All in all, these aren't even close to being stock anymore. (and it's a good thing too!)

Here's what happens when you lose the front end in a sweeper:

Return Home
11/05/05