Home of K-fab,
the Moskito & The Deztaz
(9/6/02)
Four Laps of Fun!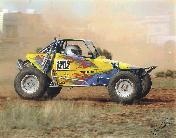 This year's Snowflake race celebrates my first anniversary of Desert Racing. I was going to finish this one and we had a podium position as a goal!
Last year we came out with a newly built, completely unproven car and ran into some small bugs. We made it ten miles and came up just short of the first check point. I was given a DNS (did not start).
Our second race, Mexico Point to Point, we went 124 miles before being taken out by a thirty five cent piece failing. We were given a DNF (did not finish) but managed to place third. Not too bad for a complete rookie.
Race number three was in Mexico again and, despite breaking the car's suspension, we took third again.
We were ready for Snowflake this time!
The Dez had seen enough testing, dune time and racing to show us any potential problems or changes that needed to be made.
The Dez now had BEEFY trailing arms - from .065 x 1 tubing to .120 x 1.125 with different bracing
A new 120 amp alternator setup was installed
A 22 gallon(!) fuel tank replaced the 13 gallon tank and it was set up with a quick fill
The seating position and steering wheel location were changed slightly
There's a horn now - beep, beep - MOVE OVER!
A full sized Optima Battery replaced the standard motorcycle sized unit
A second steering damper was installed, making the feedback much better
The car was stripped down to the bare bones, everything was checked and then powder coated - no more rusty tubing
The body work's now sporting a sweet new paint scheme
And there are a few small attention to detail items that have been added - including a new camera mount that worked perfectly. I've included quite a few video clips from the race. The tape only lasted for three of the four laps. Bummer.
Because the Dez had been painted, we needed to shake it down to see what was going to come loose. Powder coating is quite thick and even tight nuts and bolts will work loose as the paint underneath them gets worked away. The perfect opportunity had come along for just such a shakedown too. ATV Racing had been scheduled to do a Tazcar photo shoot with Dirt Wheels at Pismo Beach, CA, the week before the race, and they invited me along to join in the fun.
Pismo was pretty cool. The crew from ATV Racing had three Tazcars, Greg Holman (the one that made the Gecko) had his Trophy Truck, a Scat V-4 powered (332hp) Tazcar, the Jado Rocket - which is an old ATC 250R three wheeler that's been converted into a motorcycle and is a BLAST in the sand, Jim Wood had the "Wood Pile" - a killer Truggy based dune machine, Tom Rowe had his beautiful Tazcar and of course the Dez was there too. We also had a couple modified Golf Carts and a few guys on bikes and quads in the pits too. Not to brag or anything, but when it came to "what was on the beach" that weekend, we had the best toys around. I'll post pix once I get them.
Getting to Pismo from Phoenix takes about 10 hours if you ride with me (James and Taylor were really glad to be in the BBB). The ATV Crew, on the other hand took over a day to get there. They had some technical problems... (: We went through LA and Hollywood while they went up north thru Kingman and Bakersfield. We got to the beach on Thursday evening and waited for everyone to show. Friday morning we found them and everyone ventured on out to the beach. I figured the BBB would get stuck, but was able to cruise right on up the beach, off the hard packed stuff and to the beach side of the camp.
We raged through the dunes for two days, having a blast and doing the photo shoot for Dirt Wheels. On Sunday we packed up and headed back to Phoenix. Once again, only ten hours for us, about twelve for the rest of the crew. The BBB cruises right along and we got lucky and missed bad traffic. We did make a pit stop in the Hollywood area (Hollywierd) to cruise up Hollywood blvd. and the Walk of Fame. Managed to see Carey Grant's star - was one of the only ones we could see from the road - so that was pretty cool.
I ran close to thirty gallons of fuel through the Dez in Pismo. It was a good shake down. Once back to Phoenix, we did a complete check of the car. We found a few loose nuts and bolts and one of the bypass shocks was binding for some odd reason. I rebuilt the rear bypass shocks, covering myself and Johnny's work area in a quart of very light suspension fluid while learning how - second shock went smooth as glass and I didn't spill a drop. Neil and I went out to the Happy Valley area (my favorite desert play area just north of Phoenix) to do some suspension tuning to match the heavier car weight, now that it has the new tank and battery. I also did some attention to detail work and prepped it for the race. We were set, loaded up and headed north east on Friday afternoon.
We arrived at the Snowflake race track on Saturday morning with a plan. Get through sign up, change jetting from sea level in Pismo to the 6300 foot altitude of the track, check tire pressures, give the brakes a once over, top off the fuel tank, install the on board video camera and then take the Dez though tech.
The Sportsman class (amateur ranks - I think we'll switch to Pro-10 next season) was lined up about noon and Jay and I took our position in it. Sometime around 12:30 they started the race by sending one car off the line every thirty seconds. We were thirteenth in line and did the one car crawl every half a minute. The season points leader, Todd Elam in the yellow and black 1252, left the line and then it was our turn. We pulled up to the starting line and waited for our signal to go.
The starter held out his hand to signal that the clock was just about to let us go and then he dropped the green flag. I nailed it and the car went "Bruuu". OH! THIN AIR! We hadn't adjusted the bottom range of the carbs so the motor tried to bog. As soon as I heard the engine load up, I let off and then quickly rolled into the go pedal. Brrraawww!!!! Once again, as I like to say, we had initiated launch sequence and were off like a scalded dog. (just where does this phrase come from?) If you watch the videos, you'll see and hear what I'm talking about. Take a look at this video clip (5.8 meg) and you'll see the puff of dust from the exhaust when I first hit the throttle and then you'll see the cloud as the Dez starts to rip. Want to know what it looks like from my point of view (8.3 meg)? Listen closely and you can hear it happen right as it starts. Notice Jay's left hand honking the horn? We need a louder one. Just for grins, check out this one (3.2 meg). It shows one of the other Class 12 cars leaving the line. Is it me or does it seem like we accelerate just a touch better? I like Taylor's comment on the radio back to the pit. Here's the Class 12 winner's start (2.9 meg). He's off the line pretty good, but I'm pretty sure that I would have taken him in a drag race.
My adrenaline was pumping pretty hard when we left and I had to tell myself to calm down. Getting in over my head was not an option and by mile five I was feeling pretty good about it all and starting to get into the groove. Jay was watching the course up ahead and, like the rally racers of the WRC, was calling out the course to me - but by sight, not notes. This was a great help. It also helped me to memorize the course, as we had four laps to complete. It amazes me that I can store thirty miles of course as well as I can. By the end of lap two, I pretty much remembered all the important stuff.
If you've read anything about my first race, you know that I had the original fuel tank in the Dez rupture just before the ten mile mark. It did it when we came a into a corner a bit too hot, because of the dust, and slammed into a tight left hand corner that had a large berm on the outside. The Dez bottomed out on the berm as we slid sideways into it and shocked the tank. Not this year! It took us eight and a half minutes to get to the corner and I was waiting and ready for it this time! This is the corner that got us (2.6 meg). By the way, believe it or not, this isn't very dusty. It gets MUCH worse at times. I've already caught up to the series points leader Todd Elam in car #1252 by this time too. This is where the dust is coming from.
Jay and I went flying through the sweeping right hand corner where check point one was and then headed out into the open range, hot on 1252's tail for about a mile or so. This was a wide open section and we were probably running close to 90 mph at times. It's pretty wild to go this fast and then suddenly have your vision cut from a quarter mile to twenty feet. There was very little wind to sweep it away, which just made it worse. We ducked back into the woods for a while and then proceeded back out into the open area. I was amazed to discover that we were closing in on another car! I thought that it was still Todd's dust, but I passed it pretty quickly and set my sites back on 1252. Todd was moving, but I WAS going to pass him.
Since I had only gone ten of thirty miles last year, I didn't have a clue what the rest of the course was like. It goes back and forth from high speed, wide open areas to tight and and twisty woods sections. These tight sections were where the Dez really shines. I was able to reel people in. With an 88 inch wheel base, the Dez is extremely agile and it accelerates between corners like it's a motocross bike. The "regular sized" cars run a wheel base that's closer to 120 inches and they suffer in the tight stuff (1.1 meg). Just past mile marker 17 Todd ran wide and let me by. (1.7 meg) You can see him wave me past if you look closely.
It was nice to get out in clear air, but that didn't last long. In fact, every time we passed someone we would get teased with fresh air. But it never took long to suddenly be running in the dust again. Oh well, this is desert racing!
On the course there were two places where we were scored. The first one was the start/finish line and the second one (2.2 meg) was about twenty miles into the loop. At both places you had to slow down to a crawl or stop, depending on what the guy with the flag wanted, so the scoring people could get numbers and times. Just after passing 1252, we had clear air for about a mile and then started getting into the dust again. I started working on the next car in front of me and then we came to the check point. At the Driver's Meeting we were informed that if we hit the fence, didn't slow down, didn't do what the check person wanted or tried to pass at the check point that we'd be docked time. Naturally, I caught the car in front of me just before we came out of the woods and into the checkpoint. Luckily after you went through the checkpoint fencing the track opened up and had a long fast section. The car in front of me could see that I was faster and let me pass (1.0 meg) as we started down the straight. I think he knew that I wasn't in his class, so why hold me up? Thank you! This spot would prove to be quite painful for me on the third lap...
The pit area was about two miles long. We were right at the beginning of it. You were not allowed to pass anyone on the course here, unless they waved you buy. The pits snake along making some tight 90 and 180 degree turns, which were some of the dustiest on the track. Of course we get behind a Class 5 car just as we enter the pits. He's kicking up a huge amount of dust too. Not long before you get to the end of the lap, there's the stadium section, as they call it. Make a tightening 180 left hand corner, shoot down a short straight and then over a couple little jumps. I wish they'd been bigger! We were able to fly over (3.3 meg) them. Here's what we see (4.0 meg). Yes, it's that dusty at times! Make another right hand 180 and then through the whoops (3.6 meg). Another right hand corner, hit the brakes, get the flag from the marshal and hit the gas! We finished lap one in a time of 29:46 and headed out for lap number two. We passed the Class 5 car as we left the pits.
Lap two was a lot like lap number one. I'll spare you all the play by play, as it was quite similar to Lap One up to our first pit stop. Pass someone and get out of the dust, run clean, come up on someone and choke in the dust again. We ran the majority of it cleanly and didn't have to deal with too many cars, but there was one time in the trees that was pretty cool. In the same area where the Class 12 Truggy was parked against the tree (above video - tree) was another class 12 car, parked and done. Right after that we came up on a Class Pro 5/1600 Car, number 552, and a huge amount of dust. I pretty much just focused on the amber dust light on the back of his car and started to close in. I'd get close and suddenly 552 would get sideways. I'd nail the brakes and stick to his bumper, pretty much watching the rear of his car as carefully as I could. To my surprise, I discovered that he was in the process of trying to pass another Class 5 car. I don't know if the guy in front succumbed to the pressure from behind or if he just blew it, but as we entered a left hander the red car went wide and we both went on by. If you watch very closely (3.3 meg), just as 552 gets sideways, you can see the red car in the dust to the right. 552 let me by right after that - this time... Two for one! We cruised on through check point number two and headed on into the pits.
With the new 22 gallon fuel tank the Dez had plenty of range, but we weren't sure of how much. Could we go 120 miles? Before the race we decided that the smart thing would be to stop at the end of Lap Two and 'fill er up'. We came flying around the left hander that lead into the pit area and dived off the course into our pit. (2.7 meg) The crew went to work filling up the tank and going over the Dez. Unfortunately, our pit stop lasted thirty one seconds and it was just enough time to let 552 pass me back as I headed back onto the course (1.7 meg). Notice that I show my discontent about it as we leave? If I'd gotten away just five seconds earlier!!! Also, I hadn't learned that the Dez didn't like to have the accelerator stomped on from idle at high altitude - the sound says it all. This meant that I had to spend the next two miles following him and his dust, through the pits in the no passing zone. We completed lap two in 30:22. Without the pit stop, that's 29:52. My times were pretty consistent so far.
Lap three was to be the worst of the race.
As I noted earlier, the pit area was one of the dustiest places on the track and I had to keep slowing down because I just could not see. Once we headed back out into the desert, try as I did, I could NOT get around 552 again! Not only was he kicking up a lot of dust, but I was starting over drive the car to get past him, which just made it worse, and to add insult, I was starting to loose my rear brakes too. I couldn't get the Dez to pitch sideways into the corners and kept having the front end lock up and slide through the corners. I had to get my driving mojo back and maintain. We got out into the open area again and the dust cleared enough that I was able to close in on 552. We finally got on his bumper, Jay honking the horn relentlessly, and tried to get around him but he wouldn't give me an inch. Now come on! I'm not even in his class! He let me by in the woods, so why not now? Somewhere around mile marker four we finally got a shot at him and, while running somewhere in the 70 mph range, I was forced to pass him in the weeds (2.7 meg). I waited until I couldn't see him anymore in my peripheral vision (meaning that we weren't quite clear of him) and jumped back onto the track. I felt his front left wheel hit the Dez's nerf bar and right rear as we went blasting by. Mess with the Yellow Dog will ya? (I can be aggressive when I have to be.) Ah, clean air again. But, of course it wasn't to last.
Not long after getting by 552 we got stuck behind another Class 5 car. Usually this wouldn't be an issue, but he was in clean air so he was able to run full bore while I was stuck behind him in his dust. The dust was also becoming a real problem as the track was starting to show it's wear and tear from all the competitors racing around it. Our timing seemed to work out so that every time we'd get close and get a run on him, we'd get into the woods and his thick dust from braking as he'd go into the trees. I didn't have much rear braking so I had to be VERY cautious to keep from running off the track and finding a tree. It was very frustrating. No matter what I did, I couldn't get by him. We didn't pass a single car, so if we'd been in open air like the guy in front of us, Jay and I would have BLAZED! We came into one sweeping high speed area and I was getting closer, but the dust was such an issue that I managed to blow a corner pretty badly (2.5 meg) (Jay was yelling "GO RIGHT, GO RIGHT!"). Lucky for us, it was a good one to mess up on. Whew!
Then came check point two and the fenced area where we had to slow down for the scorer. I knew we had a straight after the check point that might let me get by, but I was going to have to make a serious effort to do so.
When I'm out racing, I drive about 85% of what I'm capable of. When I get into traffic and need to pass, I kick it up to about 90 - 95%. I don't like driving on the ragged edge, as it's scary. When you start pushing the room for error gets smaller, mistakes get bigger and it's harder to save in the event of a screw up. Screw ups quite often lead to breaking the car and not finishing. You can't place if you don't finish and I was in this race to finish. Anything after that was just bonus.
So as we left the second check point, I decided to turn it up and get past this guy. The dust was terrible, but I knew which way the track went and knew that, for the most part, there wasn't anything serious to run over and tear up the car on. We came out of the fence area and I got on the go pedal to catch the car. I'm still not exactly sure what it was that I hit. Listen and watch and you'll see the wheel get jerked in my hands (2.3 meg). I think it was a ditch. Suddenly and very sharply the wheel jerked to the left and drove my left elbow into the side of my chest and off the frame rail of the Dez, bruising it. Normally this would have just been an 'ouchie', but not this time.
You see, about three weeks before this race, I had a new experience happen to me. I got knocked out for the first time in my life. I was out in the woods in West Virginia on my YZF running the trails with a bunch of buddies and came around a corner to find another guy on a bike in my line coming directly at me. We had a third gear head on collision and when all was said and done, I found myself sitting on the ground wondering what in the world had happened. People were talking to me, but the words were out of sync with their mouths - very strange indeed. It bruised my left knee, right wrist and cracked one of my left ribs. (Broke the other guy's wrist and nose.) Then, to add injury to injury (and insult too), I managed to toss the YZF away in a motocross race the following weekend, turning the cracked rib into a fully broken one. Still, up to this point, the rib hadn't been a problem at all. Well, guess what. Break a rib that's just started to heal up (only able to lay on my left side since the Wednesday before this race) and it HURTS!!! Here I had a lap and a half to go and now I was feeling each and every bump. Oh what fun!
We screwed up two more corners. Jay took complete credit for one of them. We came down a rise and it opened up into a large field. It looked dead on another section. The one that I blew was a right hander not long after the corner we'd just messed up on. It was a sweeper that got tighter and then ended with a cattle guard crossing. When I could see, I had a marker post sitting directly in front of me and the course split into two paths. One to the right of the guard and one over the guard. We nailed the marker and took the one over the guard. OOPS (2.8 meg)!
Needless to say, I decided to go from offensive mode to defensive mode. I knew that we were going to be in the pit area soon and figured that I'd be able to close up on the car in front of me and then pass him when we headed back out into the desert. It wasn't to be.
As we came around the left hand corner that lead into the pit area, I see Neil standing there waving me in. "What in the world?" All I could figure was that he saw something wrong with the car. We have a radio system in the car, but it wasn't working correctly. Jay and I could hear the base radio, but we couldn't transmit back to the base. I'm not sure why, but for some reason nobody tried to tell us what they were thinking. The issue of fuel consumption had come up in our camp and it was decided that the Dez needed to be topped off. If someone had just said "Pit, we think you need fuel" I would have waved as I passed them by, but instead, I came ripping off the track and into the pit. The crew dumped fuel into the car and gave it the once over. The tranny had two of five mounting bolts missing and one was loose (powder coat issue), but the Dez was still race worthy. Neil said "Take it easy" and off we went. The pit stop took 49 seconds. Lap three took me 31:45 to complete. Throw out the pit stop and we did it in 30:56 - a full minute slower than the previous two laps. Just goes to show how much you can loose being stuck behind someone in the dust!
We left the pit, getting passed by TWO cars and proceeded to finish lap three - great, more time lost in the pit area and more dust to deal with. The video camera's tape also finished just before lap four started. Need to find a longer tape.
Lap four proved to be one of the most fun and interesting laps.
By this time the Dez had almost rear brakes. The pedal still felt good, but the braking was piss poor. The left front caliper had been tweaked by a large rock and didn't want to work for about five miles - until the pads got reseated, the track was even more dusty but we were hauling on anyhow. I was able to dispatch the two cars that I followed into the pits quite easily. One pulled in for a pit stop and the other was a victim of Dez Power as soon as we got out of the no passing zone. Jay and I had descent air and 30 miles to go. We closed in on another car in one of the fastest sections of the course, but because of the brake situation, I had to be careful going into corners. We followed the guy along a fence line that led up to a semi-tight right hand corner. This opened up to a fast, but fairly short section and then it shut down to a very slow, tight u-turn. We had him in our sites - I was going to dive inside of him in the u-turn and dust him. Nope, I had it wrong! I don't think he knew we were there and as we set up on the inside, he dived down and cut the corner short - well, as short as you can with out nailing a large fence post. The dust he kicked up was INTENSE and I couldn't even see the front bumper of the Dez. I locked up the wheels and we found ourselves sliding sideways in the dark brown air. Jay was saying "Turn Left! Turn left and nail it!" (Jay's a 95% all the time driver) I just took my hands off the wheel, held them up and said "Not until we can see." I'm glad I did. When the dust cleared, we were sitting about twenty feet past the corner with a fence sitting about five feet in front of us. We'd slid right on past everything. I put it in reverse, got lined up with the track and off we went. Jay and I had to laugh at that one!
We pretty much just maintained a cruise speed for the rest of the lap. By this time Jay and I had the course pretty well memorized and I was getting used to the brake situation. I was actually able to pull off some really sweet power sliding turns and was just trying to drive smoothly. There were a few corners that had been a bit tricky so I was concentrating on making it through them without screwing up and was doing quite well. Jay and I pretty much just talked about the track and how we were going to hit the next corner, jump, waterbar, drop away or what ever was next on the track. Then came what Jay and I referred to as the tanker crossing.
The tanker crossing area was in one of the prettier parts of the course. High speed, sweeping corners, rolling hills, pretty much open meadow. The track swept to the left, crested over a fairly large hill that did a little double drop away, went straight, did another little double drop away and then at the bottom of the second drop it swept to the right. You had to shut down from WFO to about thirty or so and on the outside of the corner, off the course quite a way, was a black tank of sort. I think it was a small rail road tanker or a large truck tanker. Just as you passed the tanker the course made a cut to the right and then you crossed a cattle guard. The dust free view (2.5 meg). The cattle guards were marked very well with lots of ribbon and down arrows. I knew it was there - but we'd just closed in on a car and the dust from a car braking is the most intense on the track. You had to get aligned just right for this crossing because we went over it at an angle. With the brakes on the Dez being iffy and prone to lockup when you didn't expect it, I managed to slide through the dust cloud and over the guard sideways - but perfectly centered. WHEW!!! That sucker would have HURT and probably finished our race. Skill was not a factor, it was pure luck. That's twice in one lap that we dodged a big bullet. We got past the car that was making all the dust and just maintained cruise mode. I didn't want to have the tranny come completely loose, I didn't have brakes, my rib hurt and I wanted to finish. We finished the lap with a time of 30:40, enjoying the ride and having a total blast.
When all was said and done, the Dez had come in second place with a time of 2:02:33. Two minutes and twenty five seconds slower than first place. I still don't know how they knocked off THREE minutes on the last lap, but I'm not complaining. Considering that we lost at least a minute in the pits with the second stop (you have to take in braking and acceleration to and from the pit), the minute we lost behind the car on lap three, probably fifteen seconds in the u-turn, and a minute or so from the brake problems on lap four and I'd say we did damn fine.
The Dez now sits here in Ohio being prepped for the next race in December. The radio's headed back to get repaired so we can talk to our base, the brakes are being modified a bit, the tranny mounts have been taken care of and I'm ready to rip in Mexico!
The table below shows the lap times of some of the faster classes. I'm not too far behind the fast guys! (Pros)
Race data taken from Whiplash's web page
Name
Vehicle
ID
Laps
Elapsed
Time
Lap 01
Lap 02
Lap 03
Lap 04
Lap 05
PRO Unlimited Truck
Dircks/Porter Racing
77
5
2:17:31
0:26:43
0:26:53
0:27:09
0:28:11
0:28:35
PRO 1-2
McMullen Bros. Racing
126
5
2:26:51
0:29:26
0:29:16
0:30:59
0:28:30
0:28:40
PRO 10
Dalke, Ron
1003
5
2:18:10
0:27:24
0:28:48
0:28:16
0:26:42
0:27:00
PRO 5/1600
Dyer, Jasper
584
4
2:07:21
0:32:06
0:32:07
0:31:39
0:31:29
Harris, Michael
599
4
2:10:39
0:33:12
0:32:52
0:32:01
0:32:34
Lake, Tom
552
4
2:10:49
0:31:53
0:32:30
0:31:42
0:34:44
Sportsman Unlimited
Gould, Jade
1269
4
2:00:08
0:30:25
0:30:51
0:31:23
0:27:29
Kosar, Richard
1202
4
2:02:33
0:29:46
0:30:22
0:31:45
0:30:40
Elam, Todd
1252
4
2:03:17
0:30:34
0:32:22
0:29:30
0:30:51
Once again, go check Ragged Edge Racing's web page for more pix and videos of the 2002 Snowflake race. Please thank Mike for them.
Return Home
9/15/02