| | | |
| --- | --- | --- |
| | Home of K-fab & The Deztaz | |
This is a page that I hope I don't add to often!
5/16/08
Bone Count: 18
#1 Third Grade: Left Collarbone. I don't remember falling out of the tree, but the next morning I had this funky figure eight thing around my shoulders. They say I did a great Swan Dive from about 15 feet up.
#2 Sixth Grade: Left Collarbone. Ever have one buddy grab your left arm and leg, another buddy grab your right arm and leg and then, while swinging you back and forth, accidentally give you a toss? I have - right into a tree.
#3 Seventh Grade: Left Wrist. Walking home from school with a friend, we get to a canal that separated the directions we went. He picked up a large rock, threw it in an attempt to splash me with canal water. He missed the canal, but nailed my wrist and knocked off the growth cap.
#4 Freshman in College - 1983, LAST day of Christmas Vacation: Left Collarbone. Got a bit out of rhythm in whoops along the beach, took a good look at the front fender of my CR250, landed on my head and drove the chin guard of my brand new Moto-4 right on through it.
#5 1994? Snow Skiing Trip: Lowest Left Rib. Don't ever keep a frozen Snickers bar in your lower coat pocket and then G-out in a drift. Drove the thing right up under my rib cage with my knee and broke the bottom rib right in the middle with it. Yes, I broke a rib with a SNICKERS BAR!!!.
#6 1996 Motocross Race: Right little toe. KX250's aren't supposed to be upside down during starts of MX races. The guy's beside me was and his rear axle nut found my toe. Still have the boots with the axle nut imprint on them.
#7 1997 Motocross Race: Left Rib number 7. That damn RM250 hated me and decide I was done riding it. Don't know what hit first - visor of my helmet or tips of my boots. I heard the snap and then felt ALL the air leave my body. - I snapped this same rib two more times over the next five weeks because I'm too stubborn to sit back and let things heal. Trees are bad and so is playing sand volleyball (at times)
#8 11/08/98 Motocross Race, Dirt Country, Blanchester, Ohio: Left Collarbone. Got it in two spots.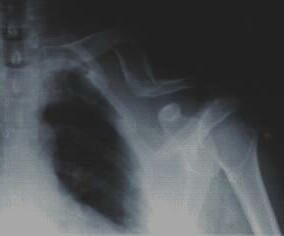 Take a look at the x-ray to the right. Those are the TWO locations that I broke (this last time). I've managed to break my left collarbone five times in four separate accidents. Twice involving trees and twice with motocross bikes.
The hospitals "official" report on this break reads: LEFT CLAVICLE SERIES 11/08/98 CLINICAL HISTORY: Pain; Trauma. (yes, I'll agree with that!) A comminuted fracture involving the mid to distal shaft of the clavicle is noted, with superior displacement of the proximal clavicular shaft. Normal articulation is noted at the glenohumeral joint. **IMPRESSION** Comminuted Left Clavicular Fracture. (Well, DUH!)
I guess what it's all saying in normal English is that I broke it in two spots, having the center section move out of it's normal position and that I was still able to use my arm (to some extent). Why can't they just say it that way?
What it's supposed to look like!
This is what my collar bone is supposed to look like. See? Nice, smooth, ONE piece! Unfortunately for me, it decided to heal just like the x-ray shows it. Can you say "Mr. Bumpy"? I also discovered on a recent checkup,with follow up x-rays, that I managed to break two ribs in the crash also. No wonder my chest hurt too!
Nine weeks after breaking my collarbone, I'm back racing off road. My first race tested my newly mended collarbone by me doing a wicked "Lawn Dart" endo over a table top. Things hurt for a couple days, but I'm glad to report that it passed the test with flying colors. (mainly black and blue)




#9 February 26, 2000, New Vienna Motocross Track, New Vienna, Ohio: Left Wrist. Hit by an asshole, being a moron.
I was really looking forward to March 5th, the first motocross race of the season here in AMA District 11. I'd been riding the new YZF and loving it, feeling really confident, and just plain ready to throw a leg over a bike and do some racing. Guess I'll have to wait four to six weeks!
Saturday, February 26 was an unseasonably warm, sunny day for this time of year in Southern Ohio. What better to do than throw a leg over the bike and go play. I met my riding buddies and an asshole we call Pissboy (he thought pissing in two people's helmets was a way to "get even" for something he'd started) out at the New Vienna Motocross track for an afternoon of fun in the dirt. The day had been pretty good. No body had gone down hard, uh, I did have one muddy cross rut adventure that put me down, but I got up laughing and mud covered. Gotta like the walk away splats.
Then came the "event". I was in a pack of about six or seven riders. Pissboy, Tom and I were working our way up thru the group and as we approached a small double, everyone suddenly parted. There in front of me was a kid on a KX60 and he wasn't about to attempt the jump. I was stuck right behind him so I got on the brakes hard and rolled over the takeoff jump. Because I was on the brakes, I got a bit out of shape as I hit the bottom of the jump, and drifted to the left just a touch. I came up and out of the space between the jumps, started down the backside of the landing jump and then, without warning BOOM! Pissboy thought that he had enough room and decided to go for the double. He caught my left elbow with his radiator and ripped my hand off the bars. We heard a sharp snap and I felt a stabbing pain in my wrist. Neither of us went down, but I headed off the track towards my trailer.
As I left the track, I looked down at my wrist - almost expecting it to look distorted or bent or something. It really hurt. Low and behold, nothing. Nothing at all. I tried to pull in the clutch and find neutral as I headed over to my trailer, but that wasn't about to happen. Pain pain pain.
I got to the trailer, finding neutral on the way, and leaned the bike up against it. Still more pain. I pulled my gloves, helmet an jersey and there was a nice abrasion and bruise showing up about three inches from my wrist on the outside of my fore arm. My elbow was cut and I had a "funny bone" hit like I've never experienced before. Still, I thought that I was just suffering from a nasty hit. I still had full mobility in my hand and arm, squeezing up and down my fore arm didn't make the pain any worse or less. I went on home figuring I'd be down for a couple days. Ouch, ouch, ouch.
Tuesday morning was the day of reckoning. I woke up with cramps in the back of my hand and even more pain in my arm. Time to go see the doctor.
Turns out that I have a broken arm. Crap! My ulna (put your hand palm down on the table - it's the bone on the outside of your arm) is broken completely through about three inches down from my wrist. The ends of the bone are not displaced, the bone's still straight - just a nice (as if!) clean break. I'm not sure which bothers me more - the fact that I have a broken arm or that after 35 years of visiting the emergency room, I've NEVER been in a cast. I always go for things like ribs, toes, my left collarbone - things that just can't be put in a cast. Now - well, bummer...
The doctor's pretty cool about it (the fact that I was on a motorcycle usually sends a doctor off the deep end with the "those things will kill you" speech). Says he'll have to send me to a orthopedic surgeon just to be safe and puts me in this HORRIBLE plaster splint thing that wraps around my arm, elbow and hand. This leads to two TOTALLY sleepless nights.
I get to the orthopod on Thursday and what a cool doc! Walks in, looks at the x-ray (which I tried to scan so I could post them here - but it wouldn't work) and says "You have a night stick fracture - no displacement, no misalignment."
"What's a night stick fracture?" I ask.
He says it's when you hold your arm up to protect yourself from being hit by a cop's night stick. He holds his arm up, elbow bent, in front of his face and points to the same area I broke - "They hit ya right here and the ulna snaps."

Now, usually, the doctor gives me the it's gonna take 6 weeks to heal and then I want you to take it easy for a couple after that. Not this guy. He asks me about racing "When's the next race?"
"This weekend" I answer.
"How soon do you want to be back on the bike?"
"HUH???" I notice that he's looking around the room when he asks me this.
"Well, I don't have a motorcycle grip here, but I think I have a ski pole - we should be able to mold the hand part of the cast around that and you'll be ready to ride in a couple weeks."
I'm just flat amazed. This guy's trying to get me BACK ON the bike! Gotta like that! I tell him that I can handle being off the bike for a few weeks. (I made the wrong decision - I really want back on it now - so I'm gonna go talk to him next week.)
Next, I ask "Any limitations on what I can and can't do?"
His reply gets me even more than the 'how soon' question. I quote his reply; "If it makes you say 'shit' then don't do it - otherwise, do what ever you want." Amazing! I've found the perfect bone doctor! I walk out about thirty minutes later with a nice blue cast that supports my forearm and keeps me from twisting my wrist. I love it compared to that nasty plaster thing.
Hopefully, this isn't a sign of the racing season to come.
#10 September 2002, Snowflake Desert Race: Another left rib. Ouch. Had already cracked it a few weeks earlier, but the bump finished it off...
#11 7/3/2004 Playing at the beach in Corpus Christi, Texas: Left Heel. The water was supposed to be about 6 feet deep... It wasn't. I executed a perfect backflip off the bow of the boat, stuck the landing in 18 inches of water and shattered my heel. Let me tell you - this one HURT!!!
#12 Summer of 2005, Highland Lakes Motocross Track, Hillsboro, Ohio: Left Little Finger. Fall over in a SLOW corner at the MX track, feel something sort of odd with my left little finger, look down at it and the thing's pointing backwards. Wasn't until the next event that I finally saw an x-ray of what I did. Clean, diagonal break from one knuckle to the other. No wonder it hurt.
#13 & 14 4/22/06 Parking Lot and a 50: Left Wrist - got both the ulna and the radius. Damn.
The ground won. Damn. I was going to the motocross track the following day, too. It was supposed to be the first (local) ride of the year, now that's five weeks down the line. I'm still waiting on the swelling to go down so I can get a cast put on it. Great...

The Quasimodo Wrist
Sumptin's Wrong Here...


Poor X-ray scan; you can't see the chips on the end of the ulna (upper long fore-arm bone), but check the calcium build up from it being broken a few years back.

Another view. Once again, bad scan and you can't see the cracks in the head of the radius (bigger of the two arm bones). You can't see how badly my little finger was broken either - but it was nice to actually have verification - I broke it really badly too!!!

You can see the chips floating by the ulna in this pic - they're right in the top of the joint of my wrist and fore-arm.
#15 2/20/07 Dunes behind Comp Hill at Buttercup, Imperial Sand Dunes: Right Collarbone. (I guess it was due?) Soft sand + slow speed = an over the bars trip. Monday night, while sitting around the campfire with my buddies enjoying our annual Dune Trip, Scott (now known as Asshole) pipes up "So, what bone do you plan on breaking next?"
"HUH??? Why would you ask that???"
Tuesday about noon, I come over a small rise, standing on the pegs of the bike, running about 1/4 throttle. The front end suddenly tucks and disappears into the sand. My thighs find the bars, I feel the rear wheel come off the ground and the next thing I see is the ground coming up quick. As I hit I heard the dreaded snap. Scott, er, Asshole had jinxed me! My buddies came rolling up, we put me on Scott's quad and I rode back to Buttercup's main entrance. Larry and Greg came back to get me in the Jeep. Greg hopped on my bike and headed back while I rode back with Larry.
Not going to bother with the doctor's visit. The ends of the bone are still in line - a tad off, but nothing worth worrying about. Been here, done it before. Let's hope I don't do it again. It really does suck.
#16 8/5/07 Red Barn Motocross Track, Batavia, Ohio. You must clear the double jump if you want to survive. I'm not sure if it was because I was riding a Suzuki MX bike (my old Suzuki ate me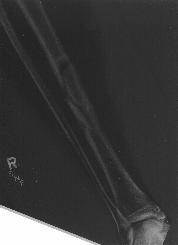 more than once) or that I just got complacent but I managed to do the best job of bone breaking on myself to date with this dork maneuver.
I was trying out an RMZ450 - nice bike, turns in better than my CRF, feels light and airy, but doesn't have the low end grunt I'm used to. The front section of the track is has a fairly large triple jump right out of a corner, followed by a large double jump (one that puts you up pretty high). On my bike, I come into the corner before the triple, pick my line, nail the throttle and clear the jump. I then either just coast or brake slightly to clear the double. Done this a hundred times, easily.
This time, I come into the corner, the bike turns in really nice, I give the throttle a healthy twist and the bike doesn't have the forward motion I'm expecting. No big deal. I double into the triple, roll over the third bump and then hit the double that follows. Stupid me, being so used to just "cruising" the double does so again, but I'm not carrying near the speed needed. The last thing I remember is looking down the left side of the bike and seeing the ground coming up. I was short by a long way.
"Ah dang."
I don't recall the hit. The next thing I'm aware of (if you want to call it that) was people (anywhere from 2 to 200? - heard later it was probably 12 to 15) standing over me speaking some sort of strange language. I'd been K-O'd for about 30 seconds.
In great concussion fashion, they tell me that I started babbling strange things, making grunting noises (air leaving my body?) repeating things, asking things over and over.
I do sort of recall an ambulance ride and the world around me was starting to make more sense by the time I got to the hospital. Spent a little time in the ER, (remembered to ask for copies of my x-rays) and learned that the ortho surgeon was on the way. I'd managed to shatter my right tibia with style. Five major pieces and a few smaller tag-a-longs.
I'm now a proud(?) member of The Brotherhood Of Titanium Hardware.
I've not seen the post-op x-rays, but from what I've been told, I have a pin (Doc called it a nail) that goes from my knee to my ankle. That is held in place by two pins that go through the ends of the tibia and then there are some more pins holding the pieces to the nail.
I was told I can expect a complete recovery in about three months. That blows my first desert race in the new car for me. Damn.
I'll get updated pix of the post-op work when I go back to see the Doc next week.
(8/17/07)
I'm FREE!!! The staples - those 24 nasty little ITCHY pains in the skin are gone and I'm one happy camper. All the wrapping and gauze have been removed and it's making my life nice. Now all I have to wear is a soft support "cast" when I'm out and about. Doctor said four to six more weeks on crutches and then I'll be off and hobbling (not running - I don't enjoy running anyhow).
5/16/08
Well crap. #18.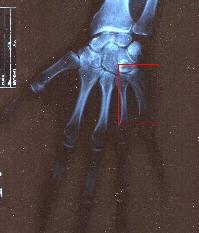 I know, I have #16 listed above, so where's #17? Turns out that I managed to break my right collarbone again (same spot I did in the dunes in Feb. of '07) when I had my leg breaking crash. It wasn't until about 6 weeks after my crash that I started noticing my right shoulder feeling sort of funky and I was having major cramping in my back. I finally broke down and went to a medical massage/chiropractor for my back cramps and when they x-rayed me, low and behold, I'd snapped my collarbone too. It's never healed either, so I have a two piece floater in the middle setup now. I also managed to crack two right side ribs near my vertebrae in the crash, but I'm not counting them as broken.

So, back to #18: I finally got to take the 10Dez racing in April of this year. It's first race was the Best In The Desert Terrible's 250, south of Las Vegas. About five miles into the race, while in a right hand corner, I managed to find a large rock with the left front wheel. Not good! With no power steering and no steering damper, the hit snapped the steering wheel to the left very violently. When it did, it flung my hand off of it and into the side of the chassis. Of course, there's one vertical frame brace right where my hand was thrown. I "karate chopped" this nice little tube, snapping the bone in my hand that my pinky is attached too. Crap. For goodness sake, I was INSIDE A CAGE! I'm not supposed to break stuff when I'm in a car!
Oh well. I guess that's the way life goes some times.

Return Home
5/16/08