| | | |
| --- | --- | --- |
| | Home of K-fab | |
The Mini-Raptor
I came across a thread on the Minibuggy.net site a little over two years ago. It showed a mini pre-runner body based on a full sized pre-runner Ford Raptor. Ben from Knine Racing was doing this project. It was designed to fit the Polaris XP900. I was hooked the moment I saw it.

Quoting Ben - "I scaled/detailed it the best I could to the Ford Raptor body and really used the luxury pre-runner 'Raptors' built by Stewart's Raceworks to get the 'trophy truck' style."

So back in February of 2014, I started planning. I should have been diligent about chronicling my progress here on my site but alas, I was lazy and did it on the Minibuggy forum (since I run the forum).

The project has taken a while to get moving and a massive amount has changed since the beginning. Now it's full steam ahead and the build begins.

I've linked to the beginning of the build, but the first 560 or so posts in the thread are original concepts, conversations with members of the forum and such. The present stuff starts around post 580. Go read if you want, if not, stay here and watch it proceed without all the filler.


The Real Raptor Pre-Runner

Ben's Concept Vehicle
The Components:
Powerplant: - Yamaha Nytro Sled engine with MPI Supercharger. 1053cc, triple. Stock they make about 135 hp with a wide and flat torque curve. Supercharged they're capable of over 200 hp without much work, 300 hp with minor mods.
Transmission: - Polaris XP1000 drive train. This includes a CVT drive train with a transmission that has park, high, low and reverse. The transmission is out of the international XP, so it also has a locking rear differential. Open the diff for street, lock it for the dirt. Up front it has an open diff that's activated with the flick of a switch for four wheel drive. Originally I'd planned on using the tried and true RPM gear box and having this be a two wheel drive vehicle, but a weekend running around in Quartzite, AZ in my XP900 and one particular hill made me go "Hmmm… two wheel drive will NOT make it up this rocky, nasty trail." It was during that ride that I realized the Mini-Raptor needed a different drive train and the four wheel drive concept was put in place. The XP1000 drive train has proven very reliable and the ability to purchase off the shelf parts made it a no brainer.
Axles:
Knine Racing custom XP1000 axles and cv joints.
Shocks:
Revolution Racing 2.5" Evo's up front - 12" stroke, 3.0" Evo's in back - 14" stroke.
Bodywork:
Knine Racing Mini-Raptor special. Custom widened just for this project. Thank you Ben!
Wheels:
Method Racing Black 401 UTV Beadlocks 15x7, 4 on 156 bolt pattern
Tires:
BF Goodrich KR2 UTV tires in 30x9.50r15.
The Specs:
Dimensions:
92.5" wheel base
74" overall width
Not sure of overall body length or height yet.
Suspension:
Front - Unequal length a-arms, Boxed lower, possibly billet upper. 19.75" travel.
Rear - Four link trailing arm system. Boxed arms. Somewhere in the 20" travel range - it's not designed yet.
Weight:
Hopefully between 1500 and 1700 lbs.
September 09, 2015
Being that this project started over a year and a half ago getting things in order for this build log is a tad out of whack. So instead of back pedaling and bringing up old stuff that's no longer valid, I'm going to start with the arrival of a body that's been waited on for quite a while.
After a bunch of phone calls, paper work and such, I get the call I've been waiting on - my body has arrived!
Axles arrived today. They're still in the box and at my house - I was a tad sidetracked with something else… Shipping broker called - I had a box for pickup. And what a box! One BIG ASS BOX!
Had to get creative unloading a 285 lb. BAB.
With a some grunting, tugging and then letting gravity help instead of being it's usual biatch, the BAB came out.
Packaging was perfect - not a scratch, nick or dent.
Ben's attention to detail is incredible. Everything fits perfectly, everything is just amazing!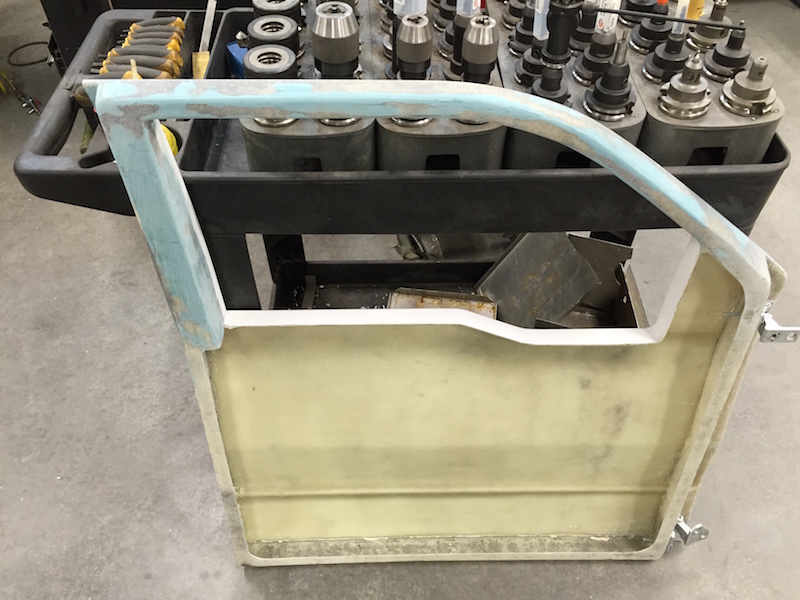 Audi hinges.
Carbon reinforced door sills.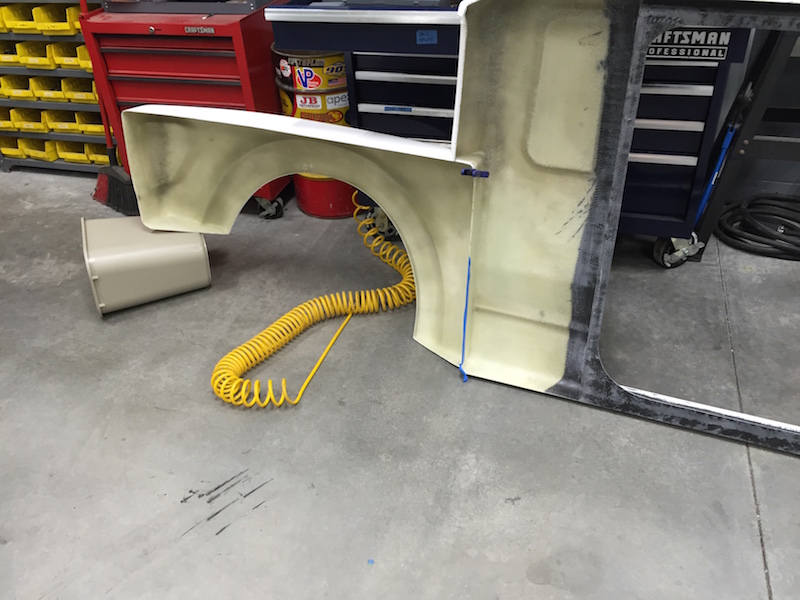 And the roof is off the chart. This thing is stiff, thick, heavy and perfect!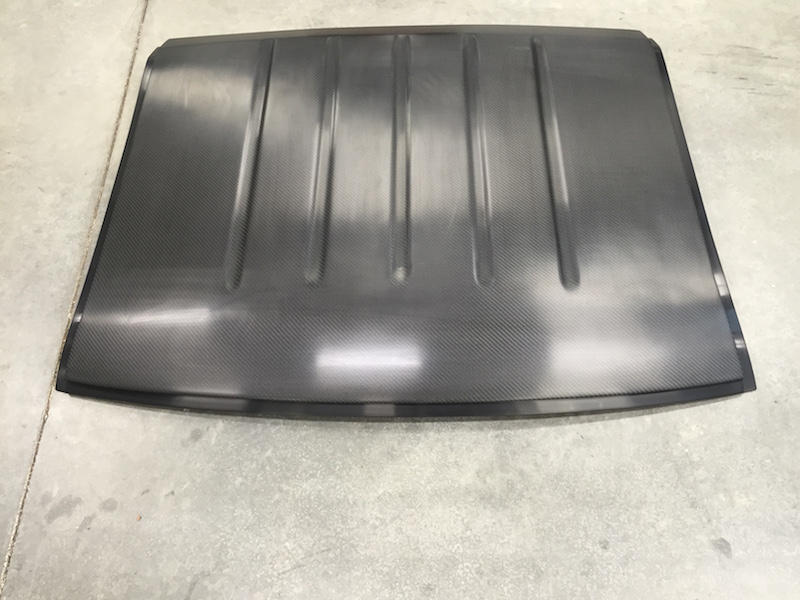 Of course I had to assemble it - first with wheels sort of in place - it's 90% bump here
Then it was floor assemble the whole enchilada.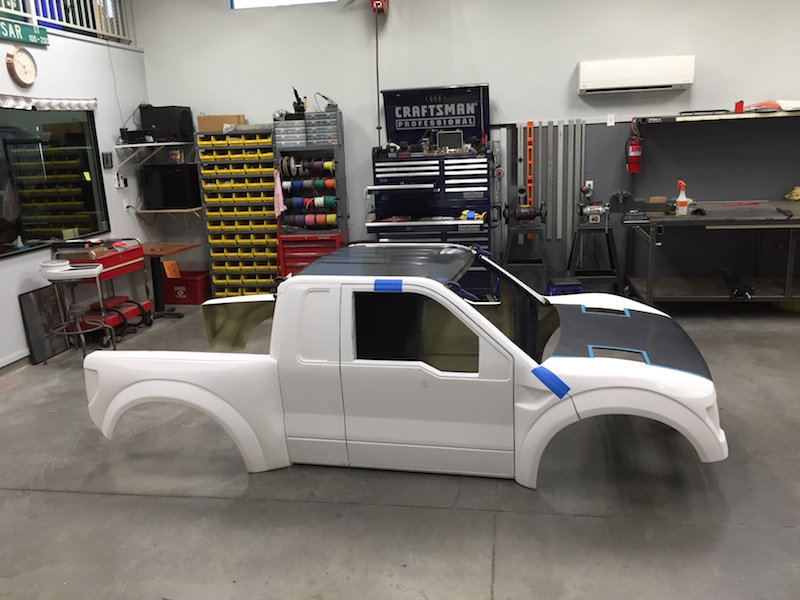 So this project finally, truly gets off the ground and is in process.
I modeled the diff yesterday, now I have axles, so I can start designing the front suspension. At full bump I have 71.25" between the fenders on the hood. So, there's my number to start with. Wheels cambered in, 70.25" of clearance to work with.
ACAD time ahead - lots of ACAD time ahead. WOO HOO!!!
The week prior to the body showing up, my tires arrived. I've had the rims since February.
From my build log on the Minibuggy forum:
(9/03/2015) Got five of the BFG KR2's today. I've had six Method rims sitting on a shelf for a while now (one is a spare for my XP). Spent the better part of three hours assembling six bead locks. 24 bolts x 6 rims, each bolt is hit probably 6 times - yea, I've done enough screwing for the day. Everything's torqued to spec, though.
Six little rims sitting on a trailer:
Mini-Trophy Truck tires - they look just like the big ones you see on the TT and Class 1 cars.
Sidewall close up
Tread pattern - check the little ridges between the lugs on the edges.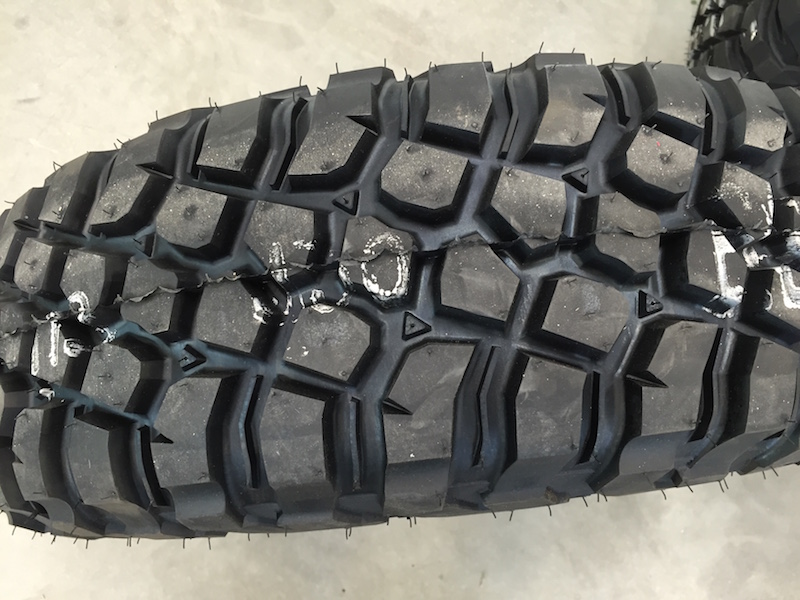 Steeeeeeker
Five mounted tires with the hubs and rotors installed in four.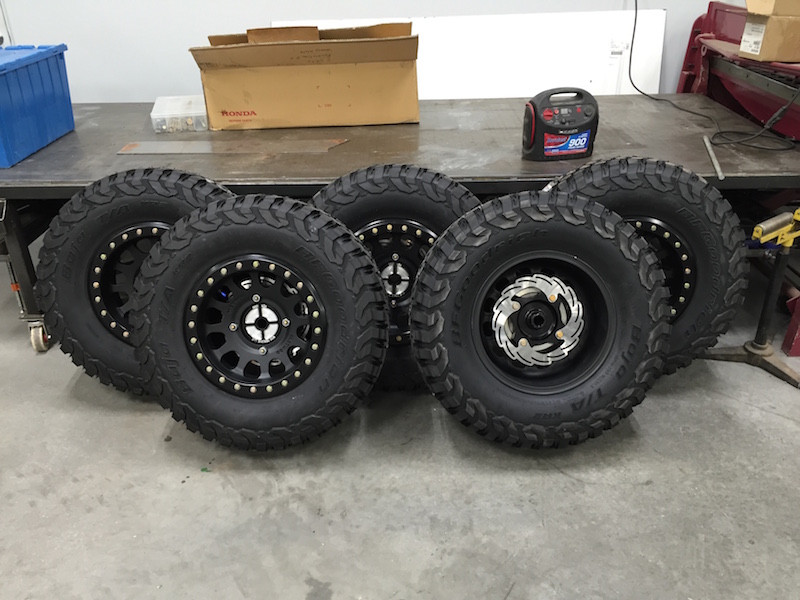 Installed, the tires are 29.5" in diameter and 9.75" wide with 30 psi in them.
I have the dimensions and need to model a tire now. Gonna model the front diff too.
Setup axles from Ben. These will let me figure out the perfect axle length to work with the suspension. I plan on having no axle plunge in either the front or rear end.
Starting to lay things out to get and idea of what I have - this is gonna be so cool!
I have the rack in a front steer position, as I'd prefer that, but I get the feeling it's gonna be rear steer.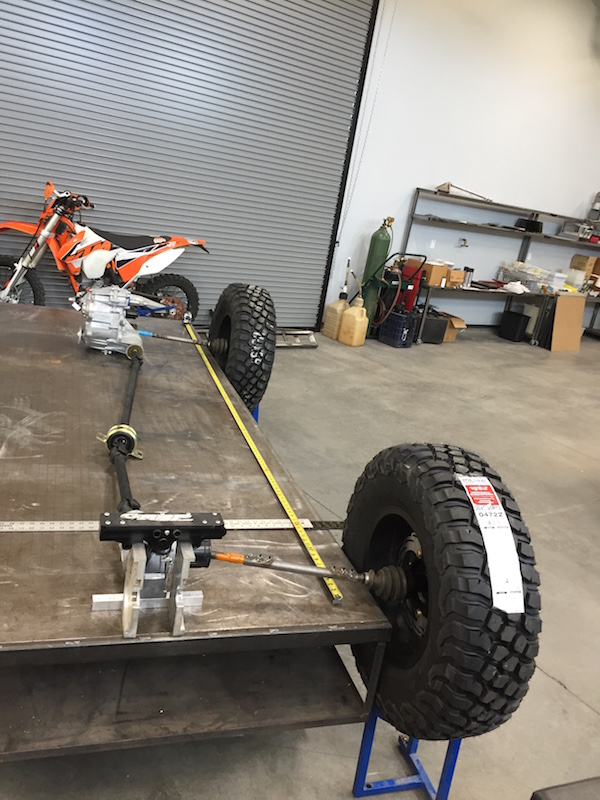 I'll get some pix of the CV joints - the outer front has a ridiculous angle ability. Artsy fartsy angle...
Doing inventory, gathering, cleaning, trying to get a plan set up. Screwed around with engine/trans placement. I'm surprised with the amount of offset.
I hope I can tuck the alternator here between the trans and engine. Not sure of the pulley ratio that will be needed, as I've not looked into the ratio of this little parking brake to the input shaft, but it's a start.



Decided to weigh stuff as I moved it around too:

Nytro Engine, no fuel system - 118 lbs
XP1000 International rear trans - 78 lbs
XP1000 front diff - 19 lbs
Yamaha Primary clutch - 10 lbs
Rage Steering Rack - 5 lbs
Wheels - Method 15x7 beadlocks with BFG KR2 30x9.5x15 - 55 lbs (x4)
Hood - 26 lbs
Roof - 26 lbs
Cab Side - 16 lbs (x2)
Bed Side - 11 lbs (x2)
Door - 11 lbs (x2)
Seat - 18 lbs (x2)
Light Bar - 17 lbs

609 lbs in parts thus far. Yea, this is gonna end up being a 1500-1700 lb ride when done.

I need to set up a spread sheet to keep track of the parts and weights.

Tomorrow I hope to start on front suspension design. Got the hood laid up on my build table and have taken a bunch of measurements.

I'll post some screen shots in a bit - I have major issues trying to manipulate, upload and work with them from my Windblows powered machine - it's only good for ACAD!
Windblows SUCKS.

(9/13/2015) This one was a challenge - lots of parameters to work with, but doable. I was blowing bubbles by the end of yesterday. Had to walk away and reset (with a nice 40 mile rip through the desert in the XP). Fresh perspective this morning and stuff started working correctly again.

Front end specs thus far:

OAW at ride height 74" - tires stick out about 1.25" from the widest point on the fenders
19.85" of travel
shock at 90 degrees to a-arm at full bump
upper a-arm at 141 degrees to KPI at full droop.
KPI 11.5 degrees
0" of scrub radius - kept this as low as possible due to four wheel drive. Could get away with .5" or so, but if I can avoid, why not?
Overall scrub from bump to droop is 1.493"
scrub from ride to bump is .5496"
scrub from ride do droop is .9434"
1.5 degrees of camber at ride
5.5 degrees of camber at bump
7 degrees of camber at droop
.485" of clearance between tire sidewall and inner fender lip and 1.5" from top of tire to underside of hood (I hope... - subjective measurements at their finest)
lower a-arms mount 6.5724" apart
upper a-arms mount 14.6069" apart
NO axle plunge!
3" ground clearance at full bump

This is all in a single axis on ACAD. Now I get to go in and start playing with rake, anti-dive, caster changes and such.

Gonna have to make room for the shocks - they'll be ahead of the front axles, steering box is going to end up being behind the diff, so as much as I'd rather not have it, rear steer is what it's gonna be.

The progress continues
Pix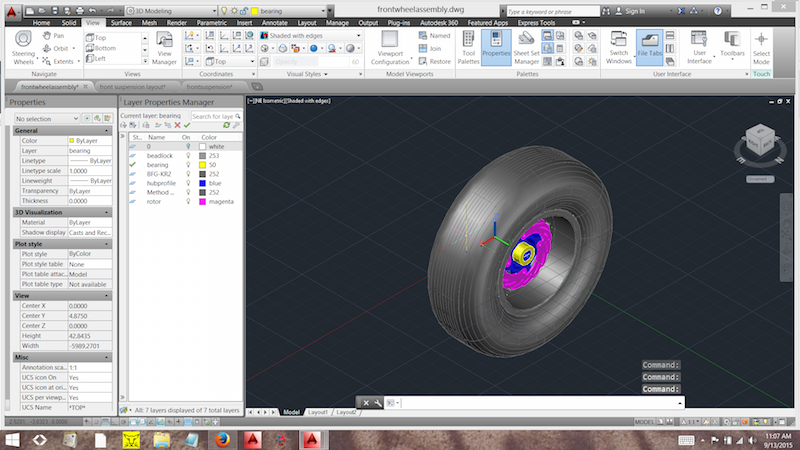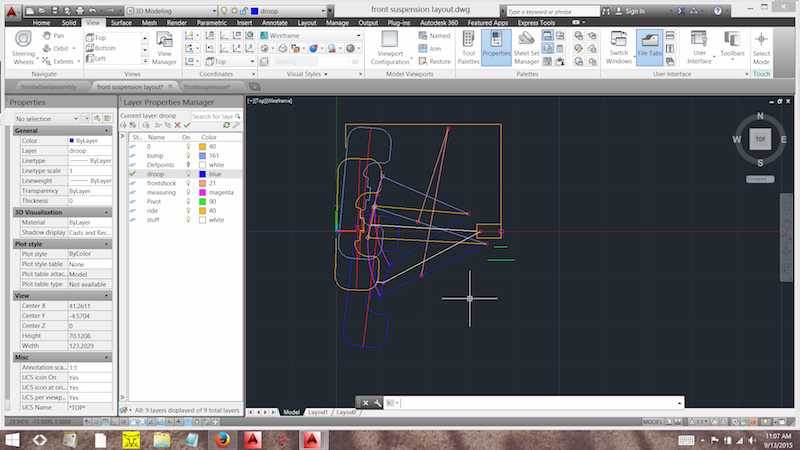 Done for the day - there's a recorded F1 qualifier and race from last weekend to watch, since all that's on TV today is football.
Radiator ordered:

Gonna have to find fans for it now.
More camber at full bump - gives me another half inch of clearance in the fender well.
It moved the upper shock mounts in and down slightly too - more clearance for the hood.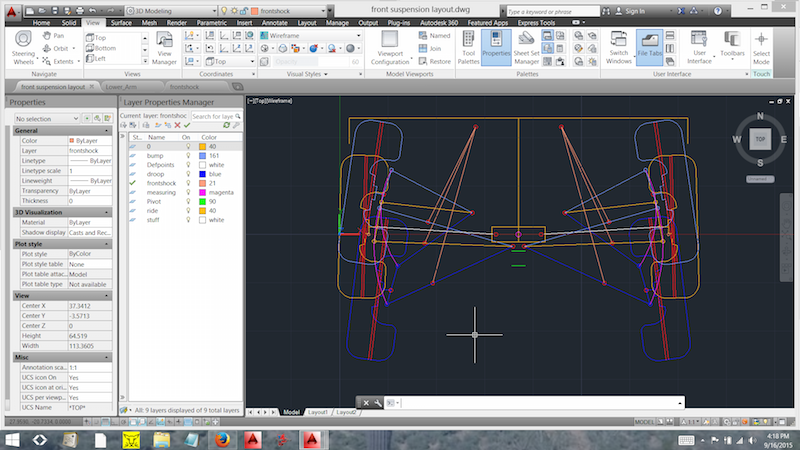 Lower a-arm starting to come around. Shock mount rotated to full droop
Front outer CV has crazy articulation!
Front inner CV has a bunch too - and I did the suspension with this one at 32 degrees. Even at the angle in the picture, it's a smooth rotation.
Radiator in place.
Broke down and purchased a real press. I had a 12 (15?) ton Harbor Freight job and it would flex so badly it was scary.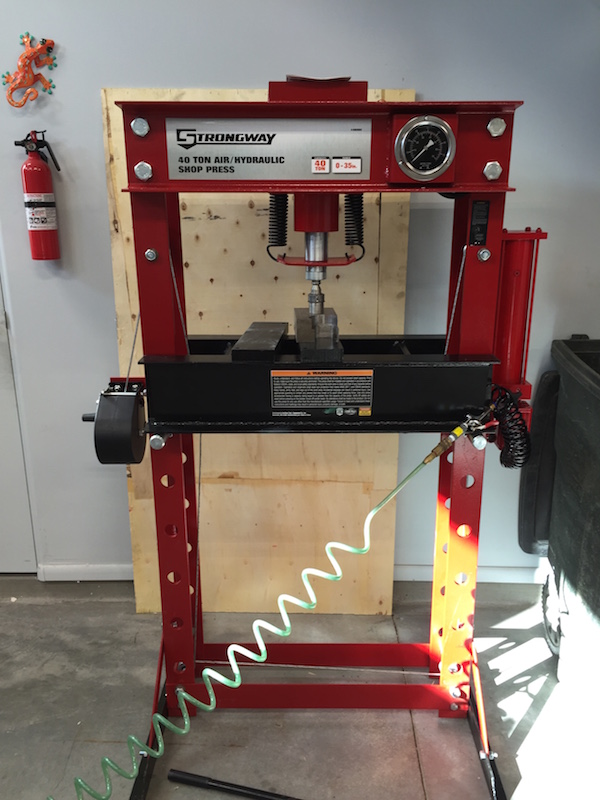 This thing is a beast. Air over hydraulic works so nicely. Makes old tire uniballs into a broken race and nice shiny ball.

Return Home
9/18/15